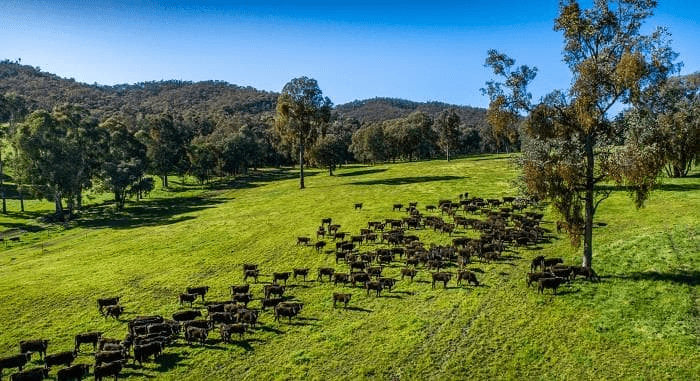 A North Queensland based Wagyu supply chain has made a large investment in backgrounding country on the NSW New England, purchasing the 1935ha Big Ben aggregation near Rangers Valley feedlot to expand its operations.
Reid and Julie Muirhead's Muirhead Pastoral Co, based out of Weetalaba near Collinsville (roughly half-way between Mackay and Townsville) has secured the Big Ben property aggregation near Glen Innes for an undisclosed price.
The transaction was put together by Brennan Mayne Agribusiness in Emerald.
The sale is the latest in a long line of prominent land transactions in the New England district to Wagyu cattle producers over the past three years. It means the New England is now arguably the most densely-populated Wagyu breeding/backgrounding region in Australia.
The aggregation of three grazing properties making up the Big Ben aggregation was a high-quality, well located group of grazing properties with sufficient scale to make them well suited to the backgrounding of Wagyu cattle, Brad Castle from Brennan Mayne Agribusiness said.
"The incorporation of the aggregation into Muirhead Pastoral Co's property portfolio will significantly enhance the company's Purebred Wagyu supply chain capability. The acquisition will further increase the company's capacity to produce consistent numbers of high-quality Wagyu feeder cattle in a logistically-favourable location," he said.
"With parts of the property held by the Scherf family for more than 140 years, Big Ben is a high-quality grazing aggregation with a proud history," Mr Castle said.
The aggregation totalling 1935ha or 4780ac is large by Glen Innes standards, and is located 35km northwest of the regional city.
The 'Little Ben' portion has been held by the Scherf family since 1881, and as with the other two portions, 'Big Ben' and 'Ben View', were originally part of Rangers Valley Cattle Station. All the properties have been owned by members of the Sherf family originally, and have been aggregated by the current owners over the years.
Under current management, the properties have consistently carried about 20,000 dry sheep equivalents. The country allows for an excellent mix of farming operations including cattle and sheep breeding, fattening of the progeny, plus further cash flow and income via cash crops including soya beans, corn silage and cereal crops.
The properties range from arable flats through undulating to some steeper grazing country and are watered via frontage to the Severn River, creeks, gullies, numerous dams, plus two extensive reticulated trough water systems. The country is divided into more than 50 main paddocks plus holding paddocks.
The aggregation has recently been run as mixed enterprise, consistently running about 850 breeding cows taking their progeny through to heavy feedlot entry weights, 1000 Merino ewes plus progeny plus about 300ha set aside for growing corn silage, soya beans and oats.
Paddocks are regularly top-dressed with fertiliser and/or feedlot manure from nearby Rangers Valley feedlot – in fact more than 20,000 tonnes of feedlot manure has been spread over the last 15 years.
Rangers Valley operates a large longfed Wagyu feeding program.