THIS week's property review includes this wrap-up of interesting recent listings across the country, and a separate article of recently completed sales of note.
Luxury headquarters for SA producers
Standout Maranoa grazing
Dalby's Vermont boasts basalt
TopX offers two blocks for starters or expansion
Didgeridoo ideal bolt-on or starter's block
Breeding or backgrounding on CQ's Girraween
High carrying capacity country close to Brisbane
Six Louth properties to be offered simultaneously
Standout Maranoa grazing
The Mills family is offering its high-performance cattle country near Wallumbilla after 47 years ownership.
Located 50km south east of Roma, Tamarang, pictured above, is one of the finest mixed cropping and grazing properties in southern Queensland's Maranoa region.
The backgrounding and finishing asset spans 2023ha and can carry 350 breeders.
The country features a mix of buffel grass, creeping bluegrass and soft native grasses with herbages in season.
The property boasts immaculate fencing, quality infrastructure and an extensive pasture improvement program.
It is watered by 10 earth dams and a solar powered electric sub artesian bore.
Dom McSween from Colliers Agribusiness said what set Tamarang apart was the quality soils.
"There is an outstanding 283ha mature leucaena crop to boost livestock weight gain."
There has been strong inquiry for Tamarang with 16 inspections due to be completed this week from family operators, and local and state-wide producers seeking expansion.
Tamarang will be auctioned on March 1.
Vermont boasts basalt soils
After 42 years, Roger Carey has decided to offload Vermont in the tightly held Bell district near Dalby, on Queensland's Darling Downs.
The 855ha holding has been held by the Careys since 1980, running in conjunction with the family's western properties and later (1986) with the then developing Sandalwood feedlot.
In recent years, Mr Carey has traded steers, growing them to feeder weights or finishing to ox.
The undulating basalt country on Vermont is heavily grassed after being destocked for the past two years, but can run up to 500 adult equivalents using the 200ha of cultivation.
It is watered by three bores, a well and two dams.
John Malone from Nutrien Harcourts said inquiry had been very strong from locals and producers from southern and Central Queensland to New South Wales and north west Victoria.
Vermont will be auctioned on a walk-in walk-out basis on February 24.
TopX offers two blocks for starters or expansion
TopX will auction an ideal starter or expansion block in southern Queensland boasting magnificent views of Mt Hutton and towards Injune.
The 517ha Blair Gowrie is well located, 13km south of Injune and 77km north of Roma.
The gently undulating country features brigalow, belah and bottle tree scrub on the eastern side of the property and ironbark and poplar box on the western boundary and gullies.
Previously, areas of Blair Gowrie were farmed and contours were used to steady water-runoff. Today, buffel has been introduced with those paddocks now regenerating to produce an abundance of pasture for grazing.
Owned by Vicky and Arthur Knight for the past seven years, the couple is looking to semi retire.
Selling agent Carl Warren said the cattle block would suit a broad spectrum of buyers.
"There has been good interest from western Queensland producers looking to downsize or retire, first time property owners and people considering entering the industry."
Blair Gowrie is watered by five dams, two troughs and a sub artesian bore. It will be auctioned bare on February 18.
Didgeridoo ideal bolt-on or starter's block
Meantime, Taroom's Chris and Michelle Walton are offloading their cattle breeding property Didgeridoo.
The 2045ha property, which can carry between 350 and 400 cows and calves, is located 40km north of Taroom and 160km south west of Biloela in Queensland's Banana Shire.
The country comprises undulating forest with a scattering of brigalow/belah carrying a high volume of buffel, green panic and natural grasses running down onto gullies and creek flats. Around 1100ha has recently been cleared.
Didgeridoo is watered by four dams and two bores.
Tony Pearce from TopX said most of the interest was coming from existing landholders seeking a bolt on acquisition.
"The Taroom district is highly sought-after, and Didgeridoo is a perfect expansion or beginner's block," he said.
Didgeridoo will be auctioned bare on February 17.
Breeding or backgrounding on CQ's Girraween
There has been good inquiry for a well-located grazing property in Queensland's Central Highlands.
Located almost halfway between Emerald and Capella, Girraween is suited to running breeders or backgrounding steers or heifers to feeder weights.
Spanning 1036ha, the undulating semi-open to open downs grazing country has been lightly grazed over recent years and is currently boasting abundant feed.
For the last ten years, it has been owned by Barry and Vicki Gifford who are planning to retire.
Terry Ray from Nutrien Harcourts said the property was favourably located and suited a wide range of buyers.
"Western producers wanting to downsize, those seeking a starter block and existing landholders looking for expansion are all showing strong interest."
Mr Ray said there was tremendous inquiry for any block that comes onto the market.
"It well and truly exceeds what we have experienced over the last 10 to 20 years. Good commodity prices have seen many producers bed down debt and put money aside for expansion."
Girraween will be auctioned bare on March 11.
High carrying capacity country close to Brisbane
More than $3 million is anticipated for a high carrying capacity grazing block, in a high rainfall area close to Brisbane.
Mountain View is located at Mooloo, 15 minutes south of Gympie and one hour from Queensland's Sunshine Coast.
The 148ha freehold property boasting highly fertile red volcanic scrub soils can run 150 cows and calves.
Despite its size, Mountain View has 10 paddocks, four holding paddocks, laneways for ease of stock handling, as well as cattle yards.
Water is supplied by a bore, a 1km Pie Creek frontage, an irrigation licence and five dams.
Lex Townsend from the Professionals Gympie said most interest was coming from cattle producers looking to relocate or expand.
Mountain View has a 1125mm average annual rainfall and is situated in an area well regarded for its fertile soils.
Luxury headquarters for SA producers
Downsizing producers and graziers are showing strong interest in the historic Jockwar on the shores of Lake Alexandrina in South Australia.
The 272ha  property which is being offered for sale for the first time since settlement, is currently operating as a beef cattle property running 100 breeders.
The country is flat to gently undulating and is suited to grazing, dryland cropping and irrigation. Historically, the vendors have irrigated fodder crops for livestock.
Once a sprawling sheep station comprising more than 5300ha, today the remaining holding is an admired country estate steeped in South Australian pastoral history.
The Jockwar holding has been held by the same family for six generations. The district is extremely tightly held – the neighbouring Brinkley Station and Wellington Lodge have never been offered to the market.
Jesse Manuel of Colliers Agribusiness has been engaged to sell Jockwar in conjunction with Dee-Hunt of Williams Real Estate.
Mr Manuel said Jockwar is well-known, especially among south east livestock industry participants.
"The property is situated in one of the most tightly held pockets in the district, occupying a prime position on the eastern edge of Lake Alexandrina between Tailem Bend and Meningie," he said.
Mr Manuel said while Jockwar boasts a luxury homestead, it is also well located.
Situated 45km from Murray Bridge and just over an hour from Adelaide, the property is close to feedlots, saleyards and processing facilities. It would also be an ideal depot to hold cattle on the way to market, or bulls prior to transit up north.
Jockwar features extensive farm improvements, secure water and irrigation potential.
It is being offered for sale via expressions of interest closing on February 22 and is expected to make more than $4 million.
Six Louth properties to be offered simultaneously
Retiring Louth producer Gary Sirol will auction his goat harvesting and breeding operation in New South Wales' far north west on March 9.
The 41,193ha Wongawal Station was offered to the market as a whole in May last year. However, Mr Sirol has since converted the country from Western Lands lease to freehold title and is now selling the aggregation as six separate parcels.
The properties are situated close to the Gundabooka National Park and, at $220/ha to $235/ha, the aggregation is expected to achieve between $9 million and $10 million.
David Russell from Landmark Harcourts Cobar said some potential purchasers were interested in securing all six properties, but the aggregation was more likely to sell separately.
"The properties are attracting good inquiry from locals, Victorian and Queensland producers and from those who missed out on previous district sales. They are ideal bolt-on acquisitions for existing landholders looking to expand, particularly with the new small stock abattoir at Bourke opening mid-year," he said.
A property vegetation plan (dated 10/01/2013) covers the six individual properties, allowing inactive timber clearing to increase carrying capacity and soil carbon.
Here's a quick summary of each, with a colour-coded location map at bottom:
Wongawal Station
The 17,491ha block is located 30km south east of Louth and 100km north west of Cobar. The soft mulga country suits a shedding sheep or goat operation, plus seasonal cattle.
Neighbouring Wee-Toura, Sunny Corner and Big Bore, the country is generally flat with soft red loam soils. It is watered by nine earth dams.
Currently run as a goat breeding backgrounding property, Wongawal has run 3500 dry sheep equivalents, plus seasonal goat harvesting.
See colour coded map – property highlighted in yellow
Big Bore
The 2019ha block, 12km east of Louth, adjoins Wongawal, Wychucca and West Wychucca.
Featuring flat red loam grazing country timbered mostly with mulga box, acacia and natural grass herbages, it is watered by the Kerrigundi Creek, seasonal waterholes and a bore.
Please see colour coded map – property highlighted in pink
Wychucca
The 2019ha Darling River holding, located 10km from Louth, features irrigation (10ha centre pivot) and grazing.
Neighbouring West Wychucca and Big Bore, Wychucca boasts an 8km Darling River frontage. It is also watered by the Kerrigundi Creek and an earth dam.
See colour coded map – property highlighted in blue
West Wychucca
Positioned just above the Louth Weir, West Wychucca is situated 12km from Louth and adjoins Wychucca and Big Bore.
The 2067ha block also features 8km of Darling River frontage and is watered by the Kerrigundi Creek system and an earth dam.
It can carry 600 breeding ewes.
See colour coded map – property highlighted in purple
Sunny Corner
Run as a goat breeding and backgrounding property, Sunny Corner would suit shedding sheep or goats.
The 8271ha block, neighbouring Wee-Toura and Wongawal, is situated 36km south east of Louth, halfway between Bourke and Cobar.
The property features flat red loam grazing and is watered by seven dams.
See colour coded map – property highlighted in orange
Wee-Toura
Run as a goat trapping and breeding property, the 8400ha Wee-Toura adjoins Wongawal and Sunny Corner.
Located 66km south east of Louth and 100km south west of Bourke, the country is flat red loam grazing growing natural herbages and grasses.
It is watered by six earth dams.
See colour coded map – property highlighted in green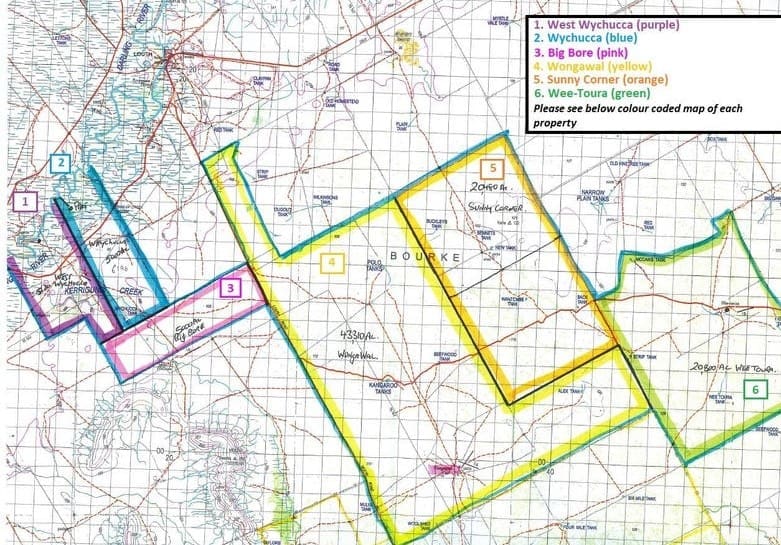 Click here to access more properties listed for sale