Greenvale's Marionvale boasts good water
Proserpine's Yarraman Park has development potential
Central Highlands block perfect for locals
Coreena East passed-in and now listed for sale
Versatile package in Naracoorte's Moorex
THIS week's property review includes this article featuring recent listings across the country, and a separate summary of recent sales of note.
Greenvale's Marionvale boasts good water
After 60 years, the Lucey family has decided to bring to the market its premium basalt grazing property in the tightly held Valley of Lagoons area of North Queensland.
Marionvale is situated near Greenvale, 130km south of Mt Garnet and 318km south west of Cairns.
The property consists of 16,053ha of premium breeding and grow-out country in a safe seasonal area, with the capacity to carry 3000 adult equivalents.
The flat to undulating black and red basalt country is dotted with expansive black soil plains, merging into some low lighter ridge country.
Marionvale boasts an abundance of underground water with permanent and seasonal spring fed creeks, as well as nine bores. Another attractive feature is its potential for farming development on the big open plain areas.
Selling agent Peter MacPherson from Ruralco Property would not discuss price expectations, but admitted many people had an opinion on what Marionvale might be worth.
In June, Pat and Tom Sheahan purchased the adjoining 9387ha Greenvale property Reedybrook for $5.67 million ($604/ha) including 1380 cattle and station plant.
And 12 months ago, Doug and Helen Keough paid $9.85 million for the neighbouring 13,835ha Maitland Station. Bare of plant and livestock, the sale price was equal to $620/ha.
"Taking Reedybrook, Maitland Downs and some of the Defence Force acquisitions into account, there is a bit of a floor in the market, so it will be interesting to see where the price heads, with most of the enquiry coming from locals," Mr MacPherson said.
Marionvale is will be auctioned on December 12. The sale will include plant and around 2700 head of good quality Brahman and Brahman cross breeders.
Proserpine's Yarraman Park has development potential
Elders is offering productive breeding, fattening and cultivation capabilities in Queensland's Whitsunday region.
Located just 6km from Proserpine, the 2772ha Yarraman Park runs from cleared blue gum country down to Goorganga Plains wetlands.
It is currently used for grazing (1806ha) and cultivation (811ha) with further development potential.
The property has a substantial body of high-quality wetlands grass including pangola, humidcola and para, and has a high carrying capacity.
Other features include 3000ML of water storage, five unmetered bores and extensive water distribution infrastructure.
Selling agent Robert Murolo said opportunities to acquire quality holdings of scale carrying abundant feed are currently scarce.
Central Highlands block perfect for locals
After more than 50 years of ownership, the Anderson family is selling Capella Downs in Queensland's Central Highlands.
Located 15km east of Capella, it comprises a good mix of country suitable for breeding, backgrounding and fattening, of which around 580ha is currently farmed.
Capella Downs is watered by nine dams and there is seasonal water in the Rocky Bar and Belcong Creeks.
Tony Hoch from Hoch & Wilkinson is confident the block will generate good local interest.
"Capella is a very productive area and the property is just 15km out of town. The 530 branded cattle included in the sale are in good order for this time of year and if required, can be fed on the sorghum stubble that is currently growing."
Expressions of interest for Capella Downs close on December 18.
Last year, a similar block, the 1030ha Crystal Brook, also at Capella, sold for $2.2m ($2136/ha).
Coreena East passed-in and now listed for sale
The Eastern Riverina's Coreena East failed to sell at auction recently and is now being offered as a whole or as two separate parts.
The 477 hectares are situated in the heart of the Eurongilly Valley, renowned for its pasture and fodder production, as well as its prime lamb and beef production capabilities.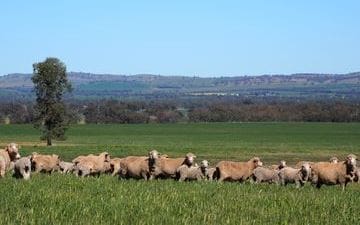 Coreena East boasts rich red loam soil farming country and basalt low hill grazing country.
This together with its favourable 550mm annual rainfall have seen management operate it both as a highly productive cash and fodder cropping property, and a livestock breeding and fattening operation running on improved and native pastures.
An equipped bore supplies water to nine troughs, together with a network of 11 surface dams.
Rated to carry up to 4500 DSE, management suggests that an ideal mix of operations for Coreena East could include the growing of 180ha of cash or fodder crop per annum, together with 1500 Merino ewes for wool and lambs or 1000 crossbred ewes producing prime lambs for the domestic market.
Chris Meares from Meares and Associates said the property has been divided into south and north and has been listed for $9262/ha and $8027/ha respectively.
Versatile package in Naracoorte's Moorex
A quality mixed irrigated and dryland cropping and grazing enterprise located within the heart of the Limestone Coast region of South Australia is being marketed by CBRE Agribusiness.
Moorex is a premium developed and managed 2007ha holding, more than three quarters of which is arable, comprising gently undulating sandy loam soils.
Centre pivot irrigation services 180ha of country over four circles with soils enhanced and clayed.
A 617 megalitre Ground Water Entitlement is sourced via seven equipped irrigation bores.
An extensive reticulated water system is supplied by two stock and domestic bores provides adequate water for livestock.
The property has proven history producing potatoes, onions, barley, lucerne and pasture seed.
The livestock enterprise has been based on a self-replacing Merino flock combined with prime lamb production supported by the council approved 6480-head lamb feedlot.
A full array of working improvements includes a six-stand shearing shed, sheep yards, hay sheds, machinery sheds and workshop, cattle yards and 265t silo grain storage.
Accommodation is provided by the two-bedroom homestead and six bedroom shearers quarters.
Moorex is being offered under expressions of interest through CBRE's Shane McIntyre 0429 557070.
Click here to access more properties listed for sale