THIS week's property review includes this wrap-up of interesting recent listings across the country, and a separate article of recently relisted properties of note.
$65m for institutional grade asset in Victoria's Western District
Scale and high rainfall in southern NSW tipped to make $50m
Coventry family lists two signature northern NSW holdings
Three NSW western division holdings offer diversity
New England grazing listed for $40m
$9.5m price tag for New England's Lindon
EOI for Hunter Valley's Bundaleer
$65m for scale in Victoria's Western District
More than $65 million is anticipated for a turnkey institutional grade aggregation in Victoria's renowned Western District.
The historic Mondilibi Aggregation, comprising the adjoining 1805ha Mondilibi and the 1425ha Manooka, are located 12km north of Mortlake.
The United Kingdom-based Down Ampney Corporation, which has aggregated Mondilibi since the 1970s, has decided to reposition its portfolio.
During its ownership, the company invested significantly into improving pastures through soil amelioration and extensive annual fertiliser applications.
It also redesigned the paddock layout and laneway systems for greater pasture use and invested in genetics, water development and well positioned purpose-built infrastructure.
The high-performing livestock production enterprise is running a 17,400 head composite ewe flock, in addition to 830 breeding cattle.
Nick Myer and Rob Rickard from Elders, who have been appointed to sell the 3230ha aggregation, said Mondilibi is regarded as one of the Western District's most productive investment scale assets.
"It is ideally positioned to key livestock and grain export pathways and underpinned by an excellent natural resource base, with a considerable revenue stream due to be realised via the proposed Mt Fyans wind farm," Mr Rickard said.
He said the aggregation offered purchasers a stand-alone investment or a valuable addition to an existing agricultural portfolio – with its high and reliable rainfall offering buyers geographic diversity.
Mr Myer is anticipating a strong level of interest from a range of buyer profiles including local farming families to domestic and international corporate and institutional investors.
Quality working improvements include modern sheep and cattle handling facilities, a five-stand woolshed, extensive machinery, hay, sundry shedding and workshops, plus more than 1000 tonnes of grain storage.
The aggregation also features the Mondilibi and Manooka homesteads and four staff residences.
The Monbilibi Aggregation is being offered for sale on a walk-in walk-out basis or as a whole or as two separate contingent assets (Mondilibi and Manooka).
The first stage of the two-stage expressions of interest process closes on July 5.
Scale and high rainfall in southern NSW tipped to make $50m
Producers seeking scale and high rainfall can secure 2775ha of highly productive grazing and mixed farming country on New South Wales' Southern Tablelands for around $50 million.
On offer are two neighbouring properties located 22km from Yass and 91km from Canberra.
The 1342ha Warradale has been held by Alex and Angus Metcalfe since 2021.
LAWD director Col Medway said the couple was selling after securing a neighbouring property in Galong.
"The property has returned to market because adjoining country became available for the Metcalfe family at Galong. Selling Warradale wasn't on the agenda, with the vendors recently constructing a brand new four-stand shearing shed and yards," he said.
With a long history of cattle and sheep breeding, the undulating country can comfortably support 12,000DSE and is well-appointed with fit for purpose operational improvements for both.
Warradale benefits from significant investment in the pasture base that includes 790ha of improved native perennial grasses and clovers.
Situated in a reliable non-seasonal rainfall area of 716mm, Warradale is supported by dams with extensive catchments and two creeks.
It is being offered for sale by expressions of interest closing on June 8 and is expected to make more than $19 million.
There is opportunity for more scale, with LAWD also appointed to sell the neighbouring 1452ha property Killarney for $30 million.
The property is currently held by Will Kelly, however it once formed part of Merillea North whose previous owners included the McWilliams Wines and Merriman families.
Around 1230ha is arable with high quality, free draining red granite soils that have been recently sown back to pasture running 22,000DSE.
The quality structural improvements were undertaken by Mr Kelly eight years ago and include a new shearing shed, cattle yards, new laneways and water.
Col Medway said the well-balanced mixed farming country would complement Warradale – with two high quality operational hubs at either end.
Coventry family lists two signature northern NSW holdings
After 40 years of ownership, the Coventry family is selling two highly regarded northern New South Wales grazing assets spanning almost 5000ha.
The 2573ha Laura Station and the nearby 2237ha Glanmire are 10km from Bundarra, 55km from Inverell and 65km from Armidale.
Held since the mid-1980s, Laura Station was one of a number of New England properties acquired by the late fine wool grower Sperry Coventry.
Over the last decade, the family has been divesting some of its substantial agricultural assets.
Laura Station is one of the region's signature properties that was selected in 1837 by William Smith.
Named after the Laura Creek which runs through the property, the gently undulating and open country is suitable for breeding, backgrounding and fattening cattle and/or sheep.
The property can carry around 23,000DSE or 2000 cows on a self-replacing basis, however numbers could be lifted by changing the pasture species and grazing techniques.
Most of the country is arable with the Coventry family undertaking a regime of pasture improvement and fertiliser topdressing during their tenure.
The western fall country is reliably watered by Laura Creek, numerous dams and bores.
The nearby 2237ha Glanmire is currently managed with Laura Station, however it could also be operated as a standalone enterprise.
Like Laura Station, the country is gently undulating and open with well grassed and well sheltered paddocks equally suited to turning off heavyweight weaners or backgrounding.
Glanmire features Gwydir River frontage, supported by the Two Mile Creek and several dams.
Bruce Birch from Ray White Rural expects major family operators, corporates and semi corporates will be attracted to the scale of the holding, which is difficult to find in the New England.
Laura and Glanmire Stations are being offered as a whole or individually via expressions of interest closing on June 9.
Three NSW western division holdings offer diversity
David Russell from Nutrien Russell Property and Livestock has listed three mixed farming and grazing properties in New South Wales' western division.
Bundabulla
Highly regarded, soft sweet heavy carrying country on the Bokhara River is being offered for sale by Garrie and Rita Turnbull after five years of ownership.
The 8935ha Bundabulla is an original soldier settlement lease block on one title situated 50km north of Brewarrina in north-west New South Wales.
The Turnbulls purchased the property during the drought for agistment and are now selling to improve their other country south of Brewarrina on the Bogan River.
Situated in a 400mm rainfall area, the country is generally flat open plains with fertile, heavy carrying grey and black soils.
Low lying areas grow Mitchell and coolah grasses, saltbush, bluebush, copper and jelly burrs, as well as a huge body of clover and herbages in season.
Bundabulla is rated to carry 5539DSE or 0.62 DSE per hectare with the vendors running 3000 ewes plus 160 Santa cows and followers.
Water is supplied by a capped and piped bore that exclusively supplies Bundabulla, 5km of dual frontage to the Bokhara River that provides seasonal flows, the Yamba Creek floodout system and 14 dams. Improvements include a six-stand shearing shed and steel sheep and cattle yards.
Bundabulla will be auctioned on June 14.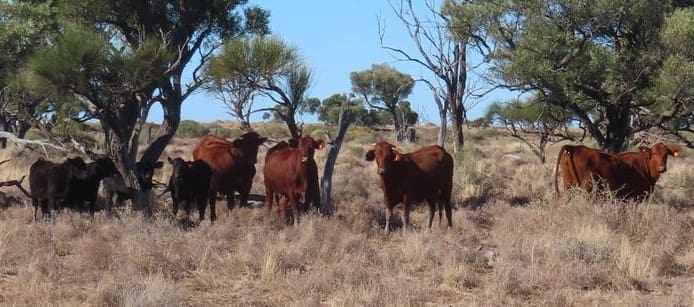 Karinya
After four years ownership, Rowan Glover has listed his mixed grazing and farming operation at Hermidale for $6.2 million.
The 4450ha Karinya is situated 35km north-east of Nymagee and 85km south-west of Nyngan.
During his tenure, Mr Glover has undertaken a massive improvement program including new dams and yards and clearing fence lines.
Karinya is situated at the headwall of the Whitbarrow Creek System which disperses across the property and provides beneficial flooding.
Although the property has not been farmed this year, around 3600ha is arable. Previously, the gentle undulating red loam soils have been sown to canola, wheat, barley, oats and barley.
It is growing a large variety of natural winter herbages that can support 3000DSE and is currently running 4500 Dorper ewes and followers.
Mr Russell said Karinya features Dorper-proof fencing, good water and great access to the sealed Hermidale and Nymagee roads.
Mangalore
After 46 years ownership, the Currans family has listed the 3488ha Mangalore for $6.2 million after it failed to sell at auction.
Mangalore is situated 19km south of Hermidale and 65km south-west of Nyngan – close to the diverse breeding and cropping aggregation Rewa which the Currans sold in March for $6 million.
The country is undulating with soft red and chocolate soils and is heavily grassed with natural pastures and good stands of buffel.
It benefits from the Whitbarrow and local creek flood out systems, as well as 10 dams and a bore.
Apart from sheltered tree lines, most of the property is arable and clean, but has not been farmed for five years. Neighbouring properties are growing wheat and oats.
Mangalore is currently carrying a good body of dry feed that can run 350 cows and followers and seasonal sheep but is presently destocked.
Improvements include a four-stand shearing shed, steel sheep and cattle yards, and a grain storage shed.
New England grazing listed for $40m
A large-scale grazing opportunity in New South Wales' New England has returned to the market with a $40 million (bare) price tag.
Ben Green from Elders, who is handling the sale of Meldon Park, said the vendor's expectations were not met following an expressions of interest campaign that attracted institutional investors and high net worth family operators.
The 5762ha property is located at Uralla, close to abattoirs and feedlots, in a highly regarded and reliable (810mm to 865mm) rainfall region suited to both cattle and sheep breeding.
The holding has been aggregated by vendor John Kennedy over the past 25 years and is currently run as a beef cattle trading enterprise.
The vendor estimates Meldon Park can carry around 2300 breeding cows turning progeny off as weaners or more than 30,000 dry sheep equivalents. There is potential to increase numbers with further pasture development.
The country features mostly wide valley floors to gently undulating rolling hills growing abundant feed. The soils comprise soft granite and traprock with basalt outcrops.
The well-watered property enjoys a 7km double frontage to Honeysuckle Creek, a 4km double frontage to Morses Creek, numerous other creeks and spring fed gullies and around 113 dams.
The fencing is described as good to excellent, with quality structural improvements.
$9.5m price tag for New England's Lindon
The Beynon family's New England grazing property Lindon has been listed for $9.5 million after failing to sell at auction.
Situated near Balala, 22km from Uralla and 46km from Armidale, Lindon is well situated to take advantage of any livestock markets.
Spanning 1696ha, the undulating grazing country features mostly granite soils growing improved and native grasses running 11,000DSE.
In the past, Lindon consistently turned off prime grass finished weaners and heavy lambs. It was also well known for producing superfine Merino wool.
Water is a feature. There are 21 dams (many of which are spring fed), two bores (one equipped) and access to the reliable Honeysuckle and Morses Creeks.
The property is well fenced and subdivided into 30 paddocks allowing for a rotational grazing system.
Lachlan Cullen Ray White Rural said Lindon offers the capacity to further increase production.
EOI for Hunter Valley's Bundaleer
Expressions of interest are being sought for the remaining portion of the Upper Hunter Valley's Bundaleer Portfolio.
The 764ha Bundaleer (homestead block) was one of three non-contiguous grazing properties offered to the market last year by Sydney-based vendor Dimitri Koureas, with two of the holdings snapped up within weeks of listing.
The remaining block is located at Greenlands, 28km north-east of Singleton. Offered with an $8-$9 million price guide, it is attracting strong interest from families seeking a rural lifestyle property close to Sydney and Newcastle.
Situated in a 700mm to 800mm annual rainfall region, the country on Bundaleer ranges from arable valley floor and creek flats to hilly grazing suitable for breeding, backgrounding or finishing 330 cows and calves and replacement heifers.
Fronting both the Campbells and Cross Creeks, Bundaleer has 31 large spring fed dams, two near new cattle yards and 20km of new fencing.
The EOI campaign, which closes on May 31, is being handled by Michael Burke from McGrath Upper Hunter.