THIS week's property review includes a wrap-up of interesting recent listings across the country, and a separate article of recently relisted properties of note.
Lord Hintz offloads New England's Warrane
$30m for blue ribbon Riverina aggregation
Northern NSW grazing tipped to make $40m
CQ's Rainbows End heads to auction
NSW's Horton Valley offers breeding & scale
Pedracini's offload north QLD fattening depot
Fitzroy River grazing offers opportunity
High rainfall basalt grazing returns to the market
Beneficial flooding in NSW's north west
Lockyer Valley cattle operation offers natural capital
NSW western land lease listed for $5.9m
Lord Hintz offloads New England's Warrane
Mid-$30m is anticipated for the large-scale New England grazing operation Warrane in northern New South Wales owned by Lord Michael Hintz.
The 7690 hectares, 18km north-west of Armidale, were purchased in 2007 for a reported $22m by MH Premium Farms and leased back to the vendor.
In 2014, the company took over the reins of the beef cattle, prime lamb and merino wool enterprise that is rated to run 58,000 dry sheep equivalents.
MHPF is owned by Lord Michael Hintze, a British-Australian billionaire businessman and philanthropist based in the United Kingdom.
According to its website, the private landholder of Australian agricultural assets operates 17 properties over 70,000 hectares across eastern Australia, strategically located over several climatic regions.
LAWD's Col Medway believes the mid-$30m guide (land and fixed improvements) will be compelling buying on a DSE basis.
"It is rare to find a property of that size within close proximity to a major centre like Armidale. Warrane also offers plenty of upside in terms of land development."
"There has been significant capital expenditure on laneway and road improvements which have made the property more efficient to manage. However, the property is not fully developed. Of the 2027ha granted for clearing, only 325ha has been completed," he said.
Mr Medway said MH Premium Farms is looking to rebalance its portfolio which is not unusual for multi asset groups.
"The company is heavily invested in the high rainfall areas of southern New South Wales and will redeploy this capital back into agriculture. It is already looking at permanent plantings (macadamias) in Queensland, as well as other opportunities."
Mr Medway anticipates the majority of interested parties will be larger family businesses who were also attracted to the historic Emu Creek located in the same region and in a similar price bracket.
Warrane is being sold via an expressions of interest campaign closing on May 12.
$30m for blue ribbon Riverina aggregation
Around $30 million is anticipated for a significant aggregation in the Riverina region of New South Wales, Australia, close to the Victorian border.
Gundagurra spans 3626 hectares and operates as a livestock, winter and summer dryland and irrigated cropping and fodder enterprise.
Located 14km east of Deniliquin, it is being sold by prominent locals Russell Tait and Vicki Meyer who own and operate Deniliquin Freighters.
The aggregation comprises six productive adjoining blocks that were amalgamated by the vendors over a 20-year period and are now being sold as they move into semi-retirement.
James Sides from Nutrien Harcourts said Gundagurra is the best holding he has listed in his 27 year career at Deniliquin.
"Impressive from the front gate to the back, the property offers once in a lifetime scale that has been expertly managed and superbly maintained."
Mr Sides has fielded inquiries from local corporate and family operators and Sydney and Melbourne investors.
Over the past 15 to 20 years, Gundagurra has been running 3800 sheep and 230 cows and calves plus replacements on healthy Tuppal Creek fattening country, containing lucerne, oats and rye.
Additional livestock are turned off annually on a rotation basis, with young trade lambs and vealers grown out for a period of 12 to 18 months season permitting.
According to the vendor, livestock numbers have been rising annually with pasture improvement.
Gundagurra features quality infrastructure, 52km of boundary exclusion fencing, abundant water, 1000ha of drought proof irrigation, 3000ha of highly fertile, alluvial, self-mulching and soft loam cropping country.
It is being offered as a whole or as separate parts:
433ha Gundagurra
281ha Bluebell
436ha Boundary Park
371ha Prosperity
1262ha Gollops Run
842ha Pretty Polly
Expression of interest close on April 13.
Northern NSW grazing tipped to make $40m
Institutional investors and high net worth family operators are showing interest in a large-scale grazing opportunity in New South Wales' New England that is expected to make around $40 million.
The 5762ha Meldon Park is located at Uralla, close to abattoirs and feedlots, in a highly regarded and reliable (810mm to 865mm) rainfall region suited to both cattle and sheep breeding.
The holding has been aggregated by vendor John Kennedy over the past 25 years and is currently run as a beef cattle trading enterprise.
The vendor estimates Meldon Park can carry around 2300 breeding cows turning progeny off as weaners or more than 30,000 dry sheep equivalents. There is potential to increase numbers with further pasture development.
The country features mostly wide valley floors to gently undulating rolling hills growing abundant feed. The soils comprise soft granite and traprock with basalt outcrops.
The well-watered property enjoys a 7km double frontage to Honeysuckle Creek, a 4km double frontage to Morses Creek, numerous other creeks and spring fed gullies and around 113 dams.
The fencing on Meldon Park is described as good to excellent, with quality structural improvements.
Ben Green from Elders is handling the sale, which is being sold bare of livestock, with expressions of interest closing on April 26.
CQ's Rainbows End heads to auction
Central Queensland property Rainbows End is being offered for sale by the Attard family after 20 years of ownership.
The 1241 hectares are situated 10km north-east of Moura and 64km west of Biloela, in the heart of the Dawson Valley.
Described as the region's pot of grazing gold by selling agent Hourn & Bishop Qld, the property has prolific, heavy carrying, melon hole country with improved pastures suitable for breeding, backgrounding or fattening livestock.
Centrally located to a number of livestock selling complexes and abattoirs, the property is carrying a dense feed bank of quality pasture that can run 990 adult equivalents.
The country consists of brigalow, blackbutt, belah and softwood scrub soil types, with 80ha developed to Leucaena.
The natural melon hole country offers abundant seasonal surface water and a 5km gully (which diagonally traverses the property) and that regularly supplies water to four large, interconnected dams piping water to six tanks and 15 troughs.
Currently managed under a cell grazing system consisting of 93 paddocks, Rainbows End has a large set of timber cattle yards connected to a centralised laneway. It will be auctioned on April 27.
NSW's Horton Valley offers breeding & scale
Locals and southern Queensland producers are showing good interest in Bruce and Sue Retschlag's breeding operation in the renowned Horton Valley on the northern slopes of New South Wales.
After 15 years of ownership, the couple is offloading the 3321ha Belfield and the adjoining 315ha Riverstone before heading across the border to Nanango.
In recent weeks, the properties, on either side of the Horton River, have enjoyed beneficial rainfall.
The country on Belfield ranges from highly productive creek flats and low rolling hills, a large percentage of which is open and contoured and previously farmed. It then rises 350m to a plateau with heavy basalt soil types that is more heavily timbered.
The vendor estimates it can run 700 cows, however it has the ability to further increase production.
Riverstone enjoys similar productive creek flats, rising to timbered hill country and steeper areas.
Situated in an 850mm average annual rainfall district, the aggregation has a 4km frontage to the Horton River, a 5km double frontage to Noogera Creek, numerous dams, with water reticulated to an extensive trough system.
Peter Etheridge from Etheridge Property and Riley Gibson from Ray White Rural have been appointed to sell the two properties which will be offered separately (or as a whole prior to auction) on April 20.
Mr Etheridge describes the structural improvements as second to none.
"The vendor has invested significant capital on magnificent steel cattle yards, quality water, fences and sheds."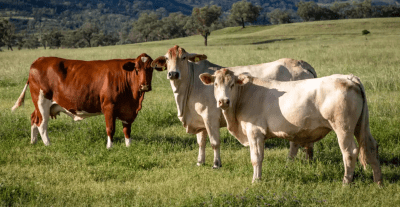 Pedracini's offload north QLD fattening depot
After 11 years of ownership, Georgetown's Darren and Melissa Pedracini, Lornevale Station, are offloading their fattening depot, close to the highway, in north Queensland.
Ophir Downs spans 9631 hectares and is located at Stamford, 96km from Hughenden and 46km from Richmond.
Currently destocked, the property is estimated to carry around 1100 steers.
Featuring undulating to flat downs country with black soils and some red pebbly ridges, Ophir Downs is grassed with Mitchell and Flinders, pig weed, peabush, some buffel and various herbages.
While most of the country is described as 'fairly clean' there are some scattered prickly acacia with mimosa along the channels and around the watering points.
Ophir Downs has some seasonal creeks and channel areas and is watered by a capped bore (installed in 2010) supplying a turkey's nest and tanks which are gravity fed to troughs.
Peter McPherson from Queensland Rural believes the block will suit new entrants to the industry or family operators looking to expand or diversify.
"Being a smaller size means it will fall into a more affordable price bracket, which should encourage a large gallery of potential buyers."
Ophir Downs will be auctioned on April 13.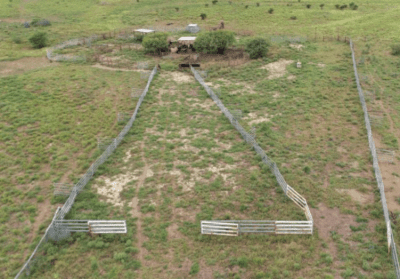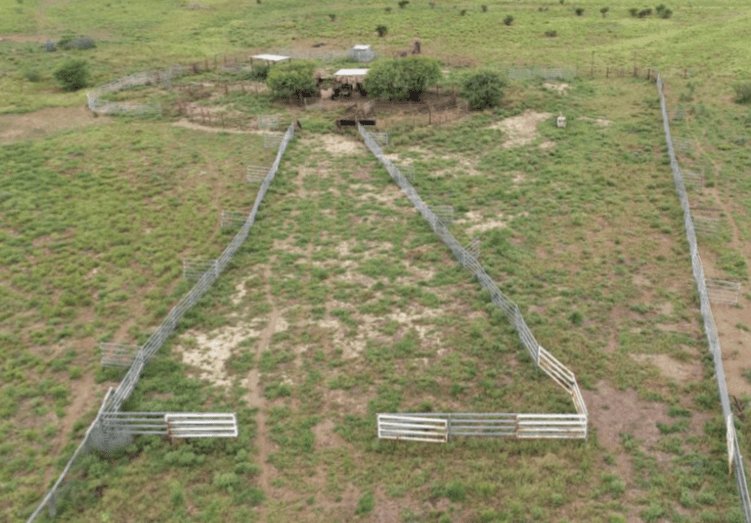 Fitzroy River grazing offers opportunity
Lisa McKinlay will take her Central Queensland grazing property on the Fitzroy River to auction on April 27.
The 3234ha Melaleuca is located 30km north-west of Gogango and 95km west of Rockhampton in Central Queensland.
The river frontage country rises to undulating and heavily grassed higher areas comprising mostly mixed scrub.
The property has 3.2km of Fitzroy River frontage and 5km of Melaleuca Creek frontage. Permanent natural water is supplied by both and supported by five dams.
The newly constructed Riverslea Bridge will allow all year access to the Rookwood Weir which is under construction and due to be operational early next year.
Richard Brosnan from Ray White Rural said Melaleuca is traditionally a grazing property, but its access to water may generate interest for its future potential.
"Melaleuca lends itself to further development. An area of rich alluvial scrub soils could be placed under irrigation to grow a variety of high value crops or pastures."
"The development of the Rookwood Weir is changing the local landscape with investment committed for a large-scale macadamia plantation and a proposal for a large feedlot," said Mr Brosnan.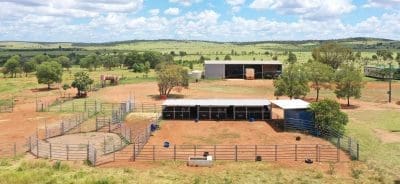 High rainfall basalt grazing returns to the market
A price guide of between $10.26m and $11.97m is being offered for Crawney Station, a high rainfall basalt grazing property in northern New South Wales.
The property was purchased by Fostoria Fannon in 2017, however the Sydney-based company is now looking to free up collateral to further develop its remaining holding Ballarang Station, 15km south of Crawney Station.
The 1976 hectares are situated in the undulating foothills and upper land areas of the Liverpool Ranges in the Upper Hunter Valley, 70km from Scone and 90km from Tamworth.
The breeding or fattening country features valley floor to elevated shelves and steep range country, with the predominantly chocolate basalt soils growing a good body of feed.
Situated in a 925mm per annum rainfall district, Crawney Station fronts the Isis River and is supported by 42 dams and two bores.
Extensive capital has been recently outlaid by the vendor with a new stock watering system, new steel cattle yards and fencing.
Michael Burke from McGrath Upper Hunter has taken a large number of inquiries that have resulted in a number of inspections.
"A number of contracts have been taken out by genuine producers, mostly from New South Wales but also from Queensland, as well as local investors who looking to expand their existing holdings."
Beneficial flooding in NSW's north west
After 100 years of family ownership, the Carrigans are selling Welbon in the highly fertile north-west slopes and plains of New South Wales.
The 4784 hectares are situated 19km from Garah and 41km from Moree and are currently carrying a large body of dry feed.
In 1923, Welbon (including 8000 sheep) was purchased by Alexander Carrigan from the Scottish Land Co. In 1985, descendant Chris Carrigan expanded the land holding with the adjoining Duravale and then part of Gilbunna three years later.
The country is predominately flat, grassed with Mitchell, bluegrass and native medics and timbered by belah, brigalow, wilga, boonery and box, with some coolibah shading areas along the waterways.
Welbon can be operated as a cattle and sheep enterprise, but is currently conservatively stocked with sheep – with the last shearing tallies reaching 8500 head. In the past, up to 50 percent has been farmed for winter cereals and fodder.
Welbon receives some beneficial flooding and is watered by the Wallon and Gil Gil Creeks, which provide some extensive waterholes and fishing opportunities.
The Careunga bore cap and pipe scheme also supplies water to a network of 36 cup and saucer tanks.
Ed Wisemantel from Ray White Rural reports good inquiry from local and western New South Wales producers.
Welbon will be auctioned on April 27.
Lockyer Valley cattle operation offers natural capital
A Queensland cattle operation, close to Brisbane, has returned to the market offering various avenues for generating revenue.
The 2165ha Mount Haldon Station is situated at Mount Sylvia, 32km south-east of Toowoomba and 80km west of Brisbane.
It is one of the largest freehold blocks in the Lockyer Valley boasting high rainfall and watered by five solar powered bores and natural creeks.
Owned by Paul Tucker for 15 years, the mountainous block can run 500 head of cattle on a good body of buffel and other native grasses.
CBRE Agribusiness and Gain Momentum have been appointed to sell Mount Haldon Station via expressions of interest.
CBRE's Edward O'Dwyer said the property's biodiverse landscape provides for several avenues of land usage.
"Set over 19 individual titles, options include renewable energy or capitalising on its location and the elevation of the peak of Mount Haldon for ecotourism and conservation."
Mr O'Dwyer said interest is coming from Queensland cattle producers, tourism operators, corporate investors and those seeking natural capital.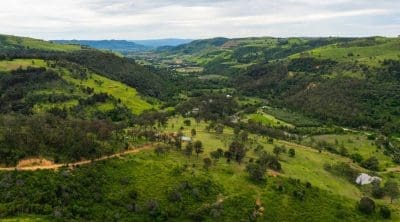 NSW western land lease listed for $5.9m
Local and investor types are showing good interest in a large-scale western New South Wales land lease that has been listed for sale for $5.9m.
Family owned and operated by Danny White since 1963, the 12,603ha Tarwoona Downs is located 16km west of Enngonia and 116km north of Bourke.
Comprising open plains, balanced with sheltered timbered grazing, the property is presenting with a heathy body of Mitchell, buffel and blue grass.
Tarwoona Downs is operating a self-replacing merino flock, Santa Gertrudis cattle breeding herd, combined with agistment and goat harvesting.
Tim Corcoran from LAWD said the property has been conservatively managed and maintained with good ground cover.
"The long-term stocking rate is 3111 dry sheep equivalents, however the vendor has been able to run upwards of 5000 ewes over the past two and half years due to the good seasons."
Tarwoona Downs is watered by a 13.7km Irrara Creek frontage, plus an artesian bore and pipe system to ground tanks and head tanks which reticulate to troughs.
The infrastructure includes a four-stand shearing shed and yards, cattle yards and machinery sheds.
Tarwoona Downs is being sold by LAWD in conjunction with Coonamble-based GPS Rural.