THIS week's property review includes this wrap-up of interesting recent listings across the country, and a separate article of recently completed sales of note.
Corfield aggregation suited to carbon
Diversity on offer in western NSW
Maranoa goat operation
CQ's Kantaka boasts quality
New England grazing heads to auction
Breeding & fattening in northern NSW
Beautiful Boronga at Boomi
Southern QLD bullock block
Masterton family relists Southern Tablelands block
Tasmania's Snowhill attracts interstate inquiry
Corfield aggregation suited to carbon
Highly regarded freehold grazing country in western Queensland's Corfield district is being offered for sale by Winton-based Brodie Agencies.
After four years ownership, the McDonald family from Albeni, Springsure, in Central Queensland, has decided to consolidate its portfolio.
The 26,858ha Luckham Aggregation comprises three adjoining freehold properties – 10,443ha Luckham, 8272ha Thordale and 8142ha The Belmont Block (originally known as the Weeba additional area).
All are situated in a tick-free area, 80km north-east of Winton and 160km south-west of Hughenden.
The productive heavy carrying, fertile, self-mulching chocolate and red pebbly Mitchell grass downs country can run 3100 adult equivalents in an average season. Currently, the property is carrying 1000 cattle and 10,000 Merino wethers.
Described as 100 percent useable and productive, the Luckham Aggregation features undulating open Mitchell/Flinders grass downs country producing high weight gains at a low cost.
Most of the property is feral exclusion fenced (76km) with the exception of around 2500 hectares that run along the Nesbitt Creek channels and are currently running agistment cows and calves.
Combined, the properties are well watered by 11 dams and two waterholes. There are five solar equipped bores, three large storage tanks plus numerous seasonal waterholes along the creeks.
Luckham is suitable for the first stage of a soil carbon project development following a preliminary biodiversity feasibility study.
Agent Tom Brodie is handling the sale. Offered as a whole or separately (bare of plant, equipment and livestock), the three properties are being sold via expressions of interest closing on April 18.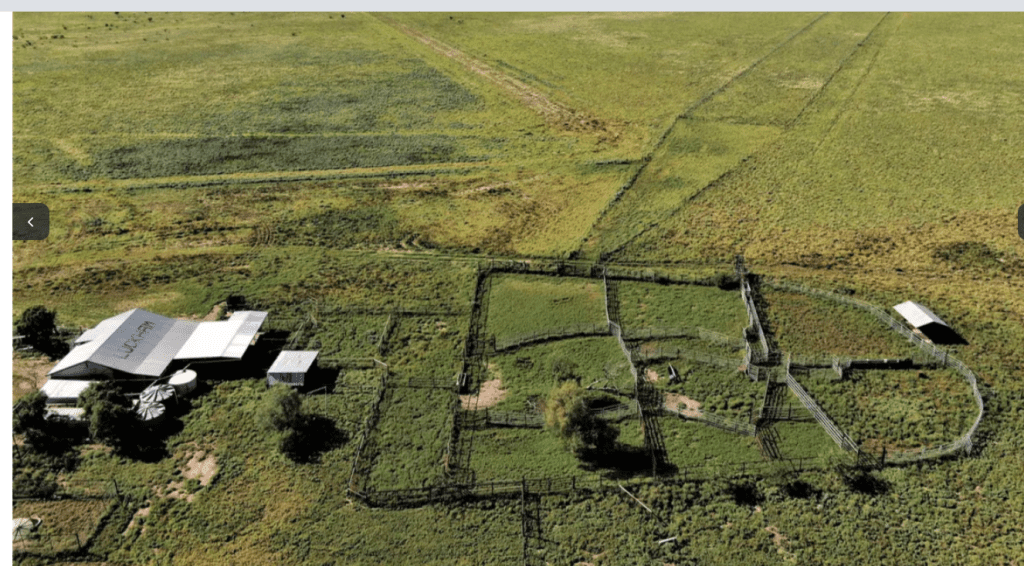 Diversity on offer in western NSW
Between $15 million and $17 million is anticipated for a large, well-developed grazing and farming operation in western New South Wales.
The 15,264ha Black Range Station is situated at Eremerang, 85km north-west of Condobolin and 165km south-east of Cobar.
The Western Lands Lease property is currently run as a mixed farm, with income streams generated from a combination of cattle, sheep, rangeland goats and broadacre cropping.
It features sloping red loam farming country, open grazing flats, hill country and timbered ranges.
Black Range is currently running 2600 ewes with lambs, 50 cattle and some goats. Last year, around 1900ha of wheat was grown under a share farming agreement, with plans to do the same again this year.
For the past five years, Black Range has been held by two Forbes businessmen. The sale will allow them to progress their strategic plan which includes acquiring more properties.
During their ownership, the vendors have drought-insulated the property by upgrading the stock watering system with a new solar bore supplying a network of tanks and troughs. There are 16 surface dams, as well as fenced and trapped watering points.
Gary Johnston from the Johnston Rural Group described Black Range Station as a powerhouse property and expects it will attract good interest.
"This part of New South Wales is in the crosshairs for many buyers and under the microscope for private, corporate and institutional parties due to the advancements in modern farming and grazing techniques, and improved on-farm technology and machinery."
Multiple carbon opportunities are also available, including a Human Induced Regeneration (HIR) project.
Black Range Station is being sold via expressions of interest closing on April 13.
Maranoa beef/goat operation
After six years ownership, Greg and Kate Honor are offloading their well-developed cattle breeding and backgrounding country in Queensland's Maranoa.
Glenmore is located 60km south of Surat and 100km north-east of St George – with good access to both the Queensland and New South Wales markets.
The 7246 hectares are equally suited to a goat enterprise, with the quality infrastructure set up for both mustering or trapping.
At present, the Honors are spelling around half of Glenmore, with the remainder of the country running more than 7000 goats.
Around 80km of new fencing has been installed which means the entire property is exclusion fenced.
Glenmore is watered by 11 dams and two bores which are monitored by a remote water level device.
Nick Dundson from Nutrien Harcourts GDL said it is early days, however good inquiry is coming from locals, Queensland producers and goat industry players seeking expansion.
Glenmore will be auctioned on April 14.
CQ's Kantaka boasts quality
A Central Queensland property that turns off top quality weaners is being offered for sale by Jamie and Sigrid Peters.
The 3399ha Kantaka is situated at Molangul, 40 minutes from Gin Gin and conservatively stocked with 350 breeders, 230 heifers and 30 cull cows. However, it is estimated to carry up to 650 breeders plus replacement heifers, with the balance of the progeny sold as weaners.
Around 1214ha of gently undulating country with flats and hollows are established to improved pastures. Livestock numbers could be lifted further with the development of 405ha of similar country.
Another 405ha of lower timbered ridges is interspersed with flats and hollows carrying native pastures, and 1376ha is timbered, steeper ridges to range country carrying native grasses.
The water infrastructure on Kantaka is extensive with five bores, numerous dams and semi-permanent watercourses.
Mike Barry from Shepherdson & Boyd paid tribute to the vendors, saying they have developed the property with superb pastures, water infrastructure and structural improvements.
Kantaka will be auctioned on April 19.
New England grazing heads to auction
Producers from north Queensland to southern New South Wales are showing good interest in a large-scale New England grazing property being offered by the Beynon family after 43 years of ownership.
Situated at Balala, 22km from Uralla and 46km from Armidale, Lindon is well situated to take advantage of any livestock markets.
Spanning 1696ha, the undulating grazing country features mostly granite soils growing improved and native grasses running 11,000DSE.
In the past, Lindon consistently turned off prime grass, fattened weaners and heavy lambs. It was also well known for producing superfine Merino wool.
Water is a feature. There are 21 dams (many of which are spring fed), two bores (one equipped) and access to the reliable Honeysuckle and Morses Creeks.
The property is well fenced and subdivided into 30 paddocks allowing for a rotational grazing system.
Lachlan Cullen Ray White Rural said Lindon offers the capacity to further increase production.
The property will be auctioned on March 30.
Breeding & fattening in northern NSW
After 39 years of ownership, the Clarke family is selling its tightly held breeding and fattening block in the New England region of northern New South Wales.
The 392ha Lagoona Downs is located at Niangala, 65km from Walcha and 80km from Tamworth.
The district is situated in a safe and reliable, high rainfall area that enjoys a 1300m altitude.
The country features high performing red basalt soils that can run up to 300 breeding cows.
Since 1984, the Clarkes have been producing vealers straight off the cow, as well as growing cattle out to feedlot and processing weights.
Riley Gibson from Ray White Rural believes there is scope for further development.
"With further pasture improvement, an incoming purchaser could lift the property's production capacity."
The property is watered by 17 dams (with at least one in each paddock) and several springs and streams.
The block has attracted mostly local interest from producers seeking expansion and from entry level players.
Lagoona Downs will be auctioned on April 6.
Beautiful Boronga at Boomi
Expressions of interest are being sought for magnificent river country on the north-west slopes of New South Wales.
The 1526ha mixed farm Boronga is located 21km north-east of Boomi, 84km west of Goondiwindi and 106km north of Moree – close to the Queensland border.
The vendors, who have owned the property since 2006, grow either summer or winter forage crops allowing them to grow 1000 steers (300-500kg feedlot weight) for cattle trading.
The grazing country is mostly timbered with coolibah, wattle, black box and river red gum, with areas of natural grasses.
Terry Adams from Moree Real Estate said a wide variety of crops could be grown on the cracking fertile grey clay soils (typical of the Boomi River country), including cotton.
Water is a feature with 10km of McIntyre River frontage and 15km of double frontage to the Boomi River.
There are several easements for irrigation supply channels for neighbouring properties. Included in the sale is a 150ha licence agreement to access water from the Boomi River.
The EOI campaign for Boronga closes on March 9.
Southern QLD bullock block
After 25 years ownership, the Paine family is selling its finishing and backgrounding cattle block in southern Queensland to enable retirement.
Situated 17km from The Gums, 40km from Meandarra and 40km from Tara, the 764ha Pippinford has a soft blend of country – mostly brigalow/belah melon hole country.
Andrew McCallum from Nutrien Harcourts GDL said the property had a solid reputation for quality soils, water infrastructure and the country's natural ability to adapt to seasons to produce a return.
Currently carrying a good body of feed, Pippinford is exclusion fenced on three sides and running 200 bullocks.
The property is well watered by five dams and a central pipeline fed to ten troughs and storage tanks via a solar pump.
Mr McCallum described the holding as an effortless performer.
"Pippinford is a top shelf, low stress operation in a well-regarded area that can be managed remotely."
It will be auctioned on April 5.
Masterton family relists Southern Tablelands block
The Masterton family has relisted its cattle breeding and finishing enterprise on the New South Wales' Southern Tablelands with a $3.8-$4.2 million price guide.
Offered for sale in October 2021 and subsequently withdrawn, the 343ha Wallaroobie is located at Parkesbourne, 25km west of Goulburn and 98km from Canberra.
The productive grazing property which is also suited to sheep and prime lambs sits on top of the Great Dividing Range at the headwaters of the Lachlan River.
The gently undulating to flat arable grazing land is securely watered by seven dams, a bore and double frontage to the Wollogorang Creek.
Wallaroobie is fenced into 13 paddocks and has an estimated carrying capacity of 2500DSE.
It will be auctioned by Webster Nolan on April 4.
Tasmania's Snowhill attracts interstate inquiry
Locals and wool growers from New South Wales are showing interest in a large well known Tasmanian wool growing property that is expected to make between $3 million and $4 million.
Owned by Joan Gee and her late husband Tony, the 1475ha Snowhill is located at Royal George near Avoca, 100km from Launceston and 50km from the east coast.
It boasts a 2km frontage to the St Pauls River and a mix of improved and native pastures running 2000 Saxon merinos that produce high quality superfine wool.
Snowhill has cropping potential, giving the incoming purchaser the opportunity to further develop the property with dam sites and irrigation.
Michael Warren from Nutrien Harcourts is handling the sale with expressions of interest closing on March 15.