THIS week's property review includes this wrap-up of interesting recent listings across the country, and a separate article of recently completed sales of note.
$30m for NSW sustainable grazing platform
Tasmania's iconic Stonehenge listed for $25m
Quality grazing in northern NSW
Weight gain country offered in southern Qld
$10m for historic Riverina holding
Dependable breeder Qld country
Ideal weaner paddock in Winton
Curran family parts with two holdings
NT depot listed for $5.6m
High rainfall grazing on NSW Southern Tablelands
$30m for NSW sustainable grazing platform
Around $30 million is anticipated for the landmark grazing property Checkers on the Central Tablelands of New South Wales.
The 3817ha property, 32km from Canowindra and 45km from Orange, is being offered for the first time in 45 years by the Mathieu family.
During their ownership, Checkers has transitioned from a traditional high input commercial grazing enterprise to a regenerative low-input sustainable grazing platform.
Sam Triggs from Inglis Rural Property said the low-risk model has proven to be more drought tolerant, enabling Checkers to become more profitable year after year, whatever the season.
Checkers is operating as a wool and beef production platform conservatively carrying 26,000 to 28,000 dry sheep equivalents.
The current management is running 3500 Merino ewes, 2000 wethers, 3000 hoggets, 1600 first cross ewes with 350 breeding cows plus weaners.
The versatile grazing country features heavy red clay loam and black basalt soils with a perennial pasture base of native and introduced species.
Checkers fronts the Canomodine and Canongle Creeks and the Panuara Rivulet. It has a large network of dams and nearly all paddocks are serviced by at least one dam and/or creek water.
The property features 800ha of box gum grassy woodlands which is one of the rarest ecological landscapes in Eastern Australia.
Mr Triggs believes biodiversity credits for trading may be available in the future to the incoming purchaser.
Checkers is being offered for sale via expressions of interest closing on March 24.
Tasmania's iconic Stonehenge listed for $25m
One of Tasmania's most significant properties has been listed for $25 million.
The 3386ha grazing and irrigation property Stonehenge is situated in the Eastern Midlands, 30km east of Oatlands.
Originally settled by Samuel Page in 1855, it was purchased in 1947 together with the neighbouring Dalmeney Park by the McShanes, and has been held by the family ever since.
The centrepiece of Stonehenge is the seven-bedroom slate roofed Henry Hunter designed sandstone home built in 1879.
The entire property is an effective grazing platform encompassing rich black clay river flats, lighter friable loams through to solid ironstone country and open bush grazing country.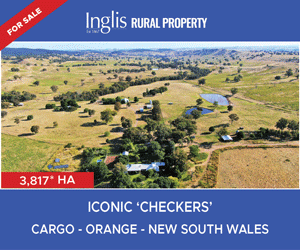 When Stonehenge was separated from Dalmeney Park five years ago, the property carried an average of 9600 sheep (4000 joined ewes) and 115 cattle.
Following the construction of a 1500 megalitre dam and irrigation development, the property is running around 6000 sheep, including 3000 breeding ewes.
Stonehenge has five 40ha pivot circles (with a further six circles planned) currently leased to potato farmers, poppy producers and barley growers.
The property is well watered by 2km of Boomer Creek frontage, 5km of Little Swanport River frontage and 2km of Nutting Garden Rivulet frontage.
It also has a 1360mgl water licence and a half share in a 1500mgl storage dam. There is potential for a 5000mgl dam site in the south-east of the property.
Andrew Fisher from Nutrien Harcourts Tasmania said there has been good inquiry from large local and Victorian grazing operators.
Quality grazing in northern NSW
There is strong local and Queensland inquiry for a quality grazing property on New South Wales's Northern Tablelands that is likely to achieve around $11 million.
The 624ha Calala is located 10km east of Walcha and 72km south of Armidale in a cool temperate climate district renowned for its prime breeding and fattening country.
Calala is suited to carrying cattle and/or sheep with vendor Mike Faulkner running both in a rotational grazing system.
While the conservative carrying capacity is 7500DSE, Mr Faulkner has just sown another 200ha of pasture that will come into production in late winter and early spring, further increasing the property's capacity.
The country is level to undulating rising to low hills with productive black alluvial flats to quality traprock. Much of the property is well established with dedicated tree lanes for shade and shelter.
Water is secured by 4.2km of Apsley River frontage, 17 dams, a creek and bore. An 88mgl water licence is included in the sale.
Bruce Rutherford from Nutrien Harcourts described the improvements as exceptional.
"It is an immaculately presented property having had the benefit of a significant capital improvement program including significant re-fencing, new laneways and strategically located cattle yards for ease of management," he said.
"An excellent fertiliser history and a high level of pasture improvement means an incoming purchaser could run 700 steers today that are putting on weight gain tomorrow."
The Faulkners who have owned the block for three years are consolidating their assets to move closer to family.
Calala will be auctioned on March 30.
Weight gain country offered in southern Qld
Weight gain country in southern Queensland will be auctioned by Nutrien Harcourts GDL on March 30.
Described as a pocket of grazing paradise in a safe rainfall area, the 2496ha Spring Grove is 7km north of Surat and 73km south of Roma.
Gary and Kerry Ladbrook and their son Khan, who have owned the property for the past three years, are selling to consolidate their assets and enable succession planning.
Selling agent Andrew McCallum said Spring Grove was well located, easily managed with a secure water supply and had a proven production history.
"The property, renowned for growing a significant body of feed, is a soft blend of country with a natural ability to put excellent weight gains on cattle."
The country, which has deep loams to chocolate soils and beneficial soft red loamy soils, is destocked and heavily pastured to buffel.
The property boasts excellent fencing, including 5km that are exclusion fenced, and an outstanding watering system that is monitored via mobile phone or computer.
In addition, there are 6km of double frontage to the Bungil Creek that has a permanent waterhole, as well as a backup dam.
Featuring bitumen frontage, the EU accredited Spring Grove is well positioned to major selling centres, feedlots, grain handling facilities and fodder outlets.
Asking $10m for historic Riverina holding
Around $10 million is anticipated for a historic 495ha southern Riverina property on the banks of the Murray River.
Barooga Station is located 4km from Barooga and Cobram, close to the New South Wales – Victorian border.
Listed for sale by the Jarrett family, the holding was founded in 1847 and once employed 44 blade shearers. During World War II, it became a hospital site for Australian and American army and air force personnel.
With fertile and alluvial sandy soils, Barooga Station has been historically used for livestock grazing and more recently growing winter cereals and oil seeds.
Situated on the banks of the Bullanginya Lagoon, it has direct access to irrigation water via its 6km of water frontage.
A feature is the historic seven-bedroom, five-bathroom Classical Revival-style homestead, with 15-foot ceilings, wide verandahs, ornate open fireplaces and a formal dining and ballroom.
CBRE's Shane McIntyre and Matt Childs who are managing the sale expect Barooga Station to have a wide appeal. Expressions of interest close on March 22.
Dependable breeder Qld country
There has been widespread inquiry for dependable breeder country in central Queensland's North Burnett.
The 2335ha Yerilga Station is located at Mingo, 18km south of Mount Perry and 50km from Gayndah.
The low-maintenance calf factory has been held since 2019 by Lloyd Stranks and Leanne West who have decided to downsize but stay in the area.
Tom Manns from Ray White Rural said good inquiry is coming from locals, the Gulf of Carpentaria, Roma and Birdsville.
"There is a good cross-section of buyers who recognise the region's value per breeder area. Some are looking for additional country, while others are seeking a sizeable standalone operation for their agistment cattle."
Mr Manns said the vendors have done a good job drought-proofing the property.
"They have invested in substantial improvements, land management, upgrading water security and fencing."
Yerilga can support 500 breeding cows and replacements. The vendors are currently running a core breeding herd of Brahman, Angus and Wagyu bloodlines, consistently turning off weaners and fat cull cows.
Situated in a 900mm plus average rainfall district, the undulating plateaued grazing with soft native pastures is presenting with a full body of feed following recent good seasons.
Yerilga is well watered by 11 dams (six of which are spring-fed), one bore, two solar pumps, multiple natural springs, as well as a 10km creek frontage.
It will be auctioned on March 10.
Ideal weaner paddock in Winton
Brodie Agencies will auction a low cost and high weightgain producing block in Queensland's central west on March 29.
Located on the highway in a tick free area, the 3989ha Addarea is 45km from Winton and 135km from Longreach.
It formed part of John and Donna Paynter's Wando Aggregation that was offered to the market earlier this month. The nearby 8156ha Wando house block listed for $4.15 million(with an extensive list of plant and equipment but bare of livestock) has gone to contract.
Selling agent Tom Brodie described Addarea as an ideal depot or a weaner paddock.
"It is suited to breeding, backgrounding or fattening cattle or sheep with good access to the live export cattle market through Townsville or Cloncurry as well as meatworks, feedlots and store selling centres to the south."
Addarea is enjoying a good start to the 2023 summer season following on from last year's 633mm of rain.
The lighter carrying sweet, quick-responding creek flats balance out the heavy carrying Mitchell grass open downs with areas of soft Flinders grass downs, growing seasonal summer and winter herbages.
Addarea can run up to 240 breeders and followers.
Currans family parts with two holdings
The long-established Currans family from Nyngan in north western New South Wales is downsizing and offloading two properties – one in nearby Hermidale and the other at Blackall in Central Queensland.
Rewa
After six years ownership, the Currans are selling the diverse breeding and cropping aggregation Rewa in New South Wales' western division.
The 4495ha holding is situated at Hermidale, 58km west of Nyngan and 215km from Dubbo.
Over the past six years, the Currans have established lucerne, buffel, sorghum, constant lovegrass and various medics to support the beef, lamb and wool production.
Rewa is currently running 2000 Merino breeding ewes, 2000 weaners and 200 mixed breeding cows and calves. However, the estimated carrying capacity is 6000DSE.
Oats, barley and lupins are seasonally grown and silage is stored on-farm.
The country is slightly undulating red loam with scattered kurrajong and box wilga, and rosewood in the sheltered tree lines with a large variety of natural herbages and grasses.
Rewa is well watered by 15 dams and an area of catchment off the Whitbarrow Creek system.
It will be auctioned online on March 29 by David Russell from Nutrien Russell Property and Livestock.
Strathavon
Blackall's 5537ha Strathavon has returned to the market and will be auctioned on March 30 by Des Cuffe from Nutrien Harcourts.
The property last traded hands in June 2019 when it was purchased for grass by Ashley Currans for $2.54 million bare.
At Strathavon, livestock walk no further than one kilometre to get a drink. The property is well watered by natural waterholes and the Barcoo River supplies water to the numerous tanks and troughs. A feature is a large waterhole that has never run dry.
After a very good run of good seasons, it is carrying a heavy body of buffel, bluegrass and Mitchell grasses as well as a variety of herbages. It is capable of running one breeder to 12 hectares or one backgrounder to eight hectares.
Part of an exclusion fence cluster, all internal fencing has been renewed or renovated and an unfenced stock route of 970ha traverses the property.
Mr Cuffe said Strathavon has plenty to offer.
"In the past, the property was a ram depot for both Portland Downs and Isis Downs which reflects the quality of the country," he said.
"It should attract good enquiry because it is difficult to find smaller blocks in the Blackall region. The size means producers can expand their existing holdings without breaking the bank."
NT depot listed for $5.6m
A well-positioned depot block one hour from Darwin Port has been listed for $5.6 million by Katherine-based company Hammaco.
Owned by Kurt Hammer of Outback Ringer TV fame and Meg Elliott, the 543ha Heaton Hill is situated at Tortilla Flats, 30 minutes from the Batchelor Meatworks, in the Northern Territory.
Fronting the Stuart Highway, it features all-steel construction cattle yards, undercover working and feed sheds, hard stand facilities to accommodate year-round road train access, lights for night loading and a 1700m2 hay shed.
Around 150 hectares is established to hay paddocks (Jarrah and Tully grass) yielding between 3000 and 4000 bales a year.
The sale of Heaton Hill is being handled by Toni Coutts from Nutrien Harcourts GDL Katherine.
High rainfall grazing on NSW Southern Tablelands
A high rainfall grazing block on New South Wales' Southern Tablelands is being offered for sale by expressions of interest closing on March 23.
The 308ha Cross Station is located 23km from Taralga and 67km from Goulburn.
It is equally suited to livestock breeding running 2900 dry sheep equivalents, or as a finishing platform for 190 cows in a spring calving weaner production system.
The country on Cross Station rises steeply from the Bannaby Creek to arable plateaus. Extensive native tree breaks have been established across the property.
Featuring fertile basalt soils, 150ha has been sown to improved perennial grass and clover pastures with the balance native perennial grass and clover pastures.
It is securely watered by the Bannaby Creek and a number of dams.
Col Medway and Tim Corcoran from LAWD are handling the sale.