THIS week's property review includes this wrap-up of interesting recent listings across the country, and a separate article of recently completed sales of note.
Winton's Baratria returns to the market
$40m+ for productive south-east Riverina holding
Riverina weightgain country likely to make $15m
Blue-ribbon Western Downs grazing
More than $18m for southern NSW's Dalriado
$14-$15m for Snowy Monaro grazing
Wind farm income potential on CQ's Gelobra
NW NSW's Forest Lodge lists for $12.5m
CQ's Springvale fails to sell at auction
Lamb finishing platform at Cowra
Casey Stoner offloads Northern Tablelands block
Run-down Liverpool Plains farm attracts entry level players
Downsizing graziers look to south-east QLD
Winton's Baratria returns to the market
After 30 years of ownership, the Teys meat processing family's large-scale north-west Queensland grazing aggregation Baratria has returned to the market.
Located in a tick free area 65km from Winton and 115km from Longreach, the 77,747ha property comprises three adjoining holdings – Baratria, Hartree and Clyde.
The breeding, backgrounding and finishing enterprise was offered for sale two years ago after an expressions of interest campaign failed to find a buyer.
At the time, drought conditions created headwinds during the EOI process with agents hoping a change in the season would be all that was needed to deliver a deal.
The holding had only a body of short, dry feed, but was well positioned to respond well to rain because it was conservatively stocked.
This year, the Baratria Aggregation has experienced an excellent season with just under the 400mm long term Winton/Longreach district average falling since the end of March.
Tom Brodie from Brodie Agencies reports the country is looking magnificent and the dams are full.
"The pasture is a mix of sweet fresh spring/summer herbages, hayed off winter herbages, buffel grass along the channels and a good body of Mitchell grass that is greening up after 50mm of recent rain," he said.
Currently lightly stocked with around 3000 head of cattle, it is estimated Baratria would comfortably run an additional 4000 to 5000 head of cattle, with around 68 percent of the aggregation presently un-stocked.
Mr Brodie is anticipating significant interest from existing industry participants seeking expansion of an existing supply chain, or institutional investors seeking a high-quality, viable standalone enterprise.
"The strength will probably come down to two or three buyers who will secure the aggregation in individual parcels," he said.
The country comprises mostly open undulating Mitchell/Flinders grass downs, with 8500ha of heavily grassed channels and sweet light carrying claypans along 116km of channels.
The properties are well watered with 28 dams, 12 turkey nests, 18 tanks, 72 troughs and numerous seasonal and semi-permanent waterholes along the many channels.
Tom Brodie explained the properties can be purchased as one lot or individually, with each property contingent on the sale of the other two.
The Baratria Aggregation is being offered via expressions of interest closing on November 17.
$40m+ for productive south-east Riverina holding
More than $40 million is anticipated for the Scott family's premium south-east Riverina holding Aratula producing high yielding protein, fibre and grains.
Situated at Tocumwal, the 4852ha holding comprises four contiguous holdings – 1308ha Aratula, 1936ha Oomabah, 808ha Main Camp and 619ha Wahroonga North.
Aratula has been managed by five generations of the Scott family and is being sold to finalise a family estate.
Situated in a 460mm rainfall region, the picturesque property has alluvial, highly productive creek flats complimented by vast, open, fertile farming, breeding and fattening country.
Over the past four years, Aratula has been running a core breeding herd of 300 self-replacing cows plus followers and 1200 ewes and lambs. Today, the aggregation is lightly stocked, presenting with a large body of feed.
Aratula is currently growing 305ha of established lucerne and 120ha of grazing oats for livestock and hay.
James Sides from Nutrien Harcourts said Aratula was one of the most significant agri-investment opportunities to be offered for sale in the region in over a decade.
The aggregation features substantial improvements. Water is secured via a modern, well maintained piped system.
Aratula will be offered as a whole or in four contingent holdings via expressions of interest closing on October 27.
The successful purchaser will be offered Aratula's superior lines of sheep and cattle, as well as more than 2000ha of winter crops.
Riverina weight gain country likely to make $15m
Around $15m is anticipated for Dan and Sally Muenster's weightgain livestock country in New South Wales' Riverina.
The 2370ha Marong, 38km from Deniliquin or two hours from Albury and Wagga, is suited to breeding and fattening, as well as irrigated cropping and pastures.
The Muensters have held Marong for seven years, but reside at Congarrara Station, 100km north of Bourke in northern New South Wales, where they run a goat trading business.
They have been using Marong as a goat operations hub. Over the yearly cycle, up to 100,000 goats are trucked in, spelled and sent away for processing. Between 4000 and 6000 Dorper lambs are also brought to Marong for finishing.
The property is presenting with a massive body of feed and is currently running 3000 ewes, 50 head of cattle and 300 nannies.
Situated in a 400mm rainfall region, Marong features well sheltered and well-watered grazing country, alluvial self-mulching river flats to open red loam clays and murray pine cropping soils.
Boasting extensive Forest Creek frontage, the property has irrigation access points from both the Forest Creek and the Murray Irrigation (Murray River system).
Improvements are described as exceptional and include new 5000 head goat yards with water, a four-stand wool shed, steel yards with water and plenty of grain storage and shedding.
Marong is being offered as a whole or as two separate holdings (2370ha and 488ha) via an expressions of interest campaign closing on October 27.
James Sides from Nutrien Harcourts is also handling the sale.
Blue-ribbon Western Downs grazing
The Cameron family is offering for sale its blue-ribbon Western Downs grazing enterprise with mixed farming capabilities in southern Queensland.
The 2267ha Tullaville is located 13km south-west of Moonie Crossroads and features fertile brigalow/belah soils with extensive stands of improved pasture.
The Cameron family is currently operating the property as a beef cattle enterprise with 350 breeders and progeny, supported by 685ha of cash crops.
The property could also run as a backgrounding enterprise supporting a larger breeding operation.
It has a carrying capacity of 1000 adult equivalents plus cash crops. However, there is capacity to increase the stocking rate by growing summer and winter fodder crops or continuing the improved pasture program.
Tullaville has had just two owners. In the 1960s Bill Baker drew the 2267ha block in a ballot and subsequently cleared and developed the property. Forty years later it was purchased by Don and Patsy Cameron.
Since 2006, the Camerons have underpinned Tullaville with good operational infrastructure and a 2000 head feedlot approval.
They have also invested significantly into regrowth control, pasture improvement, upgraded water reticulation (private artesian bore) and a central laneway resulting in greater efficiencies and productivity.
JLL agribusiness directors Clayton Smith and Chris Holgar have been appointed to auction the property on October 27. The sale includes 296ha of barley and 389ha of wheat.
More than $18m for southern NSW's Dalriado
Paul and Colleen Hoffmann are offloading what is described as some of the most productive grazing and mixed farming country in south-eastern New South Wales.
The 834ha Dalriado (comprising 173ha, 178ha, 129ha and 348ha blocks) has been owned and operated by the Hoffmann family since 1948. The couple is planning to retire to Albury.
Situated in the tightly held Culcairn district, 52km from Albury, the versatile enterprise showcases productive creek flats running 100 breeders and 1000 merino ewes, and 400ha of prime cropping land.
Agents from LAWD and Delta Agribusiness have been appointed to sell Dalriado which they believe will make north of $18 million.
Tim Corcoran from LAWD said Dalriado is a significant listing for the eastern Riverina.
"A truly picturesque property, the vendors have demonstrated a commitment to production as well as to land care. Dalriado features established tree lines as a result of planting 30,000 native trees."
Mr Corcoran said there had been good interest to date from neighbours and locals, New South Wales and Victorian producers, and from Sydney investors.
Dalriado is reliably watered from the permanent Billabong Creek and other creeks, dams, a bore and a large rainwater storage.
It is being offered for sale in one line or four individual parcels via an expressions of interest campaign closing on October 27.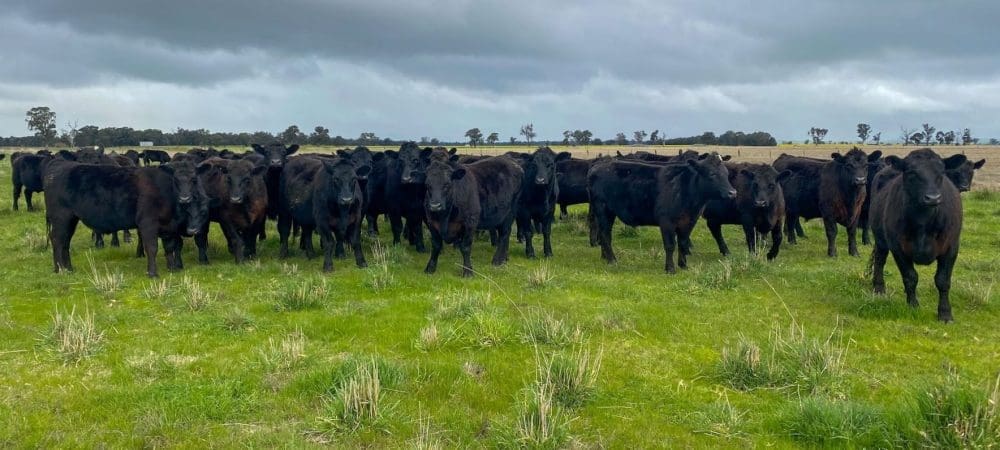 $14m to $15m for Snowy Monaro grazing
Between $14 million and $15 million is anticipated for a livestock breeding platform in New South Wales' highly regarded Snowy Monaro.
South Bukalong, held by six generations of the Garnock family, is described as one of the premium holdings in the Bombala district.
Liam Griffiths from Inglis Rural Property said the property had generated good inquiry from locals and southern NSW producers, as well as from Sydney and Canberra investors.
South Bukalong is suitable for wool, prime lambs and beef production and is situated 11km from Bombala and 97km from Cooma.
It has a history of producing high quality stud genetics, with a focus on soil carbon, productivity and profitability.
The 1919ha block features a balance of open arable country and rolling hills with perennial pastures that can carry between 12,000 to 15,000 dry sheep equivalents.
The highly productive and sustainably managed basalt grazing and farming country ranges from open arable slopes, rolling hills and lightly scattered timber. It is extensively fenced for progressive cell-grazing.
South Bukalong has a 1.5km Bombala River frontage, a 2.6km Cambalong Creek frontage and 6km Bukalong Creek frontage. It also has an extensive network of dams and a reticulated water system.
It is being offered for sale via an online auction on October 27.
Wind farm income potential on CQ's Gelobra
Central Queensland cattle enterprise Gelobra is offering potential purchasers a significant future passive income stream opportunity.
Spanning 5308ha, with 1040AE carrying capacity, the large-scale grazing opportunity is located on the eastern side of the Mount Morgan Range at Bajool, south of Rockhampton.
Gelobra falls within the Mount Hopeful Wind Farm – a large-scale renewable energy project proposed within the Rockhampton and Banana Shire areas.
The property features good quality operation infrastructure including secure boundary fencing and 14 paddocks.
It is watered by a variety of permanent and semi-permanent creeks and natural springs. There are six fully equipped bores and multiple on-farm water storages.
There is also a long-term lease agistment agreement in place.
Simon Cudmore from LAWD is offering Gelobra for sale by expression of interest closing on October 27.
NW NSW's Forest Lodge listed for $12.5m
The well-developed mixed farming enterprise, Forest Lodge in New South Wales north-west has been listed for $12.5 million after failing to sell at auction.
It has been owned by three generations of the Teys family, spanning 130 years.
Located 17km south-west of Merah North and 31km west of Wee Waa, the 2085ha property comprises mostly heavy self-mulching black soils with a good body of clover and dry grass.
Terry Adams from Moree Real Estate said for more than 100 years, Forest Lodge had produced award winning sheep and prime cattle.
"Natural grasses transfer weight gains into the fattening of livestock. The incoming purchaser has the option to establish high performance pastures to enhance the current livestock production."
Forest Lodge was running 550 cows before the vendor expanded the cultivation area to 765ha. Today the property is conservatively carrying 220 Angus cows and calves which will be made available to the purchaser.
The Gunidgera Creek runs through the middle of the property, with water also provided by six bores and five dams.
CQ's Springvale fails to sell at auction
Central Queensland's Springvale owned by Peter and Minnie Clarkson has been listed for $5 million after failing to sell at auction.
The 1120ha block (1008ha freehold and 112ha leasehold) was passed in at $4.9 million earlier this month.
Springvale is located 32km from Biloela and is carrying an excellent coverage of grass that can carry 350 cows and calves or up to 450 mixed cattle.
The country consists of 728ha of bottle tree scrub, 162ha of previously black soil cultivation, with the remainder heavy loam and iron bark forest.
Springvale is watered by two dams and a bore.
Brad Mulvihill from TopX Australia is handling the sale.
Lamb finishing platform at Cowra
Andrew Lenton's 200ha lamb finishing platform Stirling Park is attracting good inquiry from locals and producers in southern New South Wales.
Located 10km from Cowra and 65km from Young, in central western New South Wales, the turn-key holding is suited to prime lambs, beef production and dryland cropping.
Offering a 3000 head automated lamb feedlot, Stirling Park is currently being operated as a fattening depot to a large-scale sheep enterprise along with opportunistic lamb lotfeeding.
The property has well-drained heavy black and responsive red loam soils growing dual purpose canola and grazing crops, as well as perennial pastures.
Stirling Park has direct frontage to Crowther Creek and is also watered by four dams and an equipped bore.
It is being offered for sale by Inglis Rural Property via an online auction on October 25. It is anticipated to make between $3.5 million and $3.75 million.
Casey Stoner offloads Northern Tablelands block
Retired professional motorcycle racer Casey Stoner and his wife Adriana are selling their productive breeding and fattening property on New South Wales' Northern Tablelands.
Julkerru is situated at Niangala, 54km south of Walcha and 74km south-east of Tamworth.
The 507ha block is a balance of open undulating grazing and sheltered timber country. The rich chocolate and light basalt soils are growing abundant feed that can comfortably support 120 cows and calves.
Situated in a high rainfall region, water on Julkerru is supplied by the Mulla Creek and several dams.
Daniel McCulloch from McCulloch Agencies said there has been good interest from locals and coastal producers seeking fattening country.
Julkerru will be auctioned on October 18. It is expected to make between $3.5 million and $4 million.
Run-down Liverpool Plains farm attracts entry level players
Meantime, McCulloch Agencies will auction a run-down scenic grazing and mixed farming operation that it describes as "good value for money."
Situated at Currabubula in the tightly held Liverpool Plains of northern New South Wales, the 1177ha Surrey Farm has rich productive farming flats to undulating protected grazing ridges.
The property enjoys sweeping views of Mount Terrible, the Liverpool Plains and beyond.
Selling agent Daniel McCulloch is anticipating Surrey Farm will make between $1.8 million and $2 million, making it an affordable proposition for young people seeking entry to the rural property market.
He said there is potential for further development by clearing regrowth and improving the pastures.
Consisting of multiple land titles, the property also lends itself to numerous opportunities for investors.
Surrey Farm will be auctioned on October 4.
Downsizing graziers look to south-east QLD prospects
Downsizers and semi-retirees from further west are showing strong interest in picturesque grazing on the eastern fall of the Bunya Mountains in the South Burnett region of Queensland.
Owned by Paul Weir from 7W Grazing, Alice Flats is situated in a tightly held area, 10km from Kumbia and 35km from Kingaroy.
The 130ha property is situated on the banks of Alice Creek providing an unlimited supply of water, as well as four bores.
The country comprises undulating ridges and creek flats grassed with clovers, medics, native and improved pastures that are currently running 95 cattle.
Alice Flats will be offered via online auction by Raine and Horne Dalby on October 6.
Meantime, there has been good early inquiry for an immaculately-presented smaller-scale grazing block close to Toowoomba in southern Queensland.
Located less than 10 minutes from Pittsworth and 40 minutes from Toowoomba, the 67ha Stevally boasts sweeping views and first-class improvements including a spacious modern house, well maintained sheds and yards.
The fertile dark soils are growing improved and natural pastures running 30 cows and 50 sheep.
Stevally is watered by two bores, two dams and a creek with a billabong.
The low-maintenance block would make an ideal 'scale-back' proposition for somebody moving out of a larger enterprise, but not yet ready for full retirement.
Stevally will be auctioned by Ray White Rural Pittsworth on October 28.
Click here to access more properties listed for sale