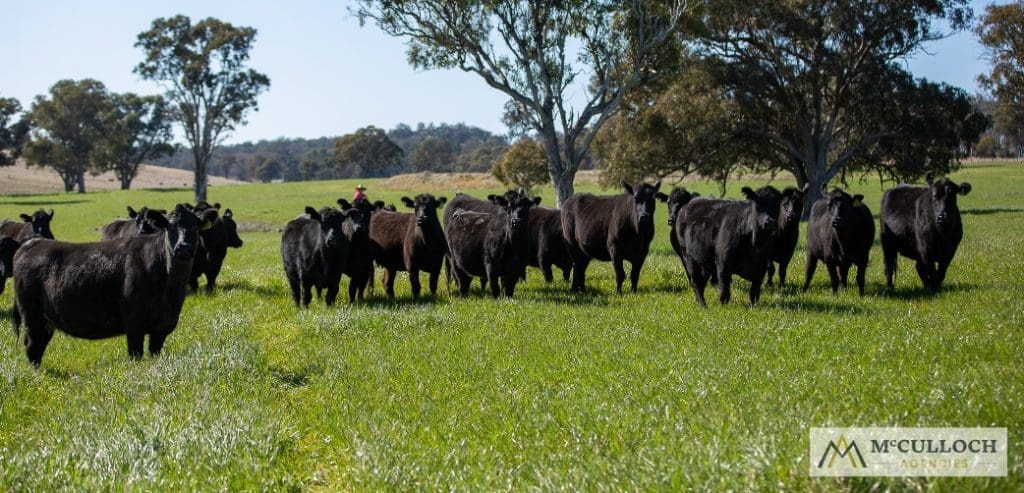 THIS week's property review includes this wrap-up of interesting recent listings across the country, and a separate article of recently completed sales of note.
EOIs closing for Gunnedah's Sylvania Aggregation
Upper Hunter Valley trophy property returns to the market
Blue-ribbon grazing platform on Canberra's doorstep
Breeding & backgrounding in Coonamble
Northern NSW high rainfall grazing block
Warrego river frontage country offloaded after 42 years
Picturesque SA grazing heads to auction
New England's Stockton listed for sale after failing to sell at auction
$16m+ for Wagga's Ladysmith Feedlot
EOIs closing for Gunnedah's Sylvania Aggregation
Expressions of interest close next week for MH Premium Farms' high-rainfall grazing and cropping aggregation Sylvania in northern New South Wales.
Spanning 3444ha, Sylvania is one of the largest operations in the renowned Wean district, 38km north of Gunnedah and 22km east of Boggabri.
It is likely to achieve between $13 million and $15 million.
Sylvania has been owned since 2016 by rich-lister and UK-based hedge fund manager Sir Michael Hintze, and is now being sold because it no longer fits the company's long-term strategy.
With productive mixed soil types, the holding lends itself to a range of commodities, with the current owners annually fattening 8000 sheep, trading 500 head of cattle and cropping 500ha.
The country runs from basalts to alluvial creek flats and lighter red open plains ideal for lucerne and sub-tropical grasses.
Emphasis has been placed on substantial water reticulation systems, sheep proof fencing and laneway infrastructures for ease of livestock movements.
EOIs for the Sylvania Aggregation close on October 29. Ian McArthur from Elders Gunnedah is handling the sale.
Meantime, expressions of interest have closed for the 12,343ha large-scale dryland cropping and grazing platform Marshmead Aggregation at Walgett, also owned by MH Premium Farms.
The sale process is being handled by Col Medway and Ian Robertson from Land Agribusiness Water Development (LAWD).
Upper Hunter Valley trophy property returns to the market
Around $13 million (bare) is anticipated for Timor Creek, a well-developed beef cattle operation in the productive Upper Hunter Valley region of New South Wales.
The 1679ha holding is situated 29km from Murrurundi and 45 minutes north east of Scone.
Michael Burke from McGrath Upper Hunter considers Timor Creek one of the most productive and well-improved properties in the region.
"Significant capital expenditure has greatly improved this highly regarded enterprise into one of the district's trophy properties. High volumes of cattle have been traded off the property delivering a sound return on investment," he said.
Timor Creek was attracting strong interstate interest from Victoria and Queensland – mostly from existing operators looking to expand their beef cattle holdings, but also from new entrants, Mr Burke said.
The Southern Highlands-based investor (Timor Cattle), who has held the property for four years, has spared no expense – erecting all-new 800 head steel cattle yards, 6km of new fencing and refurbishing the 32 bay horse stables.
Timor Creek is positioned at the foothills of the Liverpool Ranges. The country comprises a mixture of open cleared arable valley country rising to sheltered valleys with scattered timber.
Numerous dams and permanent springs with double creek frontage provide reliable water sources, along with two bores.
Timor Cattle was originally developed for beef cattle and Thoroughbred breeding by Jack Kelso. In 1987, it was purchased by the Stern family who continued to develop the commercial beef cattle operation.
Today it continues. Since June 30 last year, Timor Creek has traded close to 5000 cattle. It is currently running 1300 females.
Blue-ribbon grazing platform on Canberra's doorstep
More than $6 million is anticipated for a blue-ribbon grazing platform on Canberra's doorstep.
Owned since 1998 by retired Australian judge Roger Gyles, the 467ha Chimney Creek has mixed farming capabilities and future development opportunities.
It is situated in the Primrose Valley on NSWs' Southern Tablelands, 20km south east of Queanbeyan and 40km from Canberra.
Chimney Creek boasts a scenic landscape with highly productive creek flats rising to a gently undulating topography and protected valleys.
Well-appointed with fit-for-purpose operational improvements for cattle and sheep enterprises, 434ha is pasture improved and suited to forage and fodder cropping supporting 5600DSE or 12.9DSE per hectare.
Water is secured by multiple surface and groundwater sources, including four bores, 15 surface dams and two highly reliable creek systems – the Primrose and Chimney creeks.
Chimney Creek is listed for auction on November 25 by Land, Agribusiness, Water & Development (LAWD).
Breeding & backgrounding near Coonamble
Premium grazing country with outstanding water security is attracting extraordinary demand from New South Wales producers seeking a breeding and backgrounding block.
The 1058ha Waldon, 35km north east of Coonamble on the state's central western plains, is suitable for cattle, sheep or goats.
Level to slightly sloping productive red loam soils support an abundance of feed, including extensive stands of buffel, serradella, medics and native grasses.
Around 900ha is arable, giving the incoming purchaser a pasture cropping opportunity to increase stocking rates.
The vendors have invested money into securing permanent water via a bore, stock dams and two billabongs. There is also beneficial flooding from the Teridgerie Creek.
Bob Coote from Colliers Agribusiness said inquiry was coming from across New South Wales.
"Interest is coming from southern, central and western producers, as well as from high rainfall areas. Those from the New England and the eastern fall are seeking drier country."
While Mr Coote was unable to disclose price expectations, a local property sold three weeks ago for $3084/ha.
Waldon will be offered via online auction on November 16.
Northern NSW high rainfall grazing block
High-rainfall cattle and sheep grazing is being offered for $3.5 million in northern New South Wales.
Located 58km north-east of Narrabri and 58km south-west of Bingara, Darthula spans 1661ha.
Michael Guest from Rural Property NSW said Darthula was a consistent performer, combining productivity with a spectacular mountain backdrop.
"The 824mm average annual rainfall, temperate climate and volcanic soils of the Rocky Creek region provide the foundation for its reputation as highly desirable livestock grazing country," he said.
Darthula is naturally well-watered with numerous dams, waterways and the reliable Pound Creek.
It is currently running 140 cows and calves plus 2200 wethers.
Warrego river frontage country offloaded after 42 years
Safe western Queensland cattle breeding country, also suitable for Dorpers and goats, is being offered for sale by Bob and Mary Quinlan after 42 years.
Located 65km south of Charleville and 340km west of Roma, the 21,124ha Yanna Station is a productive, easily managed operation capable of breeding, growing and fattening.
The country features soft Warrego River frontage, open plains, flooded flats, channels, sand ridge buffel and gidgee, as well as high and low edible mulga.
Yanna is watered by 13km of Warrego River frontage, seasonal lagoons, three artesian bores piped 58km to 12 tanks and more than 60 troughs, plus a 200ML irrigation licence from the 5km long Warrego River Murweh waterhole.
The property is sub-divided into large grazing paddocks and numerous smaller and holding paddocks. There are three sets of cattle yards, connected via 35km of laneway with holding squares.
Keith Richardson from Elders said it was early days, but there has already been good inquiry.
Yanna will be auctioned on November 25 with working plant included. Around 400 to 500 breeders will be made available to the successful purchaser.
Picturesque SA grazing heads to auction
After more than 60 years ownership, the Walkington Group will offload its strong and healthy grazing country in South Australia's mid south east.
Manton is an 841ha property featuring picturesque red and blue gum country near Frances, 35km north of Naracoorte in the Gap/Frances area.
When it purchased in the early 1960s, the virgin scrub was cleared, levelled and sown to pasture.
Since then, the Walkington Group has been running a 1000 head prime lamb operation. Previously, they ran a beef cattle herd of 50 cows and calves, together with ewes and lambs.
The country on Manton comprises open, gently undulating productive grey and brown loams over clay with predominantly clover and grass-based pastures.
It is well fenced and watered by three bores.
Geoff Watts from Nutrien Harcourts said there was an opportunity for the incoming purchaser to increase the property's carrying capacity with clay spreading and pasture renovation.
Manton will be auctioned on November 17.
$16m+ expected for Wagga's Ladysmith Feedlot
As mentioned in a separate article on Beef Central yesterday, more than $16 million is anticipated for Andrew and Tess Herbert's Ladysmith feedlot in New South Wales' Riverina.
Located 20km from Wagga Wagga, the 6500 head fully licensed beef feedlot, with a land buffer of 735ha, is suited to dryland cropping, fodder production and cattle backgrounding.
The Herberts, who have held Ladysmith for the past 11 years, have decided to consolidate their operations, retaining their Gundamain feedlot at Eugowra.
Ladysmith is underpinned by a full array of operational facilities including all steel pens, induction and loading facilities, a feed mill and an office.
Building improvements include a homestead, a workman's cottage, a large office building, a workshop and stables.
The land surrounding the feedlot ranges from quality irrigable creek flats to undulating dryland cropping and grazing.
The 4800 head AQIS-approved quarantine area includes feed bunks and watering points.
Overall, water is secured by dams and a bore with 296 megalitre licence.
Ian Robertson from LAWD, who is handling the marketing and sale, said there was interest from processors and larger producers seeking vertical integration.
Ladysmith Feedlot is available for sale via expressions of interest closing on November 16.
Passed in: Stockton
The New England beef and sheep property Stockton has been listed for $4.95 million (bare) after failing to sell at auction.
Held by the Piddington family from Armidale for the past 15 years, the 735 hectares are located on the Waterfall Way, 20 minutes east of Armidale.
The eastern fall grazing property features an average 850mm rainfall, fertile New England trap soils across an undulating landscape, with scattered mature trees.
Around 60 percent of the property is arable and can carry around 350 cows and calves, although this number could be lifted by improving the pastures.
Stockton is watered by 27 dams, springs and waterways, as well as a 17,500gal rainwater storage.
The cattle and sheep infrastructure are a feature, with a set of steel cattle yards, two sets of sheep yards and a five-stand woolshed.
Stockton is being offered for sale by Daniel McCulloch from McCulloch Agencies and Tom Piddington from Armitage & Buckley.
Click here to access more properties listed for sale