THIS week's property review includes this wrap-up of interesting recent listings across the country, and a separate article of recently completed grazing property sales of note.
Former PM offloads Hunter Valley gem
Qld's best beef country attracting strong interest
Mixed grazing opportunity in Central NSW
Grass and water on Richmond's Windsor Park
Longreach's Ban Ban listed for $5.1m.
Sweet country for sale near Boulia
Scale, channel flood-out country on Roxborough
Boorowa bolt-on
Qld's best beef country attracting strong internet interest
Just one week on the market and Collier International's Billabalong Station has already attracted more than 2600 views on YouTube (click here to view).
Located 81km from Rolleston and 179km from Roma, the 3909ha property, pictured above is situated in Queensland's tightly held Arcadia Valley which boasts some of the best beef country in the state.
In any bar-room discussion about the location of the best cattle country in Queensland, the Arcadia Valley inevitably comes into calculations.
Selling agent Rawdon Briggs said it was country that producers dream of.
"Billabalong has exceptional bore water, an excellent stand of buffel grass following recent rain and the cattle are in great condition," he said.
There has already been strong inquiry from internationals through to locals from northern New South Wales, Central Queensland, traditional buffel grass operators and stud enterprises.
The country is rolling to undulating and the grasses and improved pastures are a mix of buffel, green panic and stands of Rhodes. The scrub country is suitable for finishing or a large stud cattle enterprise.
Billabalong presently runs a Droughtmaster commercial and stud herd and can carry around 2500 backgrounders.
The fully-improved property is tick-free, has a 5km Carnarvon Highway frontage, 20km of new fencing and an on-farm gravel resource.
Vendors Grant and Julie Veivers, who have owned the property since 2005, have decided to pursue other ventures.
Billabalong Station is for sale via an expression of interest campaign closing on June 10.
Former PM offloads Hunter Valley gem
Former Prime Minister Malcolm Turnbull and his wife Lucy are expected to raise between $6.5m and $6.75m from the sale of one of their Hunter Valley properties.
The 2000ha Scotts Creek is located in the foothills of the Liverpool Ranges, 12km from Blandford and Murrurundi, and 330km from Sydney.
Situated at 600-900m above sea level, the property boasts mainly chocolate and black rich basalt soils, plateaued hilltops and sheltered valleys making it an ideal breeding and seasonal fattening property.
It is well watered with running creeks, active springs and surface dams, complementing the average annual 813mm rainfall.
Historically, it has been renowned for its wool growing and Merino breeding abilities. More recently, it has focused on beef production and runs 600 Angus and Hereford breeding cows, together with 1000 to 1500 Merino ewes or wethers.
Chris Meares from Meares & Associates said the Scotts Creek valley is one of the outstanding wool growing and cattle breeding areas of central NSW.
"The property is located in one of the state's safer and most sought-after agricultural regions. It is blessed with its altitude, rich basalt soils and 800mm average rainfall and presents as a low cost, highly productive, well situated and scenic property," he said.
Scotts Creek will be offered for sale by Meares online auction on June 12 and 13.
In the meantime, the Turnbulls will retain East Rossgole, the 1000ha Aberdeen property which Malcolm inherited from his father in 1982.
Mixed grazing opportunity in Central NSW
A grazing enterprise focusing on cattle breeding and finishing has been listed for sale by Richard Gemmell from Elders Central West.
Previously run as a Merino sheep and wool operation, Genaren is a 6425ha mixed farming property located at Narromine/Peak Hill.
Large areas of open country and strategic development makes it also well suited to farming.
Mostly level to gently undulating open grazing country, Genaren has scattered shade timber and a small range which runs for 728ha from north to south.
The red/brown soils and medium cracking clays with moisture storing capabilities provide prolific pasture growth year-round in season.
The property has a 6km (mostly) double frontage to the semi-permanent Genaren Creek, plus several smaller creeks traversing the property.
Water is supplied by four stock and domestic bores, 58 dams and a floodplain which runs into the main dams and can provide beneficial flooding to around 162ha.
Over the past 20 years, Michael and Dorothy Harrison have secured adjoining blocks, almost doubling the scale and diversity of Glenaren.
Mr Gemmell said the property will attract a range of buyers.
"Glenaren will suit local producers wanting a large stand-alone enterprise, or agribusinesses and corporates seeking a bolt-on acquisition. It is also substantial enough to justify a manager and staff," he said.
Genaren will be auctioned on June 7.
Grass and water on Richmond's Windsor Park
Stephen Vohland from Ray White Rural is marketing the well-grassed and well-watered Richmond grazing enterprise Windsor Park.
Spanning 10,490ha, the property is located 120km south of Richmond and 160km from Winton.
Featuring open downs country with the Rupert creek running the length of the holding on the northern boundary, Windsor Park is grassed with Mitchell, Flinders and seasonal herbage.
At the beginning of the year, it received 690mm following the monsoon event. A further 100mm fell in April.
Windsor Park has a near new artesian bore piped to tanks and troughs under pressure.
Vendors James and Leigh Pickering estimate the property can carry 1200 adult equivalents, however Windsor Park is being sold bare of stock.
Ban Ban listed for $5.1m
Another well-grassed western Queensland property to hit the market is Longreach's Ban Ban, which has been listed for private sale for $5.1 million.
Located 95km south of Longreach and 250km west of Blackall, the 14,264ha enterprise is offering immediate access for cattle, sheep or goats.
Boasting sweet high-weight gain country, the property has no invasive weeds and around 60 percent has brand new exclusion fencing.
Ban Ban consists of Mitchell and Flinders black soil downs country and grows an abundance of natural grasses and herbages, as well as some buffel.
Ten dams provide water, and all but one have been de-silted in recent times. There is one creek system that runs through the property which provides additional wet season waterholes.
Tom McLeish from TopX Australia said Ban Ban was in great shape.
"The country experienced an excellent finish to the 2019 wet season. While the property can carry 1300 adult equivalents (or 9000 DSE), Ban Ban could easily carry more stock numbers for the remainder of the year."
Mr McLeish said the current owners, Michael and Sue Pratt, had decided it was time to start downsizing.
"The Pratts own three local properties. Ban Ban is an extremely successful operation which they owned and operated for the past 15 years."
Sweet country for sale near Boulia
Tom McLeish is also selling Western Queensland's 50,000ha Dover Station on a bare basis, offered at $6.8 million.
A backgrounding depot with scale, Dover is also suitable as a standalone breeding, backgrounding or fattening operation.
Located 135km north east of Boulia or 102km south west of Middleton, Dover is described as a well-developed, low-cost property.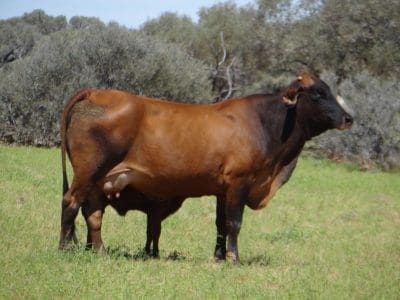 It features a diverse range of country types including Mitchell grass downs, ironstone, spinifex ridges, gidgee country ranging from lightly timbered to areas of thicker gidgee running down into well grassed channel type country.
It is watered by six equipped bores and five dams.
Mr McLeish said the vendors estimated a conservative stocking rate of 2500 adult equivalents.
"Dover is good naturally sweet Boulia downs country. It is a big place and is situated in a drier rainfall belt. It is lightly stocked and carrying a large body of grass after receiving 195mm of rain in February and a further 156mm in March."
After seven years of ownership, Brett and Sue Campbell have decided to downsize.
Scale, channel flood out country on Roxborough
Also in the far western Queensland's Boulia district, Colliers International has an expressions of interest campaign in place for large-scale cattle growing properties Roxborough Downs and Mudgerebar Station.
The adjoining properties totalling 424,00ha are located in a tightly held and highly regarded cattle growing region, with an estimated carrying capacity of around 16,000 adult equivalents.
The country is divided into three dominant grazing country types, including extensive areas of beneficially-flooded channel country.
The country has multiple bores and watering points.
The properties are for sale via expressions of interest via Colliers, closing soon.
Boorowa bolt-on
A 590ha New South Wales cattle and sheep breeding and finishing operation with a historical carrying capacity of 4300 dry sheep equivalents will be auctioned next week by CBRE.
Tillararra, situated 22km east of Boorowa in the productive south west slopes region of NSW, consists of fertile valley floors transitioning through arable slopes to sedimentary hills.
It has a productive pasture base of native perennials suited to the local climate to take advantage of the district's non-seasonal rainfall.
The property has fodder cropping capability via the deeper soils in valley floors and mid slopes, with 35ha of oats included in the sale.
Tillararra boasts high-quality improvements and reliable water resources, including a pump, a tank, troughs and 17 dams.
CBRE selling agent Richie Inglis said the property is currently destocked.
"The vendors, Paul and Mary Reardon have been running a Merino flock and small opportunistic cattle breeding operation," he said.
Mr Inglis said there had been good inquiry.
"Despite the patchy conditions, there's been interest particularly from locals seeking expansion. However, Tillararra also has the ability to be a standalone property."
Tillararra will be offered on May 23. It is expected to sell for around $2.5 million.
Click here to access more properties listed for sale