THIS week's property review focuses on recent grazing property listings and sale results of interest across the country.
For sale: Northern Territory
The established Roper River breeding property, Mt McMinn, has been relisted for sale by the well-known Cahill family.
The property, pictured above, was earlier withdrawn from the market in November 2016, after a month-long expressions of interest campaign.
The 80,900ha cattle enterprise, located 140km east of Mataranka and 250km south east of Katherine, was purchased 13 years ago by brothers Daniel and Michael Cahill who manage Cahill Transport – a family-owned transport company and a general logistics service provider with strategically-placed depots across Australia.
Dan Cahill said the property boasted abundant water at a time when parts of the rest of Australia were in drought.
"Mt McMinn is picturesque, featuring stunning escarpments and hills, open black soil and typical red soils. The Roper and Hodgson Rivers run through the property and are teeming with barramundi and saltwater crocodiles. This means the property also has outstanding eco-tourism prospects."
The Cahill brothers have made numerous improvements to fencing and waters.
Mt McMinn can now comfortably run 5000 head, but in a good season it has the capacity to run 6000 to 8000 head.
The brothers have decided to dissolve their partnership and downsize. Mt McMinn is being auctioned bare on May 17 by Alison Ross, Elders Katherine.
The successful bidder will be offered 3000 head of Brahman cattle, plant and equipment at market price.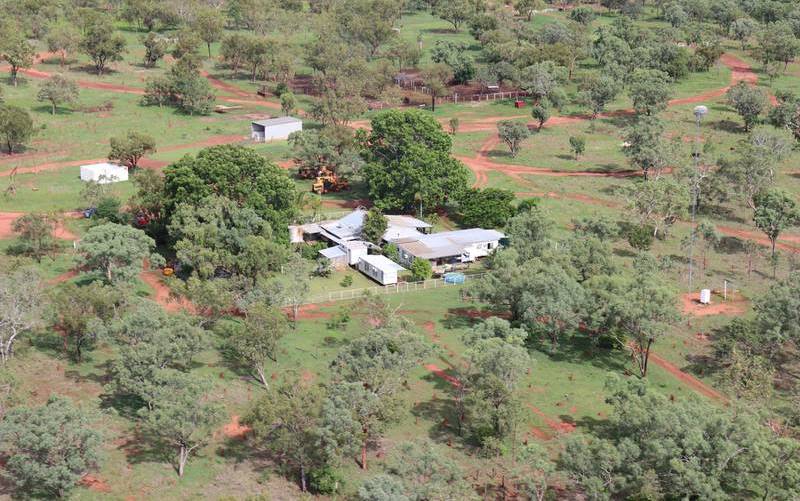 Also in the NT, Lindsay and Margaret Miller have listed their 60,769ha breeder property Margaret Downs Station, pictured above, an hour and a half south-west of Katherine.
The Millers are selling Margaret Downs to bring son, Neil, home to manage the family property, Undilla Station near Camooweal in Queensland's far northwest, that was settled in 1916. This will allow them to step back and semi-retire.
Margaret Downs was purchased in 2003 after expansion plans were dashed due to years of drought. It was here that the family expanded their breeding herd to between 4000 and 5000 head of cattle.
Dry River, which provides semi-permanent water to the western side of the property, is slow-moving and ideally suited to early dry season grazing. The remainder of the property is watered by seven equipped bores, numerous dams, turkey nest, tanks, troughs and soaks.
Mr Miller hopes to buy another property to grow out steers, somewhere closer to Undilla for ease of management. He believes Margaret Downs would appeal to a family enterprise or a small business, or as a bolt-on acquisition.
The property is for sale by private treaty for $8.7m including 5500 head of Brahman cattle – comprising breeders and bulls, heifers, steers and weaners, as well as 25 Ponderosa Brahman bulls purchased in December last year.
For sale: Queensland
As reported earlier on Beef Central (click here to view story) noted Central Queensland bullock fattening depot Redcliff is being put to auction in Rockhampton next month.
The well-improved 6917ha (17,000ac) brigalow and associated scrub country property is located in the very tightly held Middlemount district.
Redcliff, pictured above, has been owned by the Hood family since 1972, with Michael and June Hood purchasing the holding outright from their family in 1980.
Located about 20km southeast of Middlemount in dress-circle bullock fattening country, Redcliff is well developed with buffel, green panic and rhodes grasses and areas of butterfly pea. The balance is tableland forest county with mainly spear grass, kangaroo grass with areas of buffel and seca stylo.
Although it has only just been placed on the market, agents for Redcliff, Hourn & Bishop, are confident that the property could set a new local record at auction in Rockhampton on Thursday, 12 April. Recent widespread rain has delivered a big body of feed, setting the property up perfectly for inspections in coming weeks.
Agent Gary Bishop said the property would provide a good test of the early 2018 cattle property market in Central Queensland.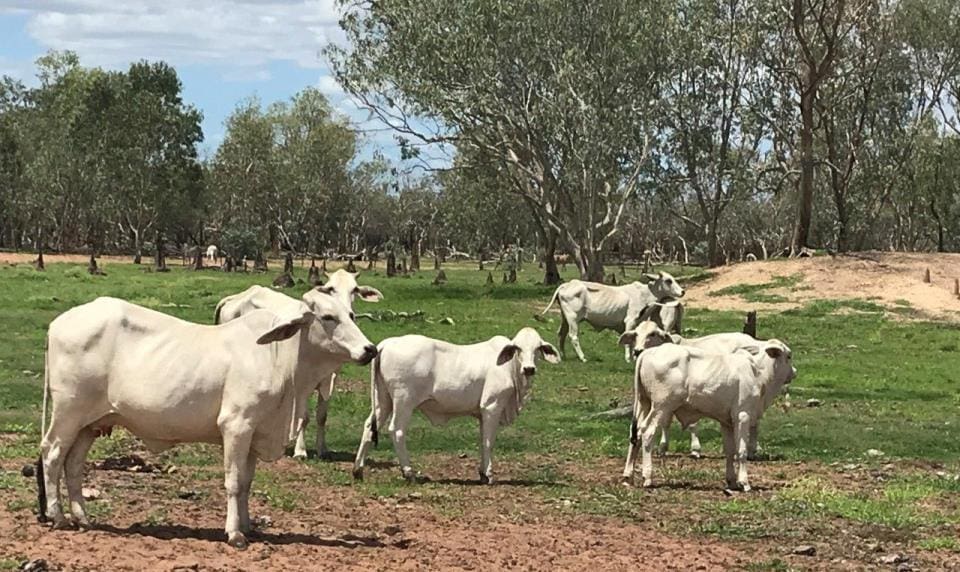 Eleven thousand branded Brahman cattle are included in the sale of the large-scale weaner factory, Strathpark Station in western Queensland.
The 159,700ha breeding property, pictured above, is located 14km north of the Norman River Crossing and 140km north of Richmond and has a reliable average annual rainfall of 650mm.
Matthew Kennedy from Kennedy Rural said Strathpark has been held in the same family for the last 25 years.
"The vendors, Greg and Jan Gibson are consolidating and will also sell their 16,592ha backgrounding and fattening property Ardbrin, 100km south-west of Richmond and 590km west of Townsville," he said.
Described as a low-cost black soil open downs country, Ardbrin can carry 2200 adult equivalents. It boasts Mitchell and Flinders grass and herbages and excellent water, with the property already receiving almost half of its annual 450mm rainfall this year.
Strathpark and Ardbrin are offered for sale separately or together by public tender closing on April 26. They include full working plant and equipment.
Mr Kennedy said both properties are attracting strong interest.
"Strathpark has an excellent economy of scale and represents a great opportunity to enter into a sizeable cattle breeding operation in a reliable rainfall area. Ardbrin, which includes 1000 heifers, is situated in the sought-after Mitchell grass downs area," he said.
For sale: Tasmania
With expectations of $70 million, Tasmania's largest farm is attracting strong interest from domestic and international players, including New Zealanders.
Situated in the state's premium far north-east farming area and encompassing 21,861ha, Rushy Lagoon is a diversified farming enterprise, incorporating intensive irrigation for large-scale dairy production alongside substantive sheep and beef cattle operations.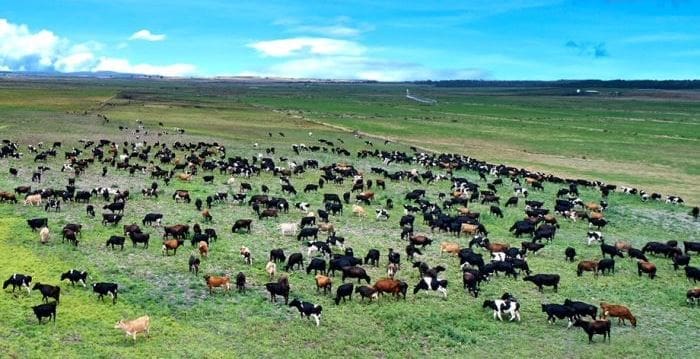 Owner Allan Pye is one of New Zealand's richest farmers whose wealth is estimated at more than $350m. He acquired Rushy Lagoon in 1997 and expanded the holding with the adjoining properties Red Hills and East Wyambie – developing a first-class asset of international significance.
It boasts four dairies, supported by 1000ha of centre pivot irrigation, milking 4000 cows. The other livestock operations use approximately 7000ha of arable pasture in conjunction with a further 7000ha of grazing country to run 7000 head of beef cattle and 7000 sheep.
Rushy Lagoon, which receives average rainfall of 750mm per year, benefits from significant water entitlements (6865ml) coupled with on-farm water storages (4295ml), excellent operational infrastructure, productive soil types, and numerous structural improvements, including a 20-stand shearing shed.
Peter Ryan from CBRE Agribusiness said Rushy Lagoon will reward future investment in irrigation and pasture development to enable significant intensification with a huge uplift in carrying capacity.
"The property has been rated at 80,000 DSE, but industry experts believe that number could be doubled if the new owner invested a moderate amount of money into better irrigation, pasture and fencing."
Mr Ryan said $70m is excellent value for money when compared to the historic Woolnorth property, which sold in 2016 for $220m to Moon Lake Investments.
"Woolnorth has been developed to a significantly higher level than Rushy Lagoon, but Rushy Lagoon has the basic fundamentals to facilitate future development. The core is there, the land area is there, the opportunity is there, and it will reward the developer."
The property is offered for sale on a walk-in walk-out basis, inclusive of land, structures, water licenses, plant and equipment and planted crops. It is available in one line or as separate assets. It is being sold via an expressions of interest campaign closing on April 23.
For sale: NSW
For the first time in 32 years, a cattle grazing property in the tightly-held, highly regarded Eastern Riverina of New South Wales will be auctioned.
Hillview, a 322ha property located just north of Holbrook, has been conservatively managed present owners Tony and Heather Emerson, who have decided to retire.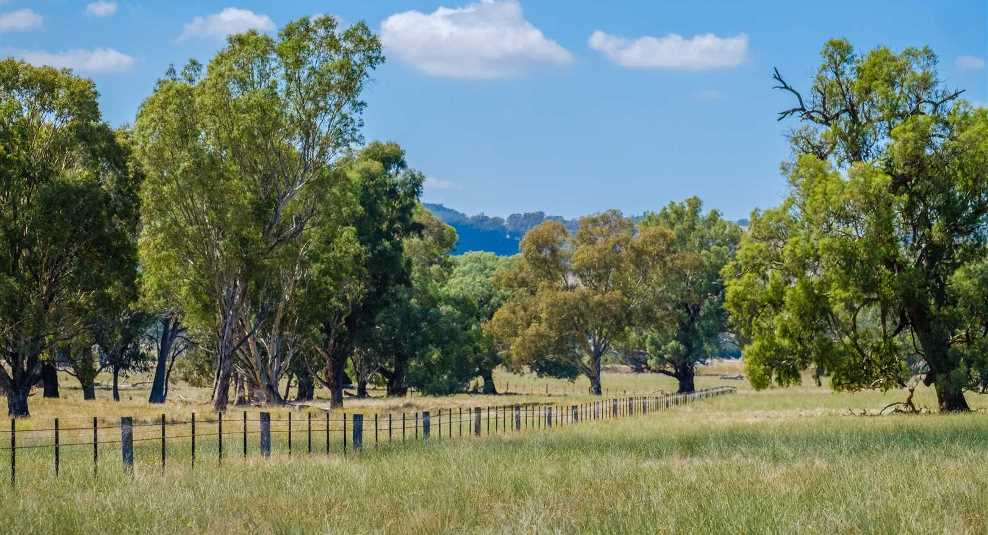 Selling agent Matthew Pitzen from Landmark Harcourts said the holding  provided an exceptional opportunity to secure high quality grazing land in a sought-after area where there have been limited sales.
"With a carrying capacity of 240 breeders, Hillview will be attractive to locals or neighbours seeking expansion or as a stand- alone block for new players," he said.
Hillview is expected to achieve between $2.7m and $3m. It is being auctioned on March 29.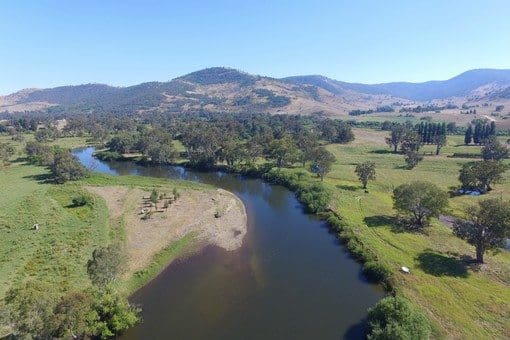 A small, but tightly-held Upper Murray cattle breeding and fattening property, Aquatic Park, pictured above, situated at the foothills of the NSW Snowy Mountains, has been listed for sale by Inglis Rural Property.
At just 108ha, it is situated 90km from Holbrook and 140km from Albury and has outstanding water with close to 2km of uninterrupted Murray River frontage and a 432 ML irrigation license.
Last year, a similar property – the 203ha Riverfront Park, the largest river flat grazing property on the Tumut River in southern NSW – sold for a district record of $3.7m or $18,030/ha. The breeding, fattening or finishing enterprise was capable of finishing 1000 steers.
Despite being similar country, Aquatic Park is not likely to break such records. It is however likely to fetch up to $16,600/ha or $1.8m.
Selling agent Sam Triggs said the property is carrying a large body of pasture with the ability to generate immediate returns.
"Aquatic Park boasts 90 percent highly productive river flats and high performance phalaris and clover pastures. With an estimated carrying capacity of 250 weaners, a producer can run a steer or two to the acre."
Mr Triggs said any country that comes up in the Upper Murray is hotly contested. "The likely buyer will be a cattle producer seeking higher rainfall country – a beautiful summer fattening block."
Aquatic Park is for sale via expressions of interest closing on March 28.
Sold/passed in: NSW
Duraba, the 1228ha blue-ribbon property located in the renowned Liverpool Plains, has passed-in at auction well short of expectations.
Located 30km south west of Gunnedah and 18km east of Mullaley, Duraba, pictured below, is a dual-purpose property that can lend itself to any enterprise. Earlier it was used for grain production, but today it is being run as an intensive beef cattle trading operation annually turning over 2000 steers.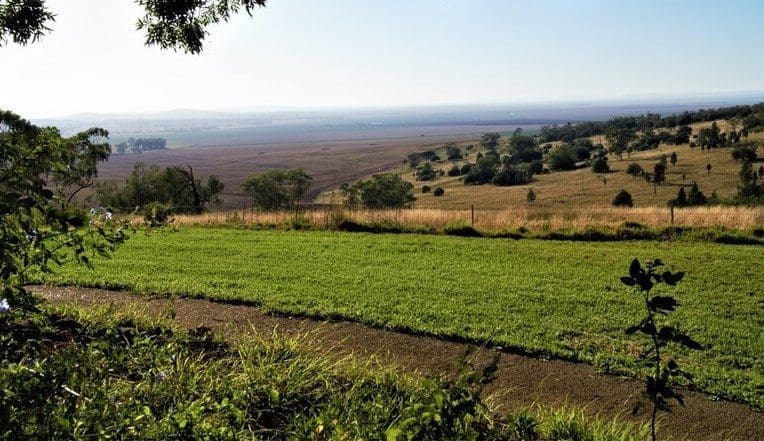 With heavy basalt soils and an average 625mm rainfall, Duraba was initially purchased as a graingrowing venture in 2004 by James and Jackie Weston from Bedfordshire in the UK.
In recent years, the pair switched to cattle trading with supplementary cropping.
The property was expected to achieve between $5.5m and $6m at auction, but was passed-in at $4.64m.
With a prime location and quality improvements, Daniel McCulloch from Ruralco Property Davidson Cameron Real Estate, Tamworth, believes Duraba will appeal to established farming interests and investors.
Sold: Queensland
Taroom beef producers Ben and Amanda Adams from Kingswood recently paid $4.15m for Two Up, a 1183ha freehold grazing property in Queensland's Western Downs region.
Located 5km south-west of Taroom, Two Up is tick-free and has an estimated carrying capacity of 450 mixed steers. Well grassed with buffel and natural pastures following recent rain, the property generated strong local interest.
Darryl Langton from Landmark Harcourts said the auction result exceeded expectations.
"Property prices are trending upwards due to a lack of supply and exceptional seasonal conditions. The beast area value was $3937/ha, up from the previous recent high of $3237/ha."