THIS week's property review includes this wrap-up of recently completed sales, and a separate article on interesting recent listings across the country….
Smaller NT holding doubles price in 16 months
Brackenburgh aggregation makes competitive $22.25m
Pre-auction deal seals Tarbarah
Mt Abundance record paid
Roma's Flagstone makes $2.81m bare
Tassie's Okehampton sells for more than $7m
Northern Territory
In an extraordinary twist of events, Two Rivers Station north of Katherine has changed hands in an off-market transaction for more than double its 2017 sale price.
The 14,120ha cattle property, 45km from Katherine and 280km south of Darwin, boasts 46km of pristine river frontage to the picturesque permanent Fergusson and Edith Rivers.
With an estimated carrying capacity of 3000 head of cattle during the wet season or 2000 head year-round, Two Rivers Station is suited to backgrounding or establishing a herd. It also has irrigation and tourism potential, including great fishing.
It was sold in February 2017 by Alison Ross from Elders for $2.4m bare, including some plant and equipment.
According to Ms Ross, an interested buyer who missed out last year, returned this year in a different financial situation.
"The Sydney-based purchaser, with overseas backing, was seeking a long-term investment. They approached the vendor, who had owned Two Rivers for just 16 months, and made a substantial offer. The family-owned business had no immediate intention of selling, but in the end were persuaded by price."
It is believed the buyer paid around $6 million bare for Twin Rivers, which is ironic given that Ms Ross has a string of properties on her books including Tarlee, Carbeen, Margaret Downs, Sturt Downs and Middle Creek Stations.
Recently sold – Queensland
As discussed in a separate article today, the large-scale Brackenburgh Aggregation at Middleton has sold under the hammer for $22.25m to John and Robyn Rodger from Hatcham Downs at Taroom.
The walk-in walk-out sale included 5000 head of mixed breeding cattle, as well as comprehensive plant and equipment.
Located 170km west of Winton, the 182,481ha modern and well improved cattle enterprise consists of Rangers Valley, Brackenburgh, Saville Downs, Glenworth, Denbeigh Downs, Menin and Patricia Downs.
With an estimated carrying capacity of 11,000 mixed cattle in an average season (or 5500 breeders plus progeny carrying steers), the property could also be used as a backgrounding operation producing a high turnover of young cattle.
The sale was handled by David Tanncock from Tannco Rural Real Estate and Tom Brodie from Brodie Agencies at Winton.
Pre-auction deal seals Tarbarah
Ranald and Rachel Noble's 10,265ha Central Queensland grazing property Tarbarah was snapped up just 30 minutes prior to last week's auction in Brisbane.
Located 70km south-west of Blackall, Tarbarah is a beef cattle, prime lamb or wool production enterprise completely secured within a predator-proof fence.
Featuring a mix of undulating and scattered gidgee, bauhina, coolibah and boree country, it supports Mitchell and vuffel grasses, plus summer and winter herbages. It has an additional 545ha stock route and water is provided by a high capacity capped flowing bore.
The property has been continuously productive, running sheep and cattle with no feeding or supplementation even during the dry spell experienced across central western Queensland.
Ray White Rural selling agent Andrew Turner said it was a great offer and the vendors were happy with the outcome.
"Tarbarah sold quickly because it was extremely well-improved, well-watered and well-fenced. The Nobles had continually reinvested capital back into their asset – which was a massive selling point."
While Mr Turner would not disclose the price or the buyer, he said Tarbarah sold for above expectations to a New South Wales party.
Using a guide of sales over the last four years, Blackall district properties of a similar size and development stage have made anywhere from $420/ha ($170/ac) to $610/ha ($250/ac).
Mt Abundance record paid
A Mt Abundance district record has been paid for Rod and Jenny Henzell's property, Birindi – a small grazing operation in the heart of southern Queensland's open rolling downs.
Listed by Robert Brown of LJ Hooker, the 809ha property was sought after by 14 registered bidders for its location – just 20km to Roma, quality of water supply, new cattle yards and homestead. Birindi is currently stocked with about 300 mixed cattle.
It sold under the hammer to Des and Tanya West, Bobadilla, for $2.52m or $3115/ha bare. The couple own the neighbouring properties and purchased Birindi as an expansion to their current enterprise.
Meanwhile, 70km north of Roma, Flagstone, an ideal additional or standalone grazing and backgrounding property, sold for $2.81m bare post auction recently to Gary and Kerry Ladbrook from Bulah at Yuleba.
Owned by retiring couple David and Lauren Keating, the 2031ha property is a subdivision off the original Cornwall holding.
It comprises undulating open grazing land with densely grassed creek flats rising to developed mix of belah and box rises, with well-established buffel grass pastures.
Watered by two bores and permanent water holes in the Bungeworgorai Creek, the block can carry 400 breeders.
Recent sales – Tasmania
Okehampton, one of Tasmania's premier fine wool merino properties boasting a spectacular coastline, has sold for more than $7 million to a Tasmanian-based company.
The historic 1385ha property is located 7km from Triabunna and 90km from Hobart. What makes Okehampton unique is its title extending to the high-water mark, as well as its 9km coastal frontage.
Comprising Cape Bougainville, the nearest land mass to Maria Island National Park and two private beaches – one fronting onto Okehampton Bay and the other onto Mercury Passage –the rugged coastline offers spectacular views.
Okehampton has been held since 1956 by the Weeding family who operate the well-known Okehampton Merino Stud which has a carrying capacity of 5000 DSE.
The property was expected to attract interest from graziers, investors, tourism developers or individuals looking for a unique and private property.
Landmark Harcourts' Michael Warren, who handled the expressions of interest campaign, was unable to disclose the price paid or the buyer, but said Okehampton would continue to be run as a sheep stud for now.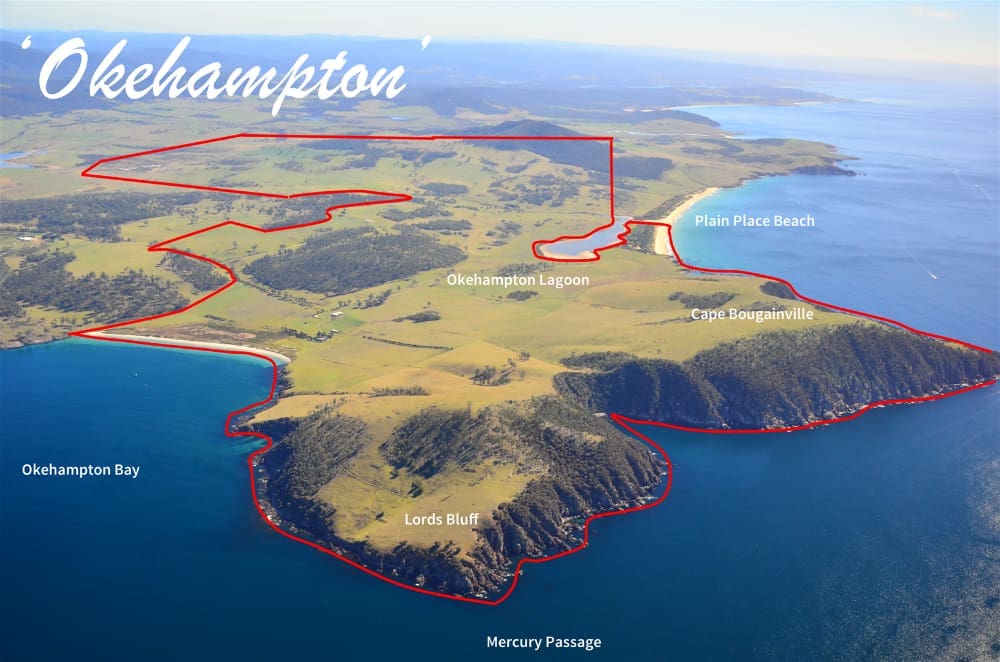 Click Here to access more property sales results