THIS week's property review includes this wrap-up of interesting recent listings across the country, and a separate article of recently completed sales of note.
Eastern interest for WA beef powerhouse
Central Qld's Dooruna offers versatility
Forbes mixed farm features grazing and irrigation
New auction date for Palari
Eastern interest for WA beef powerhouse being sold complete with beef brand
A highly productive cattle operation near Western Australia's Margaret River has been listed for $8.9 million – bare of stock, but including a successful grassfed beef brand.
The 1150ha Milyeanup, pictured above, is located near Scott River, a small region fronting the Southern Ocean surrounded by natural forests and noted for its high production of beef, dairy, horticulture and grain.
The vendors are fourth generation farmers, John and Barbara Dunnet, who own and operate Black Point Grass Fed Natural Beef (trading as Milyeanup Pastoral Co).
Situated 3km from the south coast and 72km east from the renowned wine and tourist centre of Margaret River, Milyeanup is currently running 500 cows and calves, 70 joined heifers and 700 trade cattle.
As well as breeding and backgrounding, Milyeanup is suited to providing year-round prime grassfed cattle, with the retiring owners offering their Black Point Grass Fed label with the sale of the property.
Two bores service 200ha of irrigation, there is a 1.2 megalitre water licence from the fully-allocated Yarragadee Aquifer and 704ha of non-irrigated pastures.
When the incoming purchaser harvests the 206ha of blue gums, marketing agent Orest Luzny from Elders estimates the property's carrying capacity will be boosted by a further 200 breeders.
Mr Luzny said Milyeanup boasts high rainfall and represented value for money.
"The main inquiry has been from investors and corporates, both domestic and international, as well as family farmers – including several parties from the eastern states," he said.
North Qld's Dooruna offers versatility
Dooruna in Central Queensland's tightly held Kilcummin district will be auctioned bare on September 4 by Nutrien Harcourts Emerald.
The 12,800ha property comprise a sizeable cattle operation, as well as large-scale irrigation and dryland farming.
Located 110km north east of Clermont and 100km west of Moranbah, it has been held by the Plath Family for almost 40 years.
The grazing country comprises 4612ha of developed brigalow, gidgee and yellow-wood scrub, 2050ha of open downs and 2676ha of open and semi open coolibah.
The farming country consists of 3600ha of fully developed fertile black soil dryland cultivation (including 1368ha planted to wheat, 924ha planted to chickpeas and areas planted to forage sorghum) and 400ha of fully developed lateral irrigation on fertile black soil scrub country.
Dooruna will comfortably run 1200 breeders or 2000 adult equivalents without interfering with any of the irrigation and dryland farming country.
The property has a licenced 12,500 megalitre dam which catches off Logan Creek at a maximum inflow rate of 1469 megalitres per day.
Selling agent Matt Beard believes Dooruna will suit a multitude of large family operators seeking additional country, corporates seeking entry into Central Queensland grazing and cropping with some irrigation, and those with the capacity to increase the property's production even further.
Forbes mixed farm features grazing and irrigation
Investors are showing interest in a productive irrigated mixed farm with the added benefit of groundwater potential.
Located 45km south west of Forbes in the Central West region of New South Wales, Kywong is highly versatile.
It comprises 1218 hectares of highly productive well-drained country with self-mulching soils that are ideal for grazing, cereal and cash cropping, irrigation as well as row cropping.
After 67 years of continual family ownership, the Scott Family has decided to offer Kywong to the market via expressions of interest, through Forbes stock and station agent Gary Johnston.
Mr Johnston said interested parties are inquiring from different farming backgrounds, with some having a livestock focus, while others are impressed by the property's irrigation and cotton production potential.
In recent years, Kywong has produced 120ha of irrigated cotton (yielding 12.3 bales per hectare), finished prime lambs, 750ha of cereal crops and carried 3000 dry sheep equivalents.
The property is watered by 14 dams and a large lagoon, an extensive tank and trough system and 1000 MgL of water entitlements. It also is connected to the West Plains Stock & Domestic Water Scheme for added drought proofing.
Click here to view listing.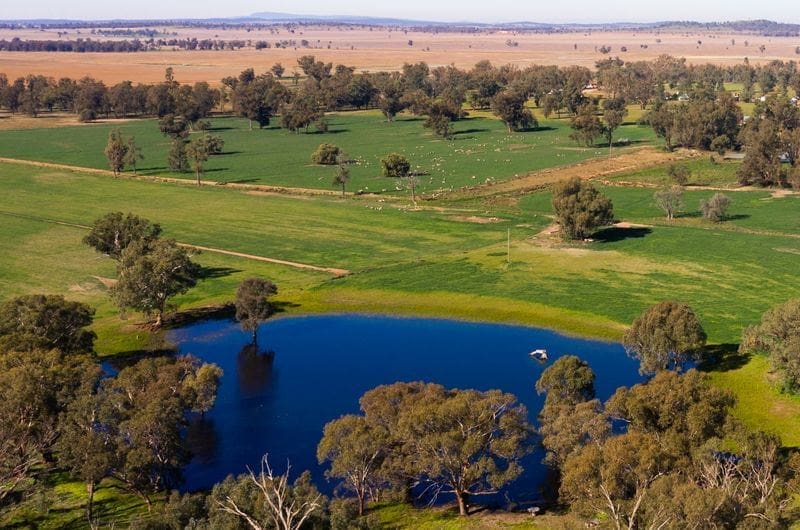 New auction date for Palari
The Deguara family has decided to postpone the auction of their 5492ha Palari,  blue-ribbon grazing country in the renowned Valkyrie district, from July 23 to August 20.
Palari is located near Nebo in Central Queensland, 180km from Mackay, and is being sold by the family after 42 years due to succession planning.
Sitting above the Funnel Creek/Connors River junction, the country runs from strong brigalow country to river flats.
The property is watered by three bores, turkey's nests and permanent waterholes in the flood out country.
Featuring 20km of new boundary fencing, Palari's estimated carrying capacity is 2500 adult equivalents.
Selling agent Bill Hamilton from Ruralco said Palari was a high performing beef producing opportunity.
"Properties of this calibre are difficult to source. Palari would make an ideal backgrounding or bullock operation, supplemented by the use of the centre pivot," he said.
Previously, 526ha has been cultivated and planted to wheat or forage sorghum. Around 2833ha has been stick raked and disc ploughed.
Palari will be offered as a going concern with plant and equipment when it is auctioned bare of livestock on August 20.
Click here to access more properties listed for sale.