Riverina's Natue Station sells after 130 years of single ownership
Strong interest in Deltroit
Katherine holdings hit the market in abundance
Emission Reduction Fund auction pushes carbon price to lowest level
Brazil family to sell Vermelha
Riverina's Natue Station sells after 130 years of single ownership
The 16,200ha Natue Station, regarded as some of the best country in the Hay district of the NSW Riverina, has been sold by the Robinson family after 130 years single ownership.
The buyer is Australian-raised, London-based businessman Anthony Crichton‐Brown. Mr Crichton-Brown, trading as Coolong Pastoral, owns the 34,000ha Toronga Station, also near Hay, and the 388ha Merrilla property near Goulburn.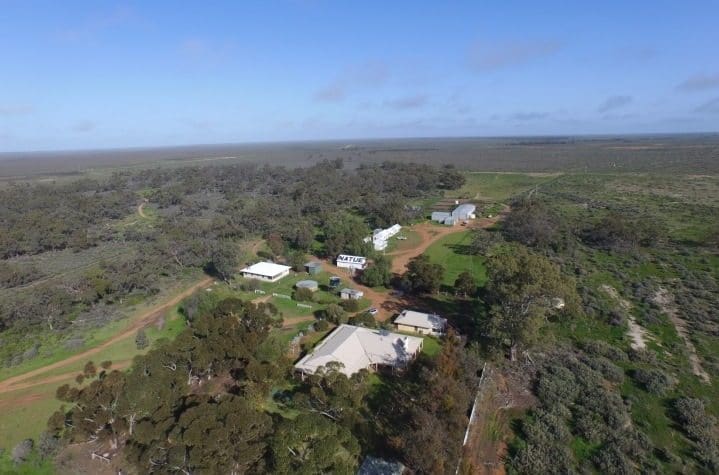 Natue (pictured above) attracted about 15 interested parties after expressions of interest were called for in December.
While no sale price was disclosed, Inglis rural property sales manager Sam Triggs suggested grazing land in the Booligal region was achieving from $250 to $370/ha depending on the standard of improvements, including water systems, fencing, housing and yards and shearing sheds.
Natue Station is a quality large-scale property that has been highly developed over several generations of family ownership. Its natural resources including the Merrimajeel Creek frontage, scattered timber, fertile soils and strong perennial and annual herbage and grasses ensure livestock produced are well-recognised in saleyard results.
Inglis Rural Property has also been engaged to secure a 30,000‐40,000 DSE grazing property in the Riverina for an existing Australian landowner also looking to expand.
Strong interest in Deltroit
Meanwhile, Inglis's Sam Triggs suggested that the market interest has been phenomenal during the marketing of Deltroit Station near Gundagai, being offered by Australian Pastoral Group. Inglis Rural Property has been engaged to offer the property by expressions of interest, closing 19 May.
"To date we have received enquiry from the United States, the UK, China, Hong Kong along with several domestic investors, with approximately 70 enquires to date and approximately 14 farm inspections after a stringent qualification process," Mr Triggs said.
Katherine holdings hit the market in abundance
As mentioned in last week's Weekly Property Report, a rash of smaller Katherine district cattle properties have been released to the market at very strong prices. They join some other larger listed Northern Territory stations.
Recent listings to emerge include:
139,200ha Conways
60,200ha Middle Creek
72,300ha Sturt Downs
57,560ha Florina Stations
42,900ha Wyworrie
14,120ha Two Rivers
3343ha Phoenix Park (a registered depot for 20,000 head)
147,510ha Aroona Station
202,200ha Numery Station
331,888ha Kiana Station.
Sue Brosnan from Tanami Rural suggested that the rush of listings was because cattle property owners were taking advantage of solid commodity prices and the good level of interest from foreign and local investors.
Alison Ross from Elders at Katherine agreed. "Each vendor has their own reason for selling. With relatively low interest rates and banks looking to invest in agriculture, there's an opportunity for buyers to invest more easily," she said. Recently sold, or under contract, NT properties listed in our tabulated summary page include
380,040ha Old Mt Bundey Station – sold
7000ha Lonesome Dove – sold
111,000ha Hodgson River – under contract
295,000 Singleton Station – under contract.
Emission Reduction Fund auction pushes carbon price to lowest level
The latest Emission Reduction Fund auction has secured even cheaper carbon credits than the previous two auctions, for a total of $516 million.
ABC reports that the price has fallen to $10.23 a tonne, down from $14 a year ago, and $12 last November. There are more savannah burning projects, additional western NSW projects protecting native vegetation, projects that protect the Great Barrier Reef, landfill methane capture, and a piggery methane biogas project.
The previous auction saw big wins for the Cape York farmers who secured $36 million to help reduce the intensity of savannah fires in the dry season. Climate Friendly, a 13-year-old company dedicated to designing carbon farming projects to apply for these credits, secured seven million tonnes of carbon credits from a few projects. The largest, four million tonnes of carbon credits, was in the West Australian Goldfields.
"It's a groundbreaking new project in the Goldfields of WA," Carbon Friendly's Josh Harris said. "It's probably the largest tree planting project to happen under the emission reduction fund so far.
"What the land owner intends to do is they've purchased hundreds of thousands of hectares of land, and working with the local indigenous community, they'll plant trees to reduce emissions."
Mr Harris said it remained viable to do that work at $10 a tonne because the owner had taken a long-term approach.
More than two thirds of the Emissions Reduction Fund has already been allocated.
Brazil family to sell NT cattle holding
Businessman and philanthropist Lyn Brazil, who has a major stake in listed property developer Devine, has decided to sell his Vermelha cattle station in the Northern Territory.
The 200,000ha holding, on the edge of the Barkly Tableland, is expected to fetch about $18 million, especially in the current buying environment where overseas investors have been competitively snapping up major cattle stations and agricultural land.
"I'm selling because I'm 72 years old and it's time to lighten off now," Mr Brazil told The Australian Financial Review. Mr Brazil has owned Vermelha for 19 years.
A vestige of the former Tapp family cattle station holdings, the property has benefited from Mr Brazil's investment in new water and fencing infrastructure and cattle herd development.
The property is now carrying 10,000 head of cattle.