Cumnock aggregation offers scale, flexibility
Mudgee agent joins Colliers
Quality CQ aggregation makes $17.5m
Delivering water security for Victoria's future
Cumnock aggregation offers scale, flexibility
Two noted Cumnock, Central Western NSW properties regarded as flagship holdings in their district will be auctioned during December. Catombal and Peedamulla are mixed agricultural landholdings in close proximity, currently being managed as one enterprise.
As an aggregation the properties comprise 2350ha of country with quality soils, productive pastures and high rainfall relative to elevation, providing favourable growing conditions for crops and pastures. They have a combined carrying capacity rated at 18,650 DSE. Further cost-effective productivity increases are accessible through an investment in fertiliser and continual development of improved pastures.
The holdings currently operate as a diverse enterprise mix with both properties equally suited to cattle and sheep breeding and finishing, combined with cereal and oilseed production. Both holdings have a reliable water supply from multiple sources. The existing management team is available to continue work under new ownership.
Catombal and Peedamulla are being offered as separate holdings, via auction on Thursday 14 December at the Duntryleague Golf Club, Orange. Contacts: Richie Inglis, CBRE Agribusiness 0438 424 216, or Tom Sheehan Ray White (Emms Mooney) 0414 418 232
Mudgee agent joins Colliers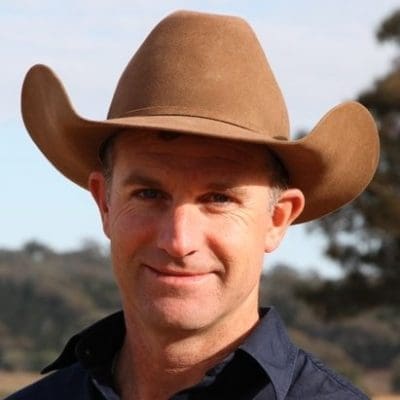 Well-known Mudgee stock and station agent Simon McKittrick has joined Colliers International as an associate director in the agribusiness team for rural property transactions.
Mr McKittrick, pictured, joins the property agency with 20 years of rural experience behind him. He has broad knowledge in all facets of rural property sales and marketing and he has sold tens of thousands of livestock and been involved in a number of rural property transactions over the years. His experience ranges in dealings with private family businesses, high net worth individuals and corporate investors alike, both nationally and internationally.
Mr McKittrick will continue to conduct all livestock sales separately through his Mudgee-based business Logical Livestock Marketing on the NSW Central Tablelands.
Quality CQ aggregation makes $17.5m
An aggregation of two quality grazing properties totalling almost 8000ha has sold for $17.5 million, including 2600 mixed Droughtmaster and Brahman cattle.
Settlement took place on Friday for Middlemount aggregation Tyagarah and Rolf Park North, offered by Lawrence and Marion Danastas who are focusing on their investments in the cane industry at Mackay. Buyers were sisters Tamara and Lauren Finger, who bought the property in conjunction with their parents John and Donna Finger from Meadowbrook Cattle Co, Dysart.
Tyagarah and Rolf Park North were marketed by Sib Torrisi from Sibs Real Estate, who said he had two or three other prospective buyers looking for Central Queensland properties up to $10 million in value. The sale was advised by agricultural investment specialist, Jennifer Wainwright from Aux Venture.
A clearing sale, being advertised currently on Beef Central, will be held at Tyagarah by Ruralco Property SBB Real Estate on December 10.
Delivering water security for Victoria's future
Funding has begun to flow to water infrastructure feasibility studies in Victoria after gaining the official sign-off from both the federal and state governments, to strengthen economic growth and prosperity in the region.
Minister for agriculture and water resources, Barnaby Joyce announced this week that the $3.9 million in funding through the National Water Infrastructure Development Fund would deliver feasibility studies into nine priority projects across the state. The allocation made good on an election commitment to deliver the water infrastructure where it is needed to ensure agricultural industries remain productive and profitable.
The studies will look at the feasibility, economic returns and sustainability of a broad range of projects, to get them 'shovel-ready' as quickly as possible. Completion would inevitably add value to surrounding property.
"This is not simply a planning exercise, we are already building on these feasibility studies by rolling out the $440 million capital works component of the National Water Infrastructure Development Fund," Mr Joyce said.
The projects include:
$750,000 for a feasibility study into the Mitiamo reticulated water supply system
$677,160 for a feasibility study into the Southern Victorian Irrigation Development
$675,000 for a feasibility study into the second phase of the Macalister Irrigation District development
$554,400 for a feasibility study into ways to increase water storage for Gippsland's Lindenow Valley, delivering greater water security for the region
$540,000 to fast-track a feasibility study into new agricultural precincts west of Melbourne
$300,000 for a feasibility study into developing a coldstream recycled-water pipeline for high value production in the Yarra Valley and Lilydale
$180,000 for a feasibility study of a Moonambel water supply project
$100,000 for a feasibility study into accessing deep groundwater for farmers in south-west coastal Victoria; and
$91,500 for a feasibility study into developing a water plan for South East Melbourne to support intensive horticulture in the region.