Crown State offers Merriwa showcase
Future live export depot opportunity?
Emerald Downs auction set for October
Crown State offers Merriwa showcase
Faversham, the 5450ha centrepiece of Crown Estate's Upper Hunter grazing portfolio, has been placed on the market.
The Merriwa district (NSW) cattle station could fetch more than $20 million, reports suggest.
The holding is currently used to breed and background Wagyu F1 cattle and has a carrying capacity for 1200-1500 breeders plus progeny. Recent land sales in the Merriwa district have ranged from $3300/ha to $4400/ha, with Faversham expected to attract a premium based on its high rainfall, high carrying capacity, close proximity to Sydney, size and quality.
Crown State Pastoral controls about 8400ha of country in the Upper Hunter, including Faversham (pictured above), Montego, Chatham and Moona, most of which was once part of historic Brindley Park.
The company is controlled by Sherwell Holdings, a company based in the British Virgin Islands. Its directors are Los Angeles-born Jon Choi who is also managing director of the Crown State group of companies, and Hong Kong-based William Choy.
Crown State recently placed its small abattoir asset at Binnaway on the market (see earlier report).
Extensive buildings in Faversham include four main houses, two separate cottages for paying guests or other ventures and a six-room shearers' quarters with its own kitchen. There's also six-stand and two-stand woolsheds, three sets of cattle yards, two sheep yards, two silos and five machinery sheds. About 100 hectares are under oats and barley for finishing livestock. Water comes from the Merriwa River and tributaries, as well as bores.
Richard Royle from Colliers International is handling the sale, through expressions of interest.
Future live export depot opportunity?
Demand for northern Australian cattle properties in locations that can provide staging-posts between more remote breeding holdings and coastal live export port facilities has been conspicuous over the past two years.
This week, another prospect that ticks that box among its key features has been placed on the market. Aroona station is a 147,000ha of grazing country southwest of Katherine towards Timber Creek, on the Victoria Highway.
Being located 390km south of Darwin on the all-weather bitumen road may attract interest from stakeholders looking to build their supply chain with convenient access to the Port of Darwin.
The country is in the transition zone between the top of the Victoria River District's black basalt, and the east Kimberley's red country.
The Aroona offering includes 14,000 head of branded cattle, giving capacity to hold large numbers of cattle pre-export, as well as breed in its own right. The country is in excellent shape after the winter, and cattle are in very good condition for time of year.
Aroona includes good permanent water on the Florina River, and reliable monsoonal rainfall, providing good safe grazing conditions.
Agent is Colliers International's Rawdon Briggs 0428 651 144.
Emerald Downs irrigation auction set for October
A well-developed irrigation farm near Emerald on Queensland's Central Highlands is being put to the market. The Brosnan family has decided to see their 341ha holding, Emerald Downs, after 24 years of ownership.
Located adjacent to the town of Emerald, the farm includes 280ha fully-developed for furrow irrigation, with an extensive network of supply channels, head ditches, tail drains and recycling sumps. About 100ha of planted cotton is included in the sale.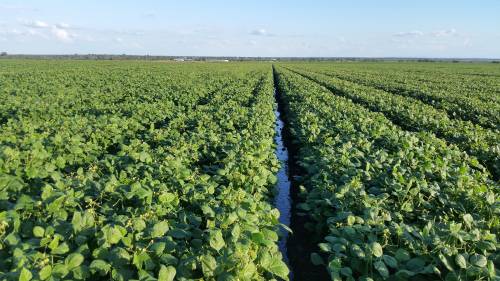 There is also a 280 megalitre storage dam which is filled from overland flow and recaptured tail water. A licensed storm water diversion agreement is associated with this storage. An additional 20ha of dryland cultivation could be developed to irrigation.
Emerald Downs draws its allocation from Fairbairn Dam, one of the most reliable in Australia. The announced allocation is 100pc for this water year.
The holding will initially be offered bare of plant and machinery, but including 100ha of planted cotton with pre-plant fertiliser and the supplemented water allocation of 1133ML. If not sold, the the asset will then be divided into two parcels: Emerald Downs, bare of plant and machinery with and including 100ha of planted cotton with pre-plant fertiliser; and the supplemented water allocation of 1133ML from the Fairbairn Dam will then be offered. A substantial carry over from the previous year will be included.
Agent Howard Mills from Rural Property Services will auction Emerald Downs in Emerald on October 4.