Deltroit station sale to UK investor marks closure for APG
Stokes buys another Kimberley cattle asset
Foreign investment in Brazil on the increase, but mostly JVs
Deltroit station sale marks closure for APG
English-based agricultural investment group, MH Premium Farms, is the new owner of highly regarded Gundagai (NSW) district grazing property Deltroit Station.
The 2600ha Delroit was offered by expressions of interest in mid-April by Australian Pastoral Group.
The sale signifies the 'windup' of the successful Australian Pastoral Group agricultural investment portfolio which held and operated three high calibre rural holdings stretching from Queensland's Gulf of Carpentaria (Neumayer Valley -143,000ha sold in May for around $40m) to Goondiwindi (Kinbeachie – 5900ha, sold in April for more than $15m) and further south to Deltroit Station at Gundagai.
Marketing agents Inglis Rural Property, Sydney, said Deltroit attracted strong interest and several competitive offers submissions during the expressions of interest phase, underlining the depth of the property market for high quality assets in NSW.
The buyer, MH Premium Farms, is the agricultural investment company for Sir Michael Hintze (UK/Australia). Sir Michael is the founder and chief executive of CQS, a London-based global multi-strategy asset management firm, with offices in Sydney, Hong Kong and New York.
Deltroit, bought for about $17 million, is the latest gain for the London-based hedge fund manager, adding to an existing extensive MH Premium Farms grazing and mixed farming portfolio covering 14 operations in NSW and Queensland – 65,000 hectares in all. The purchase will bolster the group's already substantial lamb production assets, while continuing with the cattle trading and cropping enterprises.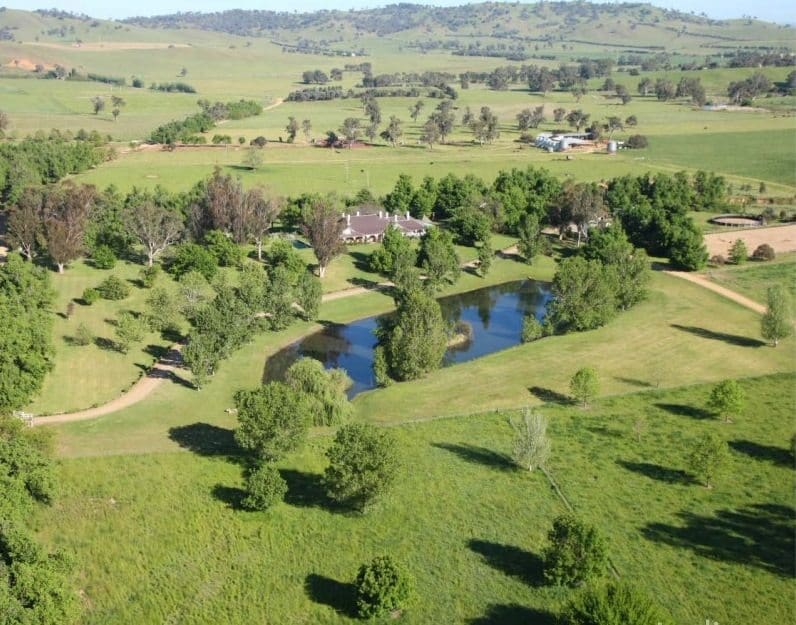 Deltroit is located in the productive Mundarlo region of the south west slopes of NSW.
Widely recognised as one of the region's leading pastoral holdings, Deltroit is located in the productive Mundarlo region of the south west slopes of NSW. Located 30km south of Gundagai, it features fertile creek flats rising to soft undulating farming and grazing country.
Historically, the property has been held by some of Australia's key agricultural groups and pastoral families including the Richardson family (custodians for more than 100 years), followed by the King Ranch Group principal Robert Kleberg (US).
In recent years, the property has functioned as the headquarters for APG, playing an important strategic role allowing the company to reduce risk through climatic diversification while gaining exposure to southern beef markets. APG purchased Deltroit in 2013 from Anthony Crichton-Brown who developed it over two decades.
Deltroit features a landmark homestead built in 1903, regarded as one of the finest federation homesteads in the region. The building was completely renovated in 2000 with all federation features being retained, while presenting the homestead for modern living.
The homestead is surrounded by park-like gardens with in-ground swimming pool, tennis court and equestrian facilities including Olympic size dressage arena. Other accommodation includes the modern five bedroom manager's house, fully renovated stables and coach house and the overseer's residence.
There are two sets of excellent cattle yards, a well-maintained five stand shearing shed with steel sheep yards attached, modern machinery shed, hay sheds and silos.
Agriculturally, the property boasts an extensive lane-way system and a large proportion of improved perennial pastures. Water is provided with a 6.5km double frontage to the reliable Hillas Creek, dams, bores and a reticulated tank and trough system.
The nearby Hume Freeway provides access to feedlots, processing facilities and several livestock selling centres.
Growing demand for NSW southwest slopes
Inglis rural property sales manager Sam Triggs said as one Australia's fastest growing farm portfolios, MH Premium Farms had secured a wonderful addition in a highly productive beef, sheep and cropping property which complemented its existing operations.
"The acquisition of Deltroit increases MH Premium Farms' portfolio in the south west slopes, achieving efficiencies of scale and noted synergies with their other high production farming investments," he said.
Mr Triggs said Inglis currently had five or six qualified and capitalised investment groups looking to secure broadacre high quality mixed farming assets on the NSW southwest slopes.
"They include international parties looking to secure supply, agricultural funds looking to expand and private family investors reallocating capital in agriculture," he said.
"With the sustained lift in beef and lamb prices, we are noticing the increase in demand for livestock and grazing assets in NSW – the correlation between the commodity and underlying asset is coming into play."
Inglis director, Jamie Inglis and rural property sales manager Sam Triggs negotiated the sale.
Stokes buys another Kimberley cattle asset
Perth billionaire Kerry Stokes has bought another substantial cattle grazing asset in Western Australia's Kimberley region.
The Australian reported recently that Mr Stokes, chairman of the Seven Network, bought the Mount House pastoral station near Halls Creek in a deal estimated by rural property sources to be worth more than $20 million. Mr Stokes provided no comment but The Australian was told by several Kimberley property and pastoral sources that he had agreed to buy the station from the McAlary family, owners since the 1980s.
A Kimberley source said Mount House had once been a thriving station with 30,000 head of cattle, but required additional investment to realise its potential.
Last year, Mr Stokes bought the nearby 400,000ha Napier Downs station, with a herd of 20,000 Red Brahman cattle, for about $25m.
Mr Stokes believes the northern cattle industry is destined for years of strong growth because of rising demand from Asia. He told his newspaper, the West Australian, last year the far north was an economic zone, finally able to realise its potential.
Foreign investment in Brazil on the increase, but mostly JVs
Visiting Brazilian economist Adolfo Fontes provided some comment to Beef Central during his recent speaking engagement at the World Brahman Congress in Rockhampton on the extent of foreign investment occurring in his country's beef industry.
"Foreign investment in Brazilian beef is certainly increasing," Rabobank's Sao Paulo-based senior analyst said.
"But Brazil also has some restrictions over outright foreign ownership of land. Overseas buyers cannot buy a 'really big' area of land, for example," he said.
For that reason, joint ventures and partnership models, working with local investors and landowners, were becoming increasingly popular, Mr Fontes said.
In contrast with the situation in Australia, where the merits or otherwise of foreign investment had commanded  broad public attention over the past two years, he said there was little concern evident within the Brazilian beef industry or broader community over foreign investment.
Most of the investment in Brazil to this point had come from Europe and North America, rather than China, he said.
Much of that was at the beginning of the supply chain at production level, but also in feedlots. Meat processing was still 'very much Brazilian,' he said – partly because of the strength of the big players like JBS, Marfrig, Minerva and Brazil Foods.