Zhejiang bypasses Kidman to snap-up $50m worth of NSW farms
Lightning Ridge land surrenders
Kintilloch sells quickly
Longreach's Dillulla for sale for first time ever
Zhejiang bypasses Kidman to snap-up $50m worth of NSW farms
The Australian arm of China's Zhejiang Rifa Holding Group has purchased almost $50 million worth of farming land in NSW and is looking to expand further, the Australian Financial Review reports.
While most of the big corporate money has been falling over itself to buy into Australia's largest landowner, S. Kidman & Co, Rifa Salutary has quietly bought a total of seven properties in the last few months. The biggest is the former AMP-owned Cooplacurripa station in northern NSW, with 5000 head of cattle, which sold for $32 million.
Cooplacurripa was sold by Bydand Pastoral Co, founded by Michael Gordon, who made his fortune selling the Peppercorn network of childcare centres to ABC Learning in 2004.
Rifa Salutary chief executive David Goodfellow confirmed the transactions and said Rifa was in the midst of a major property portfolio expansion.
"We are looking to build a portfolio of properties in Victoria to complement our existing property Blackwood, but also to build the portfolio in NSW and southern Queensland," he said. "Cooplacurripa fits into this strategy."
The company, whose parent Zhejiang Rifa owns major agricultural holdings in China, Brazil, Argentina and Kazakhstan, has also snapped up two riverfront properties – Kerriki and Number One, next to Cooplacurripa. These properties cover 1457ha and sold for about $3.5m.
A further four properties at Warialda, east of Moree, have also been purchased for between $12m and $14m. These comprise Highland Plain, Avondale, Stonefield and part of Durkin, together covering 4050ha.
Mr Goodfellow said the properties fitted into the company's strategy to grow out and fatten cattle from Cooplacurripa. Rifa already owns Blackwood station in Victoria's Western District, where it has spent $1.2m improving infrastructure. It is aiming to buy more properties where it can develop them.
Lightning Ridge land surrenders
Landholders heavily affected by opal mining in far north western New South Wales will be being given the opportunity to surrender their lots, following the release of a state government document outlining strategic buy backs of mining-affected farming land in Lightning Ridge.
Most of the Lightning Ridge opal fields lie within Western Lands leases held for farming and grazing purposes. According to NSW Farmers, graziers in these areas have experienced uncontrolled, and in many cases, unlawful activities by various groups.
The government is calling on leaseholders within Opal Prospecting Areas 1, 2 & 3 to express interest in surrendering their properties. Compensation will be based on an independent valuation, with surrendered lots becoming part of the reserved lands dedicated to opal mining.  It's a one-off scheme and there is a tight timeframe, so it will be interesting to see how many Lightning Ridge landholders take up the offer.
Kintilloch sells quickly
After just two weeks on the market, the 7250ha Roma cattle grazing operation Kintilloch, in south-west Queensland, has been snapped up prior to auction. As illustrated in the image below, the property boasts heavy black soil Myall Downs to undulating red loam Belah and Box country and carries about 1600 backgrounders on improved buffel-based pastures.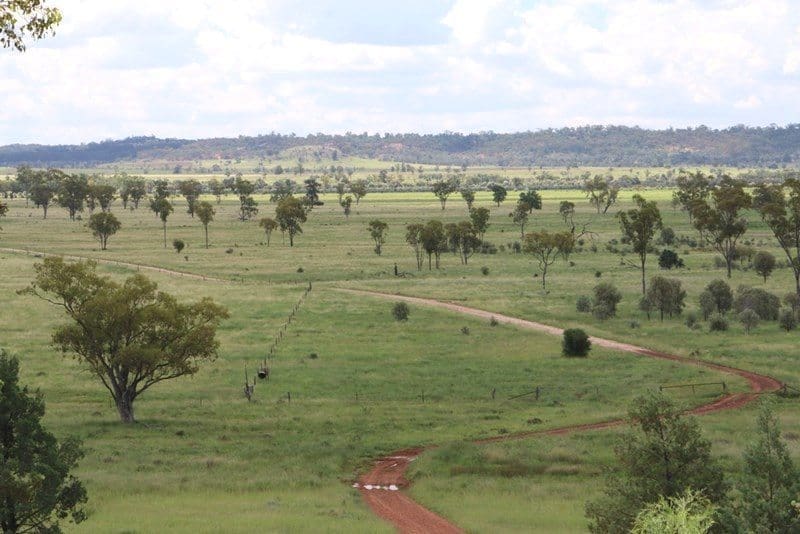 Rob Wildermuth from Ray White Rural Roma Queensland said a local grazier made an offer on the property because it was in the right location and the farming land was suitable for increased productivity. He said currently there are more buyers than good properties for sale.
Longreach's Dillulla (Big Water Hole) on the market
For the first time ever, the 8235ha property Dillulla, 40km north of Longreach in north-west Queensland, is on the market. The freehold property consists of a unique combination of possibly the district's best Thomson River flood-out country flowing through to heavy black soil plains which stretch east across open gently undulating downs. There is also 1157ha of an inactive stock route enclosed within the holding creating a total grazing area of 9536ha.
The block has been owned by the same family since 1889 when it was drawn by Rowley Deane's great great grandfather in a ballot off Mount Cornish. Richard Murray from Ray White Longreach said vendors Rowley and Jenny Deane, who will retain the current homestead/home block property Bimbah and nearby Goodberry Hills Stations, are hoping to reduce their workload and consolidate their position by make their existing situation more manageable. Mr Murray said there had good local interest for Dillulla, which carries about 1000 dry cattle or 8000 dry sheep in an average season.