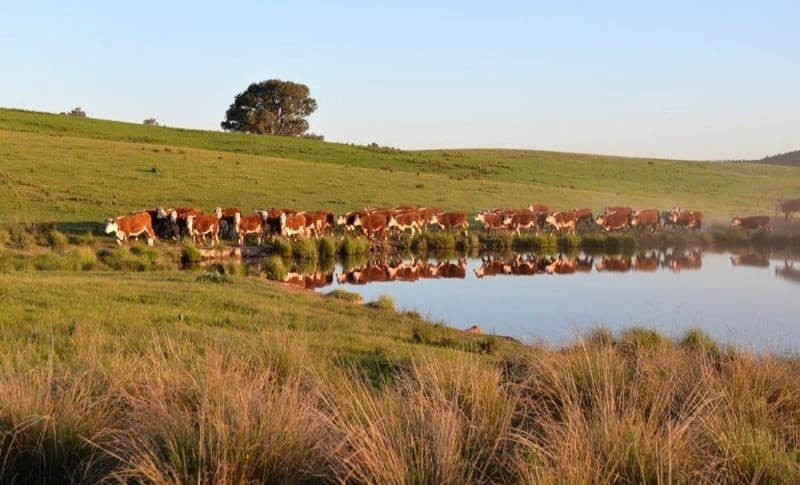 A LOCAL farming and grazing syndicate has fended-off interest from overseas to secure one of the last remaining large-scale farming/grazing holdings in the eastern Riverina, Stonehaven.
No price was disclosed by agents, Meares and Associates, but the property carried an indicative price prior to auction last November of $10.75 million to $12 million, or $4200-$4690/ha.
Located neat Holbrook in the Eastern Riverina of NSW, Stonehaven is unusually large, by local standards, covering almost 2600ha.
The scenic and highly productive property with sheltered valleys and low slopes/hill country has been owned and operated by the Ross family for more than 100 years.
About 2000ha of the country has recently been farmed, with a further 1200ha pasture improved (principally phalaris and clovers), 800ha normally sown to cash crops annually and 400ha of shelter belt timber and lighter country.
Soils are mainly of granite origin with alluvials lining the flats, and about 75 pc of the total area is considered arable.
The holding, about 15km north-west of Holbrook on the Hume Highway, was originally part of Kinross Station, which in its heyday comprised 90,000 acres to the north and west of Holbrook.
One of the other features of Stonehaven is its mild climate, with a 600mm annual rainfall, together with excellent water resources including Sawyers Creek which runs through the property, and three equipped bores servicing 20 troughs and a network of approximately 30 dams.
The property comprises mostly open valley country ringed by low hills, timbered by remnant shade and shelter trees of yellow, white and grey box and river red gum, augmented by planted shelter woodlots.
The holding has a long history of successful sheep and cattle breeding and finishing, fodder and grain production. Owners estimate it will carry about 20,000 DSE, or 1000 cows (calves to yearlings), plus 1200ha cash crop farming per annum.
Another feature is a stately 1920s brick homestead, with six bedrooms, formal lounge, dining, billiard room, kitchen, laundry, with separate two-bedroom wing. Established gardens include an in-ground pool with external entertaining area.
Meares & Associates principal Chris Meares said Stonehaven had attracted international interest prior to its online auction in November last year, when it failed to sell.
"There is no doubt that there has been an increase in interest in larger mixed farming and livestock carrying properties this year, both from offshore and also from within Australia," Mr Meares said.
"It highlights the focus on agricultural Australia – particularly that located in reliable rainfall areas and well-situated for transport and markets," he said.
The original Kinross holding from which Stonehaven was excised was taken up in 1867 by Alexander Ross, who was later joined by his father and brothers from South Australia, establishing a pastoral empire that in its heyday sprawled across some 90,000 acres.
In earlier times the property has carried 14,000 sheep and 400 breeding cows, and the key infrastructure is in place for either enterprise. Fenced laneways facilitate stock movement to the central facilities which include a near-new set of steel cattle yards with CIA crush and covered work area, and the seven-stand woolshed (1930s vintage) with steel yards, bugle draft and covered drench race.