PETER and Jane Hughes' Hughes Pastoral Co and Georgina Pastoral Co have paid around $100 million for the extensive Victoria River District cattle stations Riveren and Inverway.
The two properties spanning 550,000ha are located south west of Katherine in the Northern Territory. About 40,000 head of cattle were included in the deal.
The sale again reinforces the message that buyer market momentum this year is coming from large, expanding family cattle operators – not the corporates, institutional investors and internationals who dominated Australian grazing property acquisitions a couple of years ago.
A spokesman for the vendor, Hancock Agriculture, told Beef Central the company had no comment to make, however Beef Central understands from other sources close to the deal that the sale is progressing towards final settlement.
Typical of the Victoria River District on the Western side of the Northern Territory, Riveren and Inverway feature open black soil plains with a variety of pastures and grasses in the red country. Both enjoy an abundance of reliable water.
The Hughes family owns Georgina Pastoral Co which originally operated around 100,000 head of cattle across three stations – 12,000sq km Lake Nash on the Barkly Tableland in the Northern Territory, Caldervale near Tambo in Central Queensland and Keeroongooloo via Windorah in the Channel Country.
Its Hughes Pastoral Co is headquartered at the family station Tierawoomba at Nebo, west of Mackay.
In 2016, it paid $67.5m (including 8000 cattle valued at $10m) for the showcase CQ grazing property, Tumbar (including the adjacent Marsden) in what was at the time, one of Queensland's largest ever single-property transactions.
When Peter and Jane Hughes paid an eye-watering $215m for Stanbroke's Miranda Downs Station in Queensland's Gulf of Carpentaria in June last year, it became the largest single cattle property transaction in Australian history.
Miranda Downs is located northwest of Normanton and spans 438,000ha.
The walk-in walk-out sale included 55,000 head of Brahman and crossbred cattle (including 20,000 breeders) valued at between $80m to $90m, and a 6000 megalitre water licence from the Gilbert River, which runs through the property.
Riveren and Inverway sales history
Riveren and Inverway are the last two remaining properties offered by Hancock Agriculture and S. Kidman & Co as part of the companies' recent sell-down strategy.
In 2013, JAPFA, a major Indonesian listed agri-business with significant cattle feedlot and processing interests, paid $39 million walk-in, walk-out (including 46,000 cattle) to buy both properties during the depths of the post-2011 live export crisis.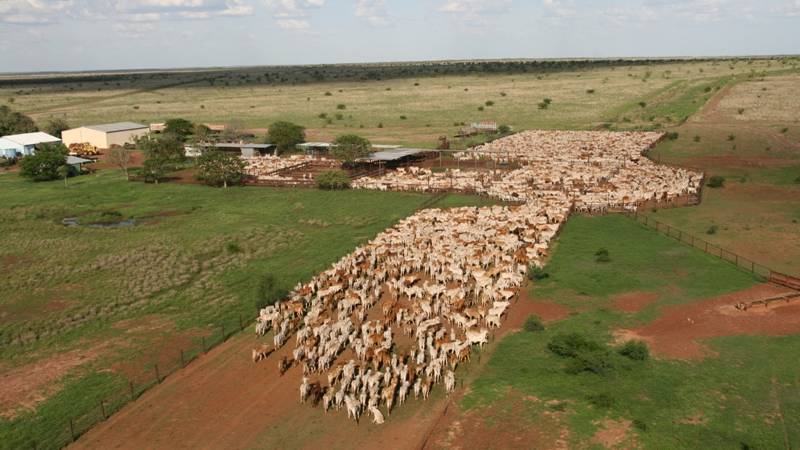 Both properties had been owned and developed since the 1950s by members of the Underwood family.
An unsuccessful attempt was made to auction the properties in July 2012, with Riveren passed in for $19 million and Inverway, $15 million. JAPFA made its private offer soon afterwards.
During the company's two and a half years ownership, Japfa reportedly invested in an extensive new water development program to increase the aggregation's long-term carrying capacity.
In July 2016, Gina Rinehart's Hancock Agriculture paid in excess of $60 million for Riveren and Inverway, including around 40,000 head of cattle. At the time, the sale set a new benchmark for northern cattle property values.
Since then, Hancock Agriculture has invested significantly in improving all infrastructure, with a particular focus on water storage and distribution, cattle yards, cattle handling infrastructure and connectivity and communications systems, as well as improving the herd through genetic refinement and management and changing the culture to focus on animal welfare.
In March last year, the company activated a plan to divest a group of eight properties from both portfolios totalling about 1.9 million ha.
It appointed Tom Russo and Mark Barber from Elders to market and sell the holdings and since then, six properties have sold, prior to this week's development over Riveren and Inverway:
480,000ha Ruby Plains and 316,000ha Sturt Creek in the Kimberley region in Western Australia, which run about 25,000 head of mainly Brahman cattle, as well as the 3500ha Phoenix Park live export depot and holding facility, were bought by Crown Point Pastoral, a joint venture between the Oldfield and Costello families with significant existing beef production interests in Central Australia.
147,000ha Aroona Station, near Katherine, was purchased by the DiGiorgio family which has substantial wine and grazing enterprises in the south east of South Australia.
203,000ha Nerrima Station, located in the West Kimberley and adjoining the Fitzroy River, with a carrying capacity around 15,000 head, was bought by the Emmanuel family based in Western Australia, which has historically held significant pastoral holdings in Western Australia.
171,000ha Willeroo Station (adjoining Aroona), 120km west of Katherine, was bought by Brett Cattle Co, a family business with substantial existing Northern Australia cattle operations and provider of veterinary services to the Northern Australia livestock industry.
Hancock's other assets
At the time the sell-down was announced, Hancock Agriculture said it intended to retain and grow its remaining substantial property portfolio, which includes operations in Queensland, South Australia, New South Wales, Western Australia and the Northern Territory.
Across these operations, Hancock said it will continue to be an "Australian agricultural industry leader in the application of innovative technology, and in identifying and incorporating ways to continue to improve employee safety and animal welfare."
The company said it will continue to invest in its numerous cattle stations, maintaining its management basis, 'happy healthy cattle are the best cattle' and strategically targeting technical and other improvements.
Hancock's east coast Wagyu operations, which currently form the largest Fullblood and Purebred Wagyu herd in the world, would continue to grow through additional production and broadacre cropping properties.
The company's multiple branded premium beef product lines, including 2GR Wagyu are sold both domestically and internationally.