RURAL property trends that emerged during 2017 are likely to continue this year, a large property industry stakeholder gathering was told in Brisbane last week.
Speaking at Herron Todd White's annual industry briefing, the company's national rural director Tim Lane said sales volumes of rural property had trended down somewhat last year, and 2018 was likely to follow suit, primarily because agents were struggling to find listings.
"The 2017 year was a year characterised by more off-market property transactions," Mr Lane said.
"There was a lot more people knocking on doors, making direct approaches to landowners, as opposed to going through the agency network."
Some of the other key themes seen in 2017 included:
"Big is beautiful" – but large-scale listings were still hard to find
The big commodity values shift that had occurred, with strong wool and sheepmarket markets, a modest reduction in beef prices (but still well above longer-term averages), and a solid cropping sector, was now reflected in land value movements in most land types.
There had been continued growing interest in the leasing market for all classes of property type
"Put the 2016 and 2017 years back-to-back, it's been a very strong period of growth in terms of agriculture land and values," Mr Lane said.
He related these points back to HTW's Australian Grazing Property Index (based on $/ha value of properties 2000ha or more, plotted since 1990), the graph published above shows a small uptick in value for the past 12 months.
But what's also interesting was the breakdown in growth rates in grazing property value over that 37 year period.
It shows two periods of substantial growth (1980-88 14.2pc average annual growth, and 1999-2008 15pc), and two periods of contraction (1988-99 -3.8pc and 2008-17 -3.4pc). Overall average annual growth rate in property value since 1980 has been 4.4pc.
"Last year the figure was -4.6pc, so we have seen a significant reduction in the negative, in terms of the value trend," Mr Lane said.
"If you were to take the view that history repeats itself, you'd suggest that the next eight to ten years could be very positive in terms of value growth, across the grazing sector more broadly."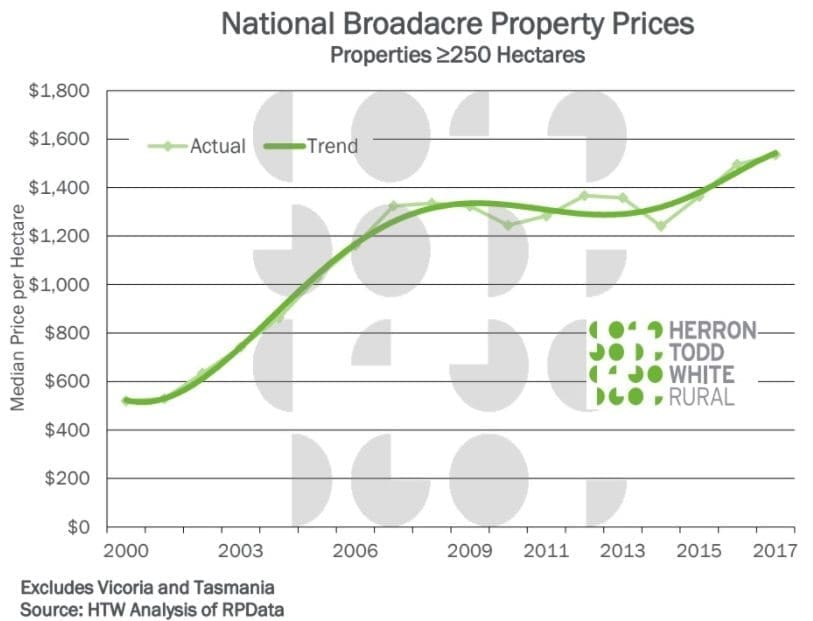 Reducing the graph's time scale to the past 18 years (second graph, above), the overall trend in value growth since 2000 has been 6.6pc nationally for broadacre properties. Queensland stands out in terms of percentage growth across the period, at 8.0pc, followed by NSW 7.0pc, SA 6.4pc, NT 5.3pc and WA 3.2pc.
"Looking at the trend over the next two to three years, we would expect people will be prepared to pay for those assets and we wouldn't be surprised to see the trend line continue upward – not dis-similar to the 2006-08 period," Mr Lane said.
In terms of volumes of broadacre land transactions (greater than 250ha) around Australia, the graph below shows three trends – the sharp rise up to the mid-2000s, followed by a flattening around the Global Financial Crisis period, and a big uplift again since around 2013.
"We expected that to level off a little, in terms of the number of transactions – and it certainly has," Mr Lane said.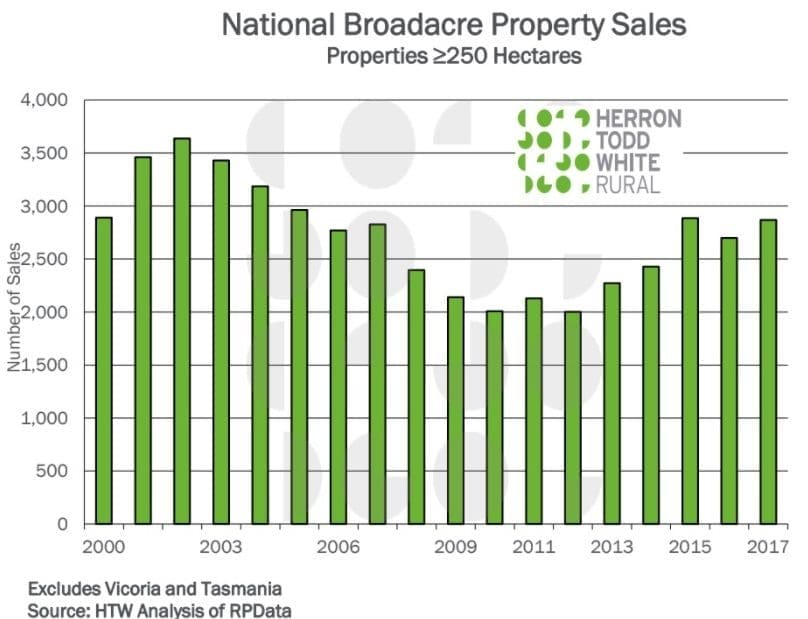 But within the similar number of national broadacre property transactions recorded in the past three years (2886 properties in 2015, 2699 in 2016 and 2868 last year), the 2016 year stood out in terms of the land area involved – at 21.3 million hectares, it was more than double the land area involved in transactions last year.
"That suggests it's getting harder to find the big assets to sell," Mr Lane said. "There's still some in play – absolutely – but it's now likely to be more about picking spots for potential add-on and bolt-on land acquisitions, rather than straight-out, large scale transactions."
Regional breakdown: NT
In the Northern Territory, there had been a couple of key sales in 2017, and a lot of activity relative to its traditional volume of transactions – but the area was still tightly held.
"We're now seeing sales values in the NT hit or even exceed the 2008-09 peak in price, on a beast area basis," Mr Lane said.
The volume of sales declined sharply in 2017, from an extreme high in 2016 (see graph below), now back more in line with the traditional number of sales over a 12 month period.
An aspect that was still influencing the NT property market was the potential NT government's change of land use opportunities, allowing owners to convert or expand into to higher-value agriculture.
Mr Lane noted a firming trend in NT beast area values, and strong correlation between pastoral land values and live export cattle prices.
"The big shift is evident from 2013-14 around $650/AE, to a point now touching $1600/AE in a short space of time."
A couple of NT assets on the market at present (Colliers' Tanumbirini being a good example) would provide a good indicator of where that trend goes.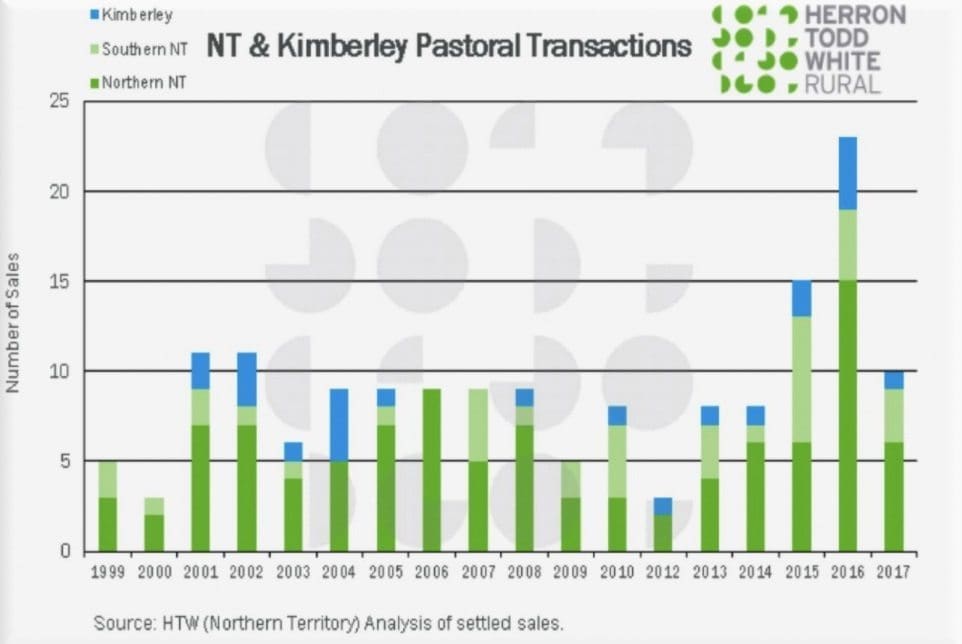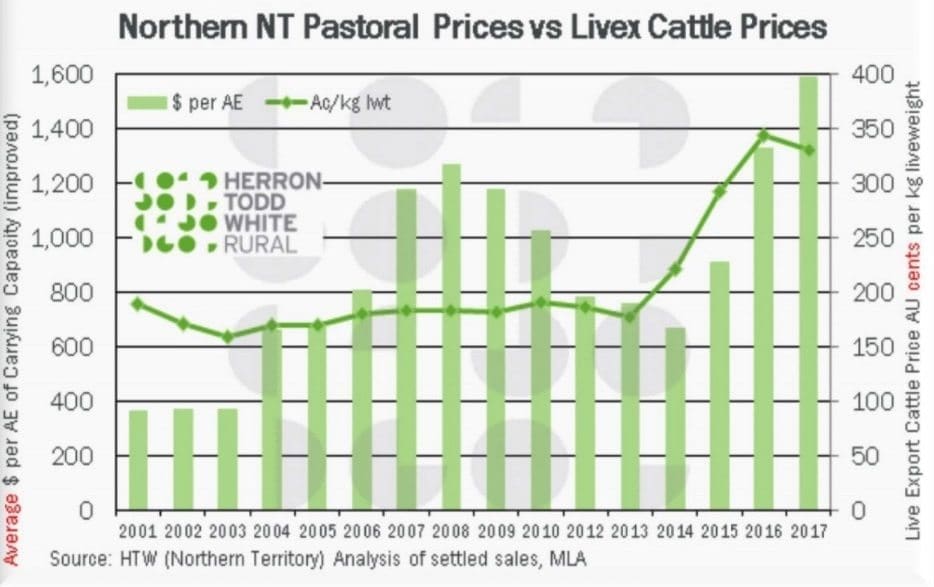 Regional breakdown: Northern Qld
Using key indicator sales like Esmeralda (a benchmark in terms of rate paid for harder country), Neumayer Valley and Rocklands as examples, Mr Lane said values had 'trended sideways' since, in terms of value growth in the gulf area – and was largely consistent across a lot of Queensland markets.
"We saw the big run-up in values earlier, but obviously since then there's been the reduction in the cattle market, and (up to this past week, at least) some seasonal impact which has seen some of the larger players taking the view that the prices look expensive, relatively to what they can achieve from an earnings basis."
Regional breakdown: Central, Central western, Southern Qld
Similarly, in CQ, it was starting to look like rates paid for property in 2016 was still pretty well the price benchmark at the moment – until something fundamentally changes to force that to move.
While dry conditions (at time of his presentation last week) were still influencing the property market in Queensland's central west, last year's sales like Inverness ($619/ha, or close to $4000/AE) were still benchmarks. Another property currently under contract in the area was looking like making slightly less on an AE basis, but about 15pc less on a $/ha basis.
"The property market in the CQ area certainly topped-out last year, and the dry summer has certainly had an impact," he said.
Southern Queensland was probably the area to produce the largest value shift in the past 12 month period, Mr Lane said.
"It's seen a big uptick in the past year, perhaps more a rebound after some really significant earlier retraction in land values in the 2012-13 period." In one example shown, comparable properties had increased 46pc in value in the past 12 months.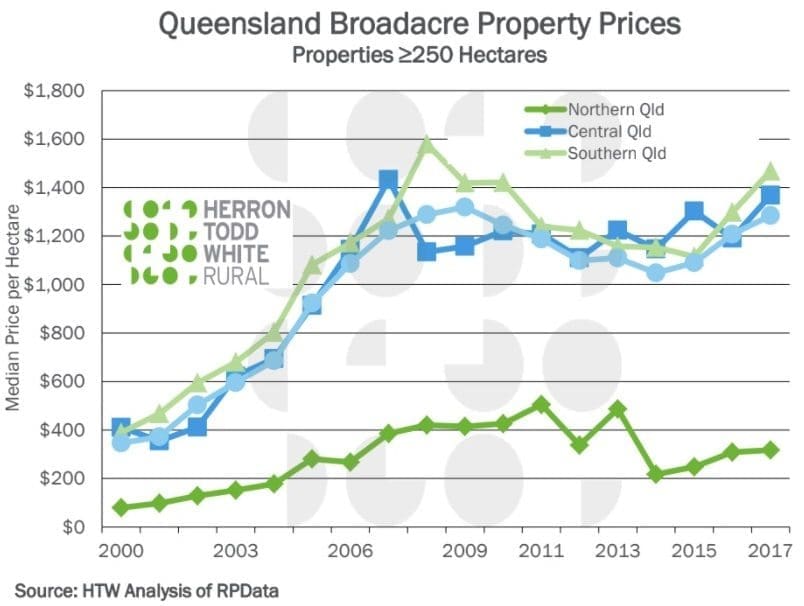 Looking at Queensland overall, trend lines for broadacre property value across the state were more or less back to the peaks of the 2008-09 period, and indeed some areas were now above 2009 rates, Mr Lane said.
"Looking at the 'property market clock', we'd suggest we are now at 12 o'clock in some areas, and in some areas (perhaps more southern regions), probably past 12 o'clock," he said.
In terms of transaction value for broadacre properties in Queensland (see graph below), there had been a drop in value of total sales last year to around $1.8 billion, back from $2.06 billion the year before.
That reflected properties being harder to find, and lower volume of transactions, which could apply some price pressure in the next 12-24 months.
Among some potential emerging property risks which Mr Lane cautioned over were:
The FIRB announcement over on-market buying for foreign entities (covered in more detail in today's weekly property review)
Proposed Vegetation law changes in Queensland
Macro fundamentals (cattle price, season, dollar, interest rates, international meat demand) shifting in a negative direction.
"If a combination of those factors all came together at the same time, it could cause people to stand back a little and re-set their position about how they view the value proposition," he warned.
During questiontime, Mr Lane suggested that following any widespread rain event (since realised in large parts of Queensland), there could be a sudden rash of sales listings, in a short period of time.