THE historic Kadlunga aggregation in South Australia's Clare Valley has been bought in an off-market buyer-initiated deal by Collinsville Merino Stud's George and Sophie Millington.
The 3923ha aggregation near Mintaro includes some of South Australia's finest farmland.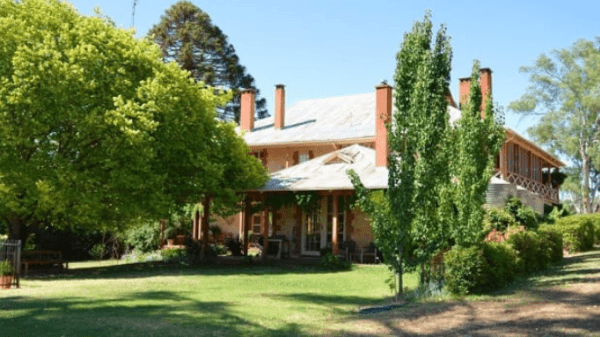 Since purchasing the Kadlunga farm in early 2017, vendors, the Edmunds Family, have acquired an additional 1600ha of surrounding country and invested in significant improvements to the iconic Kadlunga homestead and farming infrastructure. No price was disclosed, but the Edmunds paid $22m for the original property two years ago, including 4900 Merinos, a small Charolais herd and 60ha of vineyards.
Having completed much of his planned improvement program, Mr Edmunds is moving on to 'focus on new projects in the agricultural space', agents said. See tonight's second story on the Edmunds family's plans to re-invest in large-scale Central Australian cattle country.
"We had not intended to realise our investment this early, however we have decided to exit on the basis that the terms negotiated with Mr Millington are fair and this sale will ensure that this asset will be placed into the hands of a terrific South Australian farming family," Mr Edmunds said.
The Millington family own and operate the award winning Collinsville Stud based near Hallett in South Australia.
"Kadlunga will further enhance Collinsville's geographical and production diversity, by securing our ability to grow grain and fodder in some of South Australia's most reliable country," Mr Millington said. "The acquisition will allow us to expand our operations and support our objective of consistently breeding high quality Australian Merino Sheep for customers nationwide year in year out," he said.
The sale was initiated and negotiated on an off-market basis through buyers agents Phil Keen and Tom Russo from Elders.
"It's exciting to see such a strong level of confidence and willingness to invest in the future of Merino breeding from one of our State's most passionate and progressive producers," Mr Russo said.
The sale will trigger an opportunity for other buyers to acquire high quality cropping country that forms part of the expansive aggregation, under a flexible expression of interest process that will allow for bids on parcels from 200ha to 1000ha in size, he said.
"Given that the primary focus of Mr Millington's operations is Merino breeding, some of the surrounding cropping land is not considered to be of strategic importance. He will therefore be giving the market the opportunity to acquire that surplus land," he said.
Expressions of interest for almost 1000ha of farming country, as a whole or in parts, will be launched in coming months.
Given the quality of this land, and the tightly held nature of the district, this is a rare opportunity for existing farmers in the district and potential new entrants looking for instant scale," Mr Russo said.
Source: Elders