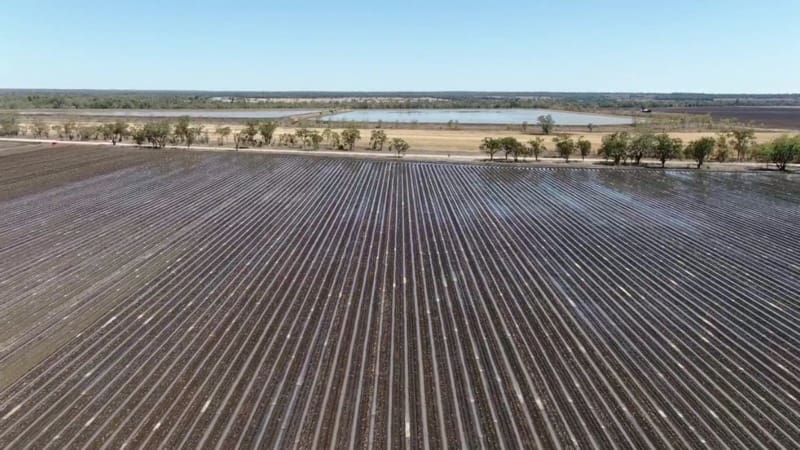 GINA Rinehart's Hancock Agriculture has made what is believed to be its first foray into dedicated cropping country, with the purchase of Warra Warra on Queensland's Western Downs.
Covering 3073ha, the property was listed last year by Ruby Red Farming principals Mike and Margot Black through Toowoomba agency Winten & Co.
Warra Warra includes 968ha of irrigation, 300ha of it now under cotton, and 570ha of dryland farming country.
The purchase is understood to be a dedicated grain play, not necessarily integrated into the company's cattle or lotfeeding interests. Industry sources have suggested a price of $27-$28 million.
Hancock Agriculture said the rationale for the purchase was to diversify the company's investment portfolio by securing high-quality farming land and water.
The balance of the property includes frontages to the Condamine River and Cooranga Creek.
While cropping is the main focus, the property can also comfortably run 200 cows and calves on 1540ha of grazing and improved river country, and also includes a 300-head EU-accredited opportunity feedlot.
Warra Warra is located 7km south of Warra, and has storage for 5100 megalitres of water.
It has been owned for four years by the Blacks, whose business is a major producer of watermelons with operations in the Northern Territory and at Oakey on the Darling Downs.
Hancock Agriculture's CEO John McKillop yesterday confirmed the purchase, which occurred prior to his appointment in November.
Warra Warra's improvements are extensive, and include aerated silo storage for 1120 tonnes of grain, numerous sheds and an impressive homestead complex.
The property has been growing cotton, corn, mungbeans and sorghum over summer, and barley, chickpeas and wheat as winter crops.
It is located 40km west of the nearest cotton gin at Dalby.
Marketing agent Broc Winten said Warra Warra had a mixed bag of inquiry, but generally speaking, it was mostly local established ag businesses wanting to amalgamate some more country.
"We had a few corporates look at it, but believe it or not, it's probably not big enough for them."
Mr Winten said he understood Hancock Agriculture was looking to try to diversify from cattle to cattle and grain production.
"Maybe they want to produce a bit more of their own grain, and this place lends itself beautifully to that."
Hancock Agriculture's other major holdings are Fossil Downs and Liveringa stations in Western Australia's Kimberley region, and Inverway and Riveren stations in the NT.
It also has a partnership with Bannister Downs Dairy in WA's South West, and another through S. Kidman & Co.
Hancock Prospecting's pastoral arm in 2017 bought Maydan feedlot, a specialist Wagyu producer, near Warwick in southern Queensland.
Hancock Prospecting also owns several grazing properties in the New England district of NSW, and in 2018 bought Gunnee near Inverell, where crops are grown primarily to support its 10,000-head feedlot.
Last month, Beef Central reported Hancock Agriculture and S. Kidman & Co, also owned by Ms Rinehart, had sold Phoenix Farm, near Katherine, and South Australian holdings Innamincka Station and Macumba Station. Inverway and Riveren in the VRD district remain on the market.
Last month, Beef Central reported that Hancock Agriculture had purchased a property in Queensland with water assets prior to Warra Warra being named.