VIRTUALLY since the day it was released, the accuracy of the Federal Government's Foreign Owned Agricultural Land Register has come into question, with rural industry stakeholders disputing the amount of land actually held by Chinese interests, for example.
The report suggested that as at June 30, almost 14 percent of Australia's farmland was in foreign hands – with more than 50pc of that held by interests from the United Kingdom. It identified 52.1 million hectares of agricultural land as foreign-owned, out of a total Australian farmland area 385m ha.
Chinese investment in agriculture ran a distant fifth on the list, accounting for just 2.8pc of foreign-owned land or 0.4pc of the total farmland equalling 1.54m ha.
However, a quick compilation (see table below) of cattle/beef properties sold to Chinese interests, as reported by Beef Central over the past 24 months, suggests the figure is in fact much higher – more than twice that size – at almost 3.5m ha.
Major Chinese beef cattle/feedlot purchases in Australia Sept 2014 – Sept 2016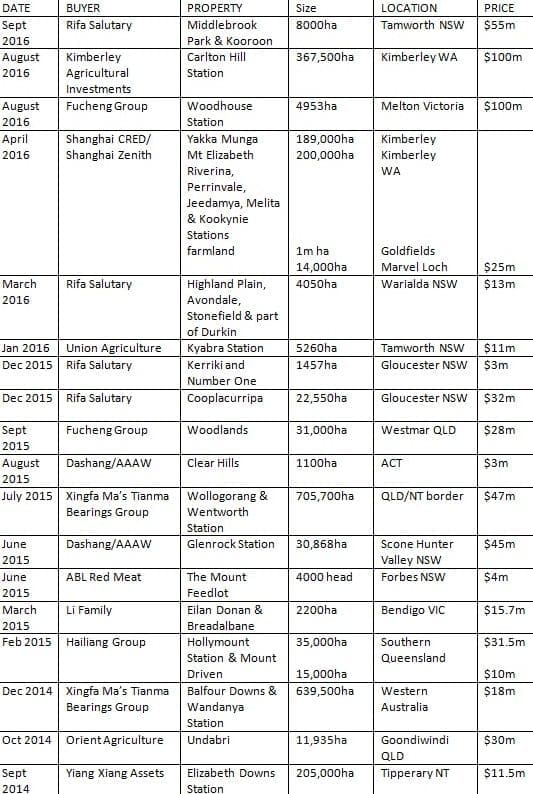 Together, the 13 Chinese investor companies listed above have outlaid almost $583m on beef holdings and production over a 24 month period, covering 3,494,073 ha.
The above assessment does not take into account the recent sale of a 50pc stake in 2700sq km Tipperary in the NT, which lists Hong Kong interests as one of the new shareholders. The size of the Hong Kong interest in Tipperary has not been publicly disclosed, making it impossible to judge whether it would come under the foreign land register's criteria (20pc minority shareholding). Nor is it clear whether the register defines Hong Kong (officially an autonomous 'Special Administrative Region' of China) as a separate entity from China for the purposes of its reporting.
Large assets beyond cattle holdings
The figures in the table above also only account for Australian properties used for cattle production. The Chinese actually own even more Australian 'farmland.'
For instance in August 2012, Australia's biggest cotton farm, the 96,000ha Cubbie Station at Dirranbandi in southern Queensland, was purchased by a Chinese-led consortium. Clothing and textile manufacturer Shandong Ruyi and Melbourne-based family company Lempriere paid a reported $240m.
In October 2015, Chinese buyers Herman Shao-ming Hu (a deputy of China's National ­People's Congress) and Kenny Zhang (an Australian-educated mainland Chinese property developer and coal billionaire) purchased Australia's largest dairy farm, the 190-year-old Van ­Diemen's Land Company in Tasmania, for $220 million.
The 25 dairy farms run 30,000 dairy stock spanning 17,000ha including the vast Woolnorth Station on Tasmania's remote northwest tip. What is interesting to note is that VDL had always been owned by foreigners. It was established in London in 1824 following a meeting of 11 men closely connected with the English Wool Trade and Textile industry.
Register could be flawed
Industry stakeholders spoken to this week are mystified at how the Australian Tax Office reached the figures it did for Chinese landholdings in the Register.
When contacted by Beef Central, a spokesman for deputy prime minister Barnaby Joyce said the ATO was responsible for compiling the register.
"Not only does the ATO have the nationwide resources and data systems to compile such information, but the office also falls under the Treasurer who is responsible for foreign investment. The ATO also has the powers to impose penalties for foreign land owners who do not comply with the disclosure requirements," the spokesman said.
One of Australia's best known rural property agents, Bruce Gunning, who has done considerable business with Chinese investors, said if that is the case, he could not understand why there would be such inaccuracies.
"When land is purchased, transfer forms are filled out and recorded separately in each state. The stamp duty office should know precisely what property was sold, to whom."
Rawdon Briggs, director for rural & agribusiness with Colliers International, agrees the foreign land register could be flawed.
"It needs a thorough study rather than a half-hearted attempt, and it needs to be undertaken by someone closer to the pastoral sector.  I'm not looking for a job, but if the government wants to get serious, then that's what it needs to do – a lot-by-lot study. Pull up the Queensland map, the NT map, the NSW map and examine each area meticulously. It's not a small job by any means, but if everyone wants to have faith in it, that's what needs to be done."
Govt will look at 'further refinements'
In the meantime, Minister Joyce has publicly stated that the Coalition will look at 'further refinements' to the register, if required.
"To ensure the integrity of the register, I call on anyone who has further details on foreign ownership of agricultural land to provide material to the Australian Taxation Office," he said during its launch.
A spokesman for Barnaby Joyce told Beef Central that the minister could not provide an informed comment about the level of Chinese investment without having the opportunity to match the registered properties against any additional properties claimed to be foreign-owned. Beef Central has provided the above list to the DPM's office and is hoping for a response in next week's 'part two' of this weekly property report series.
The spokesman also indicated the report was in fact a stocktake to 29 February and each case would need to be considered individually to see if the purchasers met the definition of a foreign person as per Attachment A of the Register.
We'll report back to readers with more details and opinion in the second part of this report next week.