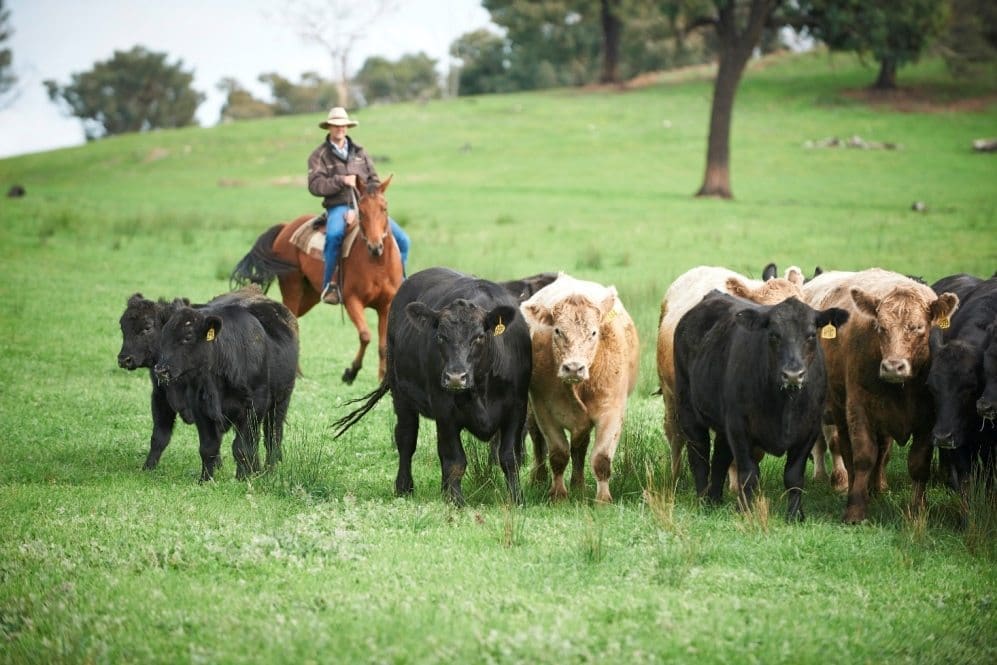 UNDER current booming agricultural conditions in most agricultural commodity types, it is increasingly important to ensure that buyers and sellers alike are keeping a close eye on agricultural returns in comparison to property prices.
In our day-to-day operation as independent property advisors helping buyers and sellers to make better decisions, history has told us that both investors and vendors can get carried away with the speed the market is moving, or hype in a particular sector be it beef, grains or almonds.
Making decisions on 'assumptions'
As the Australian agricultural market approaches '11 to 12pm on the property clock' in some parts of Australia, after benefiting from recent good seasonal conditions and associated bumper cash flows, it becomes critical that buyers and sellers make decisions after taking into account all the available data. It's important not to just rely on financial models or assumptions provided.
As specialist agricultural property advisors we are seeing buying decisions made solely on financial modelling, however the 'ground-truthing' of the model is not always done.
This presents inherent risks. The problem is that many of the numbers provided by the vendors and agents are often not actual numbers specific to that property or region, or are not validated, and purchase decisions are being made based on these assumptions.
Buyers beware and vendors take note. The value of good farming practices, industry-leading management and the backing of sound stock, crop and financial data supports securing a sale or long term sustainable interest in Australian agriculture.
The level of operational returns from Australian agriculture can vary significantly year-in, year-out, depending on a number of factors, but largely impacted by management, cost of production (and purchase price or debt leverage cost) and seasonal conditions.
With billions of dollars currently earmarked to be invested by local and international investors and funds into Australian agriculture, the current challenge for most investors is understanding the expected operational and investment returns by the specific class of asset intended for investment.
What are the parameters of investment? The investor needs to be 100 percent clear on this prior to searching for property:
Are you investing for capital appreciation or operational return?
What are the required returns on capital from the investment?
What is the term of the intended investment?
What is your operational risk profile? Can you afford negative operational returns?
Do you want owner operator risk or more passive investment via lease backs?
The answer to these simple questions will quickly identify the specific commodity type, risk-profile and region within Australian agriculture on which the buyer should be focusing.
For example, if a buyer wants to invest in Australian cropping land using a leaseback scenario with a target annual return on investment of 7pc, they shouldn't expect to be able to purchase in the Wimmera region of Victoria where capital growth has been 30pc for the past two years.
However, they may physically be able to invest in this region under a leaseback scenario if they are willing to accept a return on investment of say 3.5pc or achieve 5pc to 6pc if they take on operational risk.
In-depth due diligence and research can help to illuminate investment risk, poor investment decisions and ultimately poor returns from ill-informed buyers presented with hypothetical financial, crop/stock or cost data.
Investors should be seeking advice and vendors should be keeping robust records. Common questions should be:
Can this region return an average wheat yield of 3t/ha over 10 years?
Is a lease rental of $370/ha or 5pc of land value sustainable for a local operator as a lease back should the tenant exit?
Will you achieve that in the open market?
Or is a carrying capacity of 20DSE/ha or weaning rate of 160pc and gross margin of $80 per head adopted in the financial modelling for the prime lamb business presented unrealistic and unsustainable?
As Australia's largest independent property advisory organisation, Herron Todd White property advisors and specialist rural team are able to provide robust support to formal due diligence and assist mitigate risk in the investment decisions.