Queensland's Darling Downs property market continues to tick along, with a number of transactions occurring for both traditional family-scale grazing or mixed farming assets.
There has also been some corporate activity in the broadacre farming space, albeit low, Herron Todd White says in its latest monthly property review issued today.
However the market is considered to be influenced by lack of supply, which in part is underpinning land values.
"It is a common theme where those purchasers of country have previously attempted to acquire land either by auction terms or private treaty, but missed out due to strong buyer competition or more favourable contract terms such as a cash offer," HTW's report said.
As a consequence, many of the Darling Downs region sales over the past 12 months had been acquired by anxious purchasers with the sole objective of securing country and moving forward with their business plans and objectives.
"We note that in recent times, it has been the clients asking us as valuers what the market is doing, given there are some mixed signals that may be suggesting we are at, or near the peak. The dry seasonal conditions are definitely on the minds of many cattle and broadacre producers," HTW said.
Despite some reprieve in seasonal conditions in late March, most producers did not have a solid body of feed now leading into drier winter months. Some areas, particularly on the southern Downs and around Westmar, have not received enough rain to create run-off to fill low dam storages.
"Therefore, the prospect of a difficult winter ahead is a concern for many."
To highlight the lack of run-off generally in the south-eastern part of Queensland, this graph identifies the various dam storage levels as of late May which support irrigators, graziers and various town communities.
Southern QLD dam levels (%)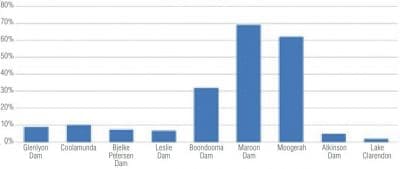 Strong interest for quality farming country
On the transaction side, HTW reported strong interest for quality farming country south of Toowoomba, with the sale of Willow Springs, a 110ha holding developed to irrigated farming with sound structural improvements and well-presented. The holding had both groundwater and an allocation entitlement from Kings Creek of combined 174 megalitres, selling for circa $24,900/ha to a local small cropping enterprise seeking additional land.
The much-speculated sale of Pony Plains to the west of Wandoan sold under auction terms on 29 March for $13.3 million or $3322/ha ($1344/ac).
Pony Plains is a 4003ha mostly brigalow scrub property that had significant coal seam gas development including a worker's camp (click here to view earlier sale report). The marketing agent for the property indicated that compensation payments received over a five year average were circa $1 million per year.
"The sale did include an attractive income stream which appears to reflect a premium," HTW said.
"Broadly in the market, as the gas industry has transitioned from development to operation, landholders who have negotiated strong annual compensation payments have the potential to achieve increased values," it said.
A compensation payment normally accounts for the initial disturbance head of claim, which is considered to have the greatest impact at the development stage as wells are drilled and connected to gathering lines etc.
Once the infrastructure is in place and the grazing business is back to a similar operation, the impact is considered much less intrusive.
"It is very difficult to achieve the same level of return per hectare under a grazing operation compared to the compensation received for the land developed to wells or other infrastructure," HTW said.
"Hence why similar compensate payments to landholders can be considered a benefit due to providing a secondary income stream which is not subjected to seasonal conditions or commodity market prices."
Source: HTW