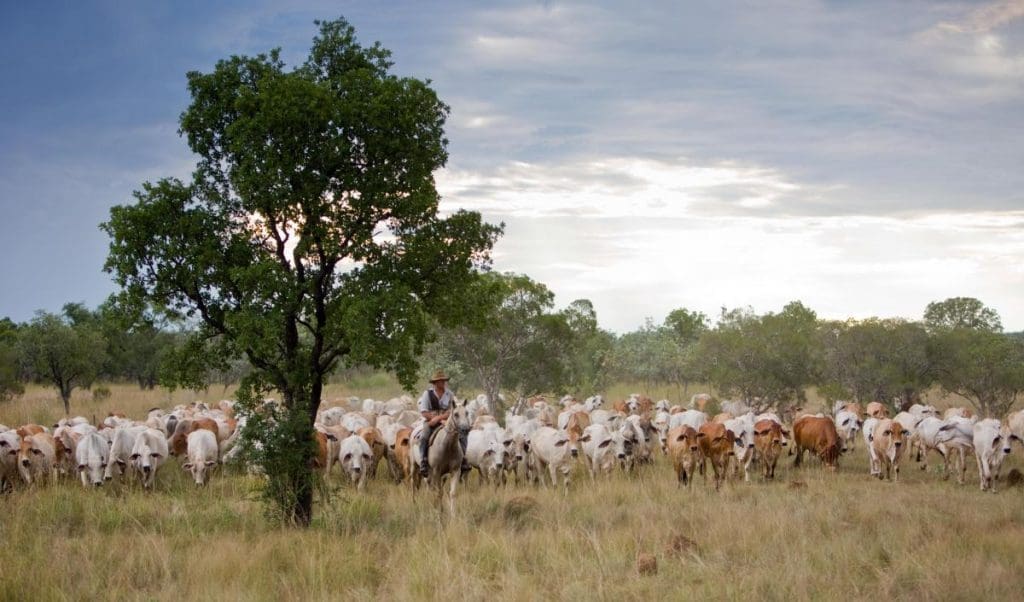 CONSOLIDATED Pastoral Company has announced the sale of three more northern cattle properties, covering a total area of about 740,000ha, as owner Terra Firma continues its move towards divesting the prized CPC grazing land portfolio.
CPC has reached agreement with Vietnam-based investment group Clean Agriculture & International Tourism for the purchase of Auvergne and Newry Stations in the Victoria River District on the western side of the NT, and Argyle Downs station just across the border in the East Kimberly region of WA. Unconfirmed reports suggest a price around $135 million.
The sale of the three stations includes 52,000 head of branded cattle, as well as plant and equipment.
Here's a quick snapshot of the breeding and growing properties involved in the transaction:
414,200ha Auvergne Station breeds cattle predominantly for the northern live export market. Weaner steers and surplus heifers are trucked to Argyle Downs for growing out for live export. Comprising a balance of forest country, open black soils, coastal flood plain and red loam river country, Auvergne carries native Flinders and Mitchell grasses, capable of running 31,000 cattle in a typical season, turning off 30,000 head a year.
Breeding block Newry covers some 246,700ha and can typically carry about 21,000 head on its black soil, forest and stony ridge country. Weaner steers and surplus heifers are trucked to Argyle Downs for growing out
72,000ha Argyle Downs, 120km south east of Kununurra near the WA/NT border, carries a mix of blacksoil plains and red basalt country. The Ord River Dam is on its western boundary. Argyle's Flinders and Mitchell grass pastures finish steers for live export out of Wyndham. The property turns off 10,000 head annually to the live export market.
Following these latest sales and the earlier sale of Carlton Hill near Lake Argyle (more details below), CPC's only remaining land assets in the VRD/Kimberley region are 230,000ha Kirkimbie, just inside the NT border on the Buntine Highway, and 179,000ha Bunda, a little further east. Both properties are run as an aggregation.
Commenting on the sale of Argyle, Auvergne and Newry, CPC chief executive Troy Setter said the divestment of the cluster of stations was at a premium to net asset value, reflecting the quality of the stations and the investments that had been made in infrastructure in recent years.
"Our station management and staff look forward to working with CAIT to continue to run the properties and manage the land," Mr Setter said in a statement.
The latest sale announcement adds weight to the theory that CPC will sell off single properties or smaller strategic groupings of properties, rather than its entire remaining portfolio, in order to maximise the returns from the sale of the assets.
"The remainder of the CPC portfolio is high quality and large scale with more 3.9 million hectares of land across 12 cattle stations, with good geographic diversity as well as a valuable business in Indonesia," Mr Setter said.
"The business remains a compelling platform as a whole as well as attractive in parts, and the sale process continues for both of these options," he said.
"CPC's geographically diverse portfolio positions the business well in the current market. The business is benefitting from investments in fencing and stock watering points as well as genetics, and our Indonesian supply chain provides a route to market in a large, high-growth market," Mr Setter said.
"The fundamentals of beef are underpinned by strong demand dynamics in Asia and around the globe."
Vietnamese conglomerate
New owner Clean Agriculture & International Tourism (CAIT) is believed to be owned by Vietnamese conglomerate TH Group, which has investments in Vietnamese agriculture, food, banking and pharmaceuticals.
TH Group accounts for 40 percent of Vietnam's fresh milk market production, developing a large, high-tech dairy and fresh milk production project in Vietnam's Nghia Dan region, using Israeli technology.
TH Group was established in 2009 and is chaired by Thai Huong, one of Asia's most powerful businesswomen. In addition to TH Group, she chairs BAC A Bank, one of the leading regional banks in Vietnam.
The sale of the CPC properties to Clean Agriculture & International Tourism is subject to Foreign Investment Review Board approval.
A spokesperson for the buyer said the company's vision was to continue to invest in the grazing operations on the properties, and diversify into high-value cropping and other non-pastoral use business.


Following the sale of the cluster of three stations, CPC will be left with a portfolio of 12 cattle stations with a carrying capacity of 325,000 head of cattle across 3.9 million hectares of land in Queensland and the Northern Territory.
CPC also holds a 90pc interest in a joint venture which owns and operates two feedlots in Indonesia. CPC's direct sales channels primarily involve selling cattle and beef to Asian consumer markets, domestic feedlots and processors, and exporting live cattle.
The latest sales of Argyle Downs, Newry and Auvergne follow the $100 million sale in August 2016 of Carlton Hill station in WA's Ord River district.
Carlton Hill buyer, Chinese company Shanghai Zhongfu was earlier awarded the land, water and development rights for the Ord Irrigation Area stage two, for the next 50 years. Under the agreement, CPC has leased back most of the 476,000ha of country on Carlton Hill for the next ten years, while an area of about 14,000ha will be developed by the new owner for irrigated cropping.
The Carlton Hill deal was understood to be worth $70 million bare, plus a value of $30 million attributed to CPC's ten-year leaseback agreement on the remainder of the property – giving a total transaction value of $100m. No cattle changed hands under the Carlton Hill agreement.
In October last year, CPC also sold its Nockatunga Station in Queensland's Channel Country, in a deal  said to be worth around $50 million, plus 5000 head of cattle. CPC described Nockatunga as a 'non-core asset', which was not critical to the operations of the remainder of the portfolio. Buyer was Malcolm Harris and family's Cleveland Agriculture.
Earlier estimates following Terra Firma's announcement that it planned to seek a buyer for the CPC pastoral assets suggested the entire CPC portfolio (including the Auvergne, Newry and Argyle Downs stations and Nockatunga) might make $1 billion if sold in its entirety.