AFTER 23 years in the rural property marketing game, including the last nine as head of CBRE Agribusiness, high-profile property identity Danny Thomas has called time.
The 45-year-old said there had been no falling out and nothing sinister had occurred behind the decision, but he had just decided to step back to pursue other interests.
Mr Thomas said it had been exciting working with the world's largest real estate services firm, building a niche rural property business with global reach, support and capital.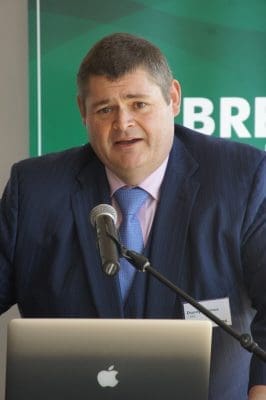 He told Beef Central he had been inundated with offers since announcing he was resigning.
"I am pleasantly surprised with the length and breadth of the interest in agricultural transactions. Some of the work offers are from non-traditional participants in the space," he said.
"The agricultural investment space is certainly 'sexy'. A number of international clients have asked me to help build their portfolios here in Australia or undertake acquisitions on behalf of buyers instead of acting as an agent. That has an appeal – using the skills and the experience I have honed in valuations and then agency, and using that to build a portfolio for someone," he said.
"I am keen to ensure all my current active client matters are dealt with, then I will play farmer for a couple of months. I want to make future decisions with a clear head, unburdened by my current job," he said.
What is certain is that Mr Thomas won't be rushing into anything new soon. He plans to hold his counsel and seriously consider his next step.
"What I don't want to do is undertake extensive international and national travel. I am in a different season of my life with a three-year-old daughter, and I do enjoy hanging out with her and my wife at home."
Industry players have speculated that Mr Thomas may be joining his former colleague Col Medway who left CBRE earlier this year and established LAWD.
Mr Medway admitted an offer was on the table, but at this stage, Mr Thomas was not joining the LAWD team.
A match made in heaven
In the middle of last year, and outside his CBRE commitments, Mr Thomas joined forces with John Nicoletti and established the Ulupna Pastoral Co. Together they began buying farms in northern Victoria.
Mr Thomas admitted the partnership was the chief motivation for pulling the pin on CBRE.
"I want to focus on the business for the next six months. It's easy to buy properties, but it takes a lot more work to repurpose them and get the benefit of the scale we have been able to achieve."
Mr Thomas said at this stage, the partnership was not looking to increase its presence in other states.
"John looks after his business in WA and I look after our business on the border between Victoria and New South Wales. In a short amount of time, we secured a significant number of small properties spanning more than 16,000ha. Bolting those together is our focus now."
"If there are properties on the shoulders of what we currently own, we will certainly consider buying additional land. However, at this stage we have achieved what we wanted to," Mr Thomas said.
Last year, the Nicolettis put together a 200,000ha aggregation of mixed farming country in WA's eastern wheatbelt and Danny Thomas sold it to the Saudi Agricultural and Livestock Investment Company (SALIC) for $60 million on a walk-in walk-out basis.
He said there was an opportunity in the market for anyone brave enough to create some institutional appeal by bringing properties together.
"It is certainly more difficult now because the market is hot. The key is identifying segments where there is very little neighbour competition. Well-capitalised neighbours with strong balance sheets who can access debt will just trample the competition. It is not sensible to try to aggregate properties in markets that aren't value for money."
Taking care of business
Mr Thomas will end his CBRE career marketing North Star Pastoral's large scale, turn-key cattle breeding, backgrounding and finishing business Limbuyna and Maryfield in the Northern Territory.
He said it was a great pairing of assets to work on as he makes an exit.
"With Gina Rinehart's properties also rumoured to be hitting the market, interested parties can secure a number of breeding properties and do what vendor Colin Ross currently undertakes on a larger scale. There are some really big gains to be made there."
Best grazing deals over a long career
Looking back on his career at CBRE, Mr Thomas highlighted what he considered to have been the best grazing land deals he had been involved with.
In May 2018 the Sustainable Agriculture Fund, one of Australia's largest agricultural portfolios wrapped up, selling for a reported $185 million.
Owned by AgCAP (on behalf of Australian institutional investors), the five aggregations comprising 17 farms, spanned more than 24,000ha of farmland across three states.
One of those aggregations, the 6785ha cattle breeding and fattening holding on King Island was purchased by Tim Roberts-Thomson's TRT Pastoral Group for a reported $45m (including 5500 Angus cows plus progeny and an extensive list of plant and equipment).
Mr Thomas said it was such a special group of properties, given how much of King Island they represented.
"Since then, the sale has been driving King Island property values and transactions. The vendors were happy with the sale, but Mr Roberts-Thomson has been particularly pleased with the purchase and has gone on to secure further properties on King Island," he said.
Equally as enjoyable was the sale of South Australia's Mount Schanck Station at Mount Gambier.
The 2870ha property is regarded as one of the best and largest scale grazing holdings in the state's south east. Underpinned by close to 5000 megalitres of ground water entitlement, it was offered on a walk-in walk-out basis, including more than 4500 head of livestock.
Owned by the Evans family, it was sold to Thomas Foods International for more than $50m. Mr Thomas said all the parties (vendors and purchasers) were a pleasure to deal with.
Interestingly, he said, there is an old family connection at Mount Schanck for him.
"My family is from Mt Gambier, and when my father's family was burnt out in the 1950s fires (losing their home), they lived in the Mount Schank shearing shed for 12 months while rebuilding their farmhouse. I didn't know any of that history until I had been appointed to sell the place, and my extended family told me."
Other significant grazing transactions
On market
In January 2019, the 33,000ha Juanbung and Boyong Stations in New South Wales' Southern Riverina was offloaded by Tim Roberts-Thomson's TRT Pastoral Group and sold to Nature Conservancy Australia, in a joint venture with Tiverton Agriculture, for $57 million.
Together, they incorporate the terminal floodplain delta of the Lachlan River, referred to as Great Cumbung Swamp, and feature one of the largest privately-owned River Red Gum Forests in the world.
Mr Thomas said that transaction was a highlight because an environmental group put their money where their mouth was.
"They purchased the country, took it out of the property market and are now dedicating it to conservation and agriculture as they see fit."
Off market
In September this year, Western Victoria's Eulameet, owned by prominent Melbourne barrister Allan Myers' Dunkeld Pastoral Co, was purchased by one of the biggest family-owned commercial beef operations in southern Australia.
Bushy Park Angus, owned by Greg and Dinah Farquharson and family from Caupaul Station at Dergholm, paid in excess of $20 million for the 1861ha holding.
Mr Thomas said it was a great deal, done very quickly, off market, at a record level of value.
"One of the pleasurable things about the sale was that for the last four or five years, the Farquharsons had been the bridesmaids on a number of properties we'd marketed.  It was great to see them secure a quality property that will allow them to continue to grow their business."
Another memorable off-market transaction for Mr Thomas was the 1550ha Ardrossan at Holbrook in New South Wales' Riverina.
"In 2017, we sold the home of the old Ardrossan Angus Stud to the Richmond family from Werribee in Victoria for $10.25 million. I was talking to them recently and they are still delighted with that purchase."
Changes in the rural property space
Mr Thomas has observed the rural property space is becoming more sophisticated, and not just in the institutional space.
"Private families who survived the tougher times earlier are now benefiting from the better times. They have become more sophisticated in terms of how they operate their properties, deal with seasonal influences, climatic changes, and market movements," he said.
"They are managing aspects of agricultural risk by using tools like off-take agreements to gain longer term certainty around price, and many of them now have long-term arrangements (key account status) with major input suppliers such as Nutrien or Elders and their peers," he said.
Mr Thomas said this reduced some of the volatility, allowing producers to plan with more certainty.
"They are also using different financing structures to leverage their working capital and are using core debt to make long term decisions to secure additional land or develop their existing holdings."
"The best-in-class operators have also been able to use new technology to gain better data about the performance of various aspects of their business and are using this to improve and refine their farming practices," Mr Thomas said.