IT WAS a property auction room atmosphere the likes of which this reporter has not seen since the heady market highs of 2007.
A standing-room only audience of well over 150 people jammed the Ray White Rural auction rooms in Brisbane this morning to witness Len Peel and family's Peel Pastoral Co sell their showcase Blackall district (Central Qld) grazing properties Northhampton Downs and Inverness, under the hammer for a combined figure of more than $27.51 million.
The room, packed with prominent high-net worth individuals from across the established Queensland grazing community, saw Northampton Downs (19,700ha) knocked down for $13.59 million, and Inverness (22,600ha), for $13.925m.
Both properties attracted well over 20 pre-sale inspections, and there were at least four active parties involved on each in this morning's bidding.
Significantly, all the bidding momentum was with well-established family-scale cattle operators – there was no sign of corporates, or offshore competition.
Prices back to 2007 levels
Beef Central did a few hasty sums on the back of an envelope, and came up with a bare-of-stock value figure for both properties around $250/ac ($617/ha). That accounts for the 1465 Santa x Charolais cattle included in the Northampton deal, while Inverness was offered (not surprisingly, due to drought) bare.
That figure is significant, because the Peels in fact paid almost the same price ($247/ac bare) at the height of the over-heated property market back around 2008 for Inverness. The big difference, though, is that back then, they bought the 22,600ha Mitchell/Flinders/buffel grass downs country property for feed. This time, Inverness (and Northampton, for that matter) are almost devoid of grass, after two years of severe drought.
It did not stop the bidders, though, with several pointing to the solid La Nina weather outlook now emerging, as giving them a little more encouragement to bid-up.
Emerging from the auction-room smoke as the new owner of Northampton Downs were local cattlemen Ian and Craig Scholes and family, who operate an aggregation totalling about 80,000ha of country in the Blackall district, including Mena Park and Lighthouse (not to be confused with the Roma property of the same name). Lighthouse is next door to Northampton. Underbidder was well-known Narrabri, NSW cattleman, Bill Zell, looking to expand his interests north.
Inverness fell after an equally hard-fought shoot-out among multiple bidders, eventually selling for $13.925m to another Central Queensland cattleman, Allan Parker, Allambie, Clermont.
Mr Parker also owns and operates breeding country at Jericho and Aramac running about 4000 breeders, and will use Inverness to grow and grass-finish steers from those properties, depending on seasons, he told Beef Central.
Underbidder on Inverness was former Gulf cattle producers, Paul Zlotkowski and sons Stuart and Jim, who last July sold their Wollogorang holding in the Gulf to Chinese interests for a phenomenal $47 million.
Currently based near Mundubbera, the Zlotkowski's actions have flagged that they are back in the market to make a significant grazing land purchase, apparently on better downs country.
Sales end 29-year connection
The sale of the two highly-regarded Blackall properties will bring to a close almost 30 years of Western Queensland downs country grazing operations for Len Peel and family.
Since they bought Northampton Downs in 1987, the Peels have carried out extensive development work structurally and with land clearing and pasture development, improving carrying capacity and ease of management.
Northampton Downs is almost 20,000ha freehold, mostly undulating black soil Mitchell grass downs, shaded with boree, gidyea, wilga and mimosa and including 6000ha of developed gidyea country with established buffel grass.
The holding is watered by 3 capped artesian bores that disperse water to tanks and troughs. Structural improvements include a three-bedroom air-conditioned homestead, two bedroom guest quarters, machinery sheds and shearing shed and quarters. The property will be sold with 1465 Santa & Santa Charolais cross cattle and station plant.
Inverness, totalling about 22,600ha, has a strong reputation in the Blackall area of turning off quality cattle. The freehold property consists of developed gidyea country with a large percentage having been blade-ploughed and established to buffel.
It is watered by two capped artesian bores dispersing water to 33 troughs and 40 cup and saucers. The structural improvements include a six bedroom air-conditioned homestead recently renovated, two machinery sheds and numerous other station buildings. There are also two sets of steel cattle yards, one of which was constructed in 2014. Inverness will be sold bare of livestock and plant.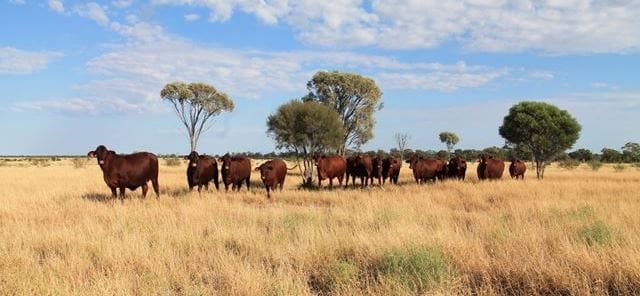 Click this link to access an earlier marketing video:
Agents were Bruce Douglas and Paton Fitzsimons, Ray White Rural Brisbane and Blackall.
Advising the vendors, the Peel family was Rodney Bell from McCullough Robertson Lawyers, Brisbane.