INVESTMENT intentions among Australian farmers are at record levels, according to findings from research released this week by Commonwealth Bank.
Livestock producers in particular are demonstrating optimism, with investment and expansion intentions robust in the beef, wool and lamb sectors on the back of sustained high prices in the sheep sectors, and continuing demand for beef.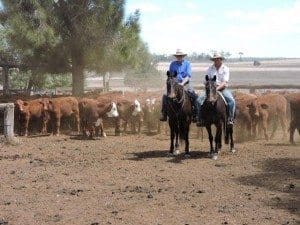 Nationally, a record six percent of farmers (all commodities, not just beef) said they had intentions to acquire additional land in the near future. That trend was greatest in South Australia (10pc) followed by Queensland (8pc) and WA (7pc).
The research, part of Commonwealth Bank's bi-annual Agri Insights survey, shows producers are preparing to boost spending and realise opportunities by taking on more land, hiring more staff, getting their families more involved and by using more contractors and advisers.
This sentiment has pushed the CommBank Agri Insights Index to its highest level since the research began in 2014. The current National Index is 12.3, up 2.8 points on this time last year and two points ahead of the previous high, recorded in May 2015.
The research was conducted among 1600 Australian farmers during January and February.
Commonwealth Bank's executive general manager of regional and agribusiness banking, Grant Cairns, said sustained high prices were helping drive optimism and spending intentions, with livestock producers leading the charge.
"The results are underpinned by continuing high prices for wool and lamb, plus ongoing strong demand for Australia's high quality beef," Mr Cairns said.
The survey found 15pc of beef producers plan to expand their enterprise in the coming year, up from 12pc this time last year and setting a new record for the measure. For the purposes of the survey, 'expansion' was defined as increasing the scale of their operations – either through physical investment in land, plant and equipment or fixed infrastructure, or people.
At the same time, a record 18pc of wool producers say they'll expand their enterprise. This is up 20pc on this time last year, when overall intentions in the sector were contractionary.
Meanwhile, 18pc of lamb producers plan to expand their enterprise, twice as many as at the same time last year, and again setting a new record.
Mr Cairns says the strong general investment sentiment would not stop at the farm gate.
"We're expecting to see a solid knock-on effect as farmers implement their investment plans. Strong market conditions look set to translate into increased employment opportunities and farmers are also looking at off-farm investment in addition to boosting their spend on their farming operations," he said.
A record 7pc of all farmers say they will increase their use of consultants and advisers this year, compared with 5pc this time last year, while a record 9pc say they will increase employee numbers, nearly double the 5pc who said they would do so at this time last year.
Nearly a third of survey respondents (29pc) plan to boost tech investment and one in four will increase investment in plant and equipment. At the same time, 18pc plan to increase off-farm investment, up from 11pc this time last year.
"Overall, our survey points to a very buoyant Australian agri sector," Mr Cairns said.
Agri Insights surveys farmers in relation to 14 key areas of farm business operation, including physical, financial and people components to create an index measuring investment intentions for the next 12 months.
Source: Commonwealth Bank