OUR final property review for 2022 includes this wrap-up of recently completed sales, and a separate article on significant recent listings across the country.
Kane's pay $70m-$100m for Alpha's Sedgeford
Winton's Baratria split three ways
Crichton-Brown's pastoral portfolio divided
Victoria's Rossander makes $35m-$40m
Aramac's Fortuna snapped up prior to auction
Hurst family expands with Windorah's Clifton
FNQ producer pays $4.9m for Astrea Station
$8.4m for productive country in NSW's Culcairn
NSW south coast producer secures eastern fall country
SA's Grasslands makes $3m+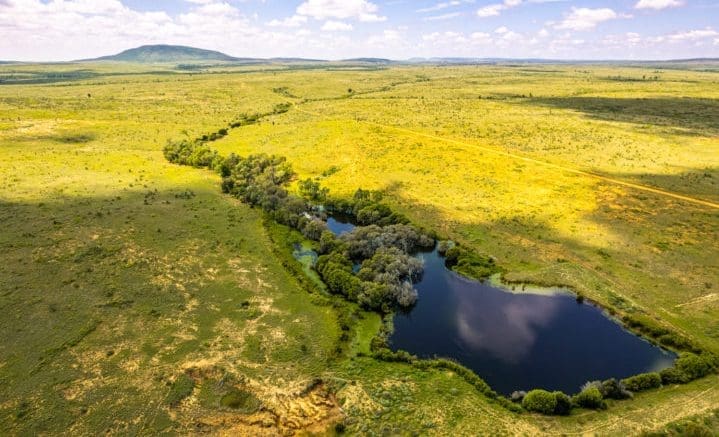 Kanes pay $70m-$100m for Alpha's Sedgeford
North Queensland cattle producers David and Gina Kane, Kane Cattle Co, have paid between $70 million and $100 million for Sedgeford in central western Queensland's Barcaldine region.
Situated 35km south-east of Alpha, the 48,370ha breeding and fattening cattle property, pictured above, was sold on a walk-in, walk-out basis including 5500 head of mixed livestock and an extensive list of station plant.
The Kanes are Wagyu breeders who own Mirtna Station west of Charters Towers, as well as two blocks near Bauhinia Downs and country at Bell.
Brad Hanson from Hourn & Bishop Qld handled the expressions of interest campaign on behalf of the vendors, the Teys family, but was unable to disclose the price. However, industry experts have offered a price guide of between $70m and $100m.
Sedgeford has been held by the Teys family (as distinct from the Teys Australia processing joint venture) for 32 years. In 1990, they purchased the property for $4 million from Sir William Allen, a grazier and National Party figure and former Suncorp chairman.
Featuring good cattle country with a 7000 head carrying capacity, Sedgeford has gently undulating heavy black soils, fertile pebbly ridges to red sandy loams growing brigalow, blackbutt, bauhinia, box, iron bark and bloodwood.
The property is watered by a 30km dual frontage to the Native Companion Creek and 51 dams. An extensive water system includes 15 tanks and 14 turkey nests supplying water to 54 troughs.
Winton's Baratria split three ways
Three family-owned pastoral businesses have secured Baratria, the Teys' large-scale north-west Queensland grazing aggregation, ending 30 years of family ownership.
Tom Brodie from Brodie Agencies was unable to disclose the prices paid, but said they were line with recent property sales in the district.
Located in a tick-free area 65km from Winton and 115km from Longreach, the 77,747ha aggregation comprises three adjoining properties:
42,471ha Baratria – sold to the Cloncurry-based Saunders family from Roundocks
26,019ha Hartree – purchased by Tom and Jesse Terry, Mundjuro at Julia Creek
10,763ha Clyde – secured by neighbours David and Neida Mims, Tucson at Longreach.
When they were offered to the market in September, the three properties were presenting with a good body of feed following an exceptionally wet autumn/winter season.
Mr Brodie reported there were 15 inspections with eight parties submitting an expression of interest offer by the November 17 closing date.
At the time, he predicted the strength would come down to two or three buyers who would secure the aggregation in individual parcels.
The breeding, backgrounding and fattening enterprise was offered for sale two years ago, after an expressions of interest campaign failed to find a buyer.
At the time, drought conditions created headwinds during the EOI process with agents hoping a change in the season would be all that was needed to deliver a deal. Baratria had only a body of short, dry feed, but was well positioned to respond well to rain because it was conservatively stocked.
Today, Baratria is lightly stocked with around 3000 head of cattle. It is estimated the holding would comfortably run an additional 4000 to 5000 cattle.
The country comprises mostly open undulating Mitchell/Flinders grass downs, with 8500ha of heavily grassed channels and sweet light carrying claypans along 116km of channels.
Combined, the holdings are well watered by 28 dams, 12 turkey nests, 18 tanks, 72 troughs and numerous seasonal and semi-permanent waterholes along the many channels.
Crichton-Brown's pastoral portfolio divided
The prized Riverina pastoral portfolio of former Australian-raised, United Kingdom-based businessman Anthony Crichton‐Brown has been divided up and sold to multiple farming families.
Eighteen months after Mr Crichton‐Brown passed away, his family appointed Inglis Rural Property and Elders Real Estate to sell his 51,280ha New South Wales Coolong Pastoral holdings.
At the time, they were anticipated to achieve around $50 million.
Sam Triggs from Inglis Rural Property was unable to disclose the buyers or the prices paid but said Toronga Station sold this week and the rest of the portfolio is under contract. Together, he said the properties achieved a good price, in line with market conditions. Among them:
Toronga Station
The 28,079ha Toronga Station, 12km north-west of Hay, was secured by a family with local and interstate interests. It was offered with a price guide of between $28m and $30m.
Toronga is suited to sheep and cattle and has an estimated carrying capacity of 20,000 to 25,000 dry sheep or cattle equivalents. It has been running 5500 ewes plus followers and 450 cows plus followers on grassland and saltbush country.
There has been significant investment in water and infrastructure including a newly constructed shearing shed.
Natue Station and Merrimajeel
The 16,200ha Natue Station and the adjoining 1862ha Merrimajeel, 100km north of Hay, were anticipated to make between $15 million and $17 million.
Regarded as some of the best country in the district, the aggregation has a mixture of open grass country through to expansive flood plains (via the Merrimajeel and Muggabah creek systems), with responsive red soils to heavier clays.
The estimated carrying capacity is 12,000 to 14,000 DSE or cattle equivalents.
Water is sourced from the 2km of Lachlan River frontage, a network of surface dams and a refurbished bore and telemetric trough and tank system.
Fairleigh
The 5139ha Fairleigh, 30km west of Natue Station, was expected to achieve between $2.5 million and $2.6 million. The productive soils with red loams over clay and red rises can carry 2500 to 2700DSE. Water is sourced via a newly developed bore and solar pump.
Victoria's Rossander makes $35m-$40m
CBRE Agribusiness is finalising the $35 million to $40 million sale of the renowned Rossander Portfolio of properties in Victoria's south-west to 12 buyers.
The unique, large-scale semi-contiguous city-fringe farming and lifestyle investment opportunity is located 4km north of Warrnambool.
The 955ha aggregation was offered on behalf of the estate of Rossander Properties via an expressions of interest campaign for the entire portfolio or as separate parcels of land.
Featuring well-established pastures, fencing, water and infrastructure, the aggregation is suited to a range of agricultural pursuits including cattle and sheep production, mixed farming enterprise and dairying.
CBRE managing director David Goodfellow together with selling agents Shane McIntyre and Matt Childs were appointed to handle the sale.
They fielded strong interest from neighbouring farmers, locals and investors.
"The level of interest was astounding with more than 60 offers ranging from eager neighbours wanting to expand their holdings to lifestyle buyers seeking a high quality near-city rural asset," Mr Goodfellow said.
They said the buyers were both local and state-wide.
"Many of the properties possess elevated building sites overlooking the city, with most being only five minutes from the city fringe, providing a rural lifestyle with city convenience."
Read the full story on Sheep Central
Aramac's Fortuna snapped up prior to auction
A Queensland family has secured Aramac's Fortuna Aggregation prior to auction.
The 38,951ha holding was due to be auctioned bare on November 11 but were placed under contract to a family seeking additional safe breeding country.
Andrew Turner from Ray White Rural was unable to disclose the price paid or buyer.
Owned by the House family for almost 45 years, the Fortuna Aggregation is located 40km north of Aramac and 100km north of Barcaldine with good access to saleyards at Blackall, Emerald and Roma.
With an estimated carrying capacity of 1200 breeders plus progeny, the property has a reputation for producing high quality weaner cattle.
There are three sets of steel cattle yards with vet crushes and scales, however there is also sheep infrastructure including two shearing sheds and shearer quarters.
At the time of sale, Fortuna was enjoying brilliant seasonal conditions and was extremely well grassed with buffel, desert Mitchell, stylos, soft spinifex and edible shrubs.
The country comprises desert uplands including yellow jacket, ironbark, box and gidgee, interspersed with creek flats and jump ups.
It is well watered by 12 dams and seven sub-artesian bores reticulated to 30 tanks and 70 troughs.
Hurst family expands with Windorah's Clifton
Meandarra's Andrew and Marg Hurst and family have paid $9.7 million for the 48,550ha Clifton in central western Queensland.
Clifton is situated 65km east of Windorah and 175km west north-west of Quilpie in the Barcoo Shire.
The Hursts are headquartered at Kerriett at Meandarra, but also own the adjoining properties Burkobulla, Gummono and Bodalla at Eromanga – south of Clifton.
Tony Lilburne from Nutrien Harcourts GDL handled the marketing and the walk-in walk-out sale which included 700 cows and plant.
Clifton was offloaded after three years ownership by Ashley Fretwell and family from Coonabaraban in New South Wales' north-west. During that time, they conservatively ran 900 cows and calves.
The country on Clifton is described as a great balance growing numerous grasses including mulga Mitchell, Mitchell, open lummock grassland and Queensland blue grass. It also benefits from an abundance of seasonal salines.
Channels intersperse throughout the property. Recently, there has been a significant amount of ponding and water spreading, with potential for further development.
Clifton is also watered by ten large earth tanks, nine quick catches, five sub-artesian bores, one flowing bore and numerous semi-permanent waterholes. Extensive pipelines, supplying 30 troughs and six tanks, have satellite water monitoring systems.
Clifton has 39km of exclusion fencing and 40km of dingo barrier fencing on the northern boundary.
FNQ producer pays $4.9m for Astrea Station
A far north Queensland producer seeking additional breeding country has paid $4.9 million for the fully operational cattle station Astrea Station.
The sale ends 37 years of ownership by James and Patricia Gordon.
The 62,800ha property is located at Yarraden, 450km north of Mareeba and 60km west of the Musgrave Roadhouse on the Cape York Peninsula.
Astrea has double frontage to the Lukin River as well as 24 dams, springs and seasonal waterholes.
The property is generating an additional passive income driven by a small carbon offset scheme via savannah burning offsets.
Astrea was auctioned by Russell Wolff from Elders. The walk-in walk-out sale included 1500 head of branded cattle, as well as a comprehensive list of plant and equipment.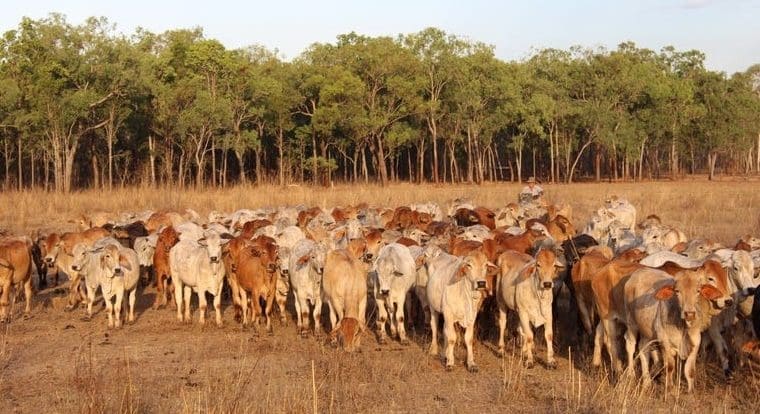 $8.4m for productive country in NSW's Culcairn
A Camden producer has paid more than $8.4 million for two blocks offered as part of the Dalriado portfolio – described as some of the most productive grazing and mixed farming country in south-eastern New South Wales.
The 834ha Dalriado (comprising 173ha, 178ha, 129ha and 348ha blocks) has been owned and operated by the Hoffmann family since 1948. The current owners, Paul and Colleen Hoffmann, are planning to retire to Albury.
Situated in the tightly held Culcairn district, 50km from Albury, the versatile enterprise showcases productive creek flats running 100 breeders and 1000 merino ewes, and 400ha of prime cropping land.
When LAWD and Delta Agribusiness listed Dalriado in September they anticipated it would make in excess of $18 million.
Tim Corcoran from LAWD described Dalriado as a significant listing for the eastern Riverina.
"A truly picturesque property, the vendors have demonstrated a commitment to production as well as to land care. Dalriado features established tree lines as a result of planting 30,000 native trees," he said.
Dalriado is reliably watered from the permanent Billabong Creek and other creeks, dams, a bore and a large rainwater storage.
NSW south coast producer secures eastern fall country
A beef producer from the south coast of New South Wales has secured a picturesque and productive grazing block on the Southern Tablelands.
David Nolan from Webster Nolan was unable to disclose the buyer's name or the price paid, but when it was brought to the market in February, a $6.175 million to $6.475 million price guide was offered.
The 520ha Eastleigh is situated at Golspie, 20 minutes from Laggan and 25 minutes from Crookwell – just under three hours from Sydney.
The property boasts picturesque and undulating protected eastern fall country in an 800mm rainfall region.
Eastleigh features fertile and productive pasture improved country currently running 3200 ewes and lambs, and 90 cows and calves.
Water is secured by the Blade of Grass Creek, 18 dams and a bore.
SA's Grasslands makes $3m+
A South Australian family has paid more than $3 million for Grasslands, a versatile mixed farming property suited to livestock, wool, grain and fodder production.
The 1598ha block is located at Sherlock, 25km east of Tailem Bend and 50km south-east of Murray Bridge, at the juncture of the Murraylands, Southern Mallee and Upper South-East regions.
Jesse Manuel from Colliers Agribusiness was unable to disclose the price paid or the purchaser but said the family was from outside the region seeking expansion.
Grasslands is described as an ideal stand-alone mixed farming asset.
Alternatively, it is an opportunity to integrate with an existing farming or livestock business either for local operators looking to expand or outside buyers looking for geographical or commodity diversification.
The property also lends itself to more intensive livestock opportunities subject to necessary consents and approvals.
Click here to access more property sales results