HE HAS been a part of the fabric of the Australian stock and property agency industry and Elders for more than 50 years, enjoying a stellar career selling rural properties across Queensland, Western Australia, the Northern Territory and New South Wales.
This week, long standing and well-respected property expert Dick Allpass shares some wisdom with Beef Central readers.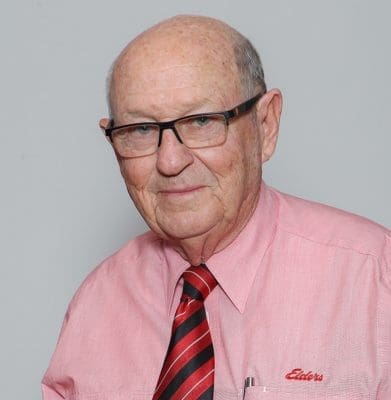 Described by some as 'an elder statesman of the north' and 'an industry property heavyweight', Dick Allpass is having none of that, saying he has never acted alone, and relied heavily on many top people, but most importantly, a team of successful property experts across Queensland.
At 77 years of age, many have asked him why he is still working. The answer is quite simply because he loves it.
"Every day is a new day and every day is an adventure – meeting with interesting people, looking at good country and viewing good livestock," Dick said. "It has been a positive experience for me, and I hope I have been a help to those I have dealt with and am continuing to deal with."
Back to the beginning
Dick may have grown up in Brisbane, but he was no stranger to the bush. His father had spent his younger days around Cunnamulla, in south west Queensland, and Dick was influenced by family and friends and was keen to return there.
"After school, in 1959, I took a job with Australian Estates (the wool and produce selling brokers and stock and station agents business) to train as a wool valuer. In 1965, I changed direction when I joined Elders with the ambition of becoming involved in livestock marketing and auctioneering."
When Elders built Beef City feedlot west of Toowoomba, Dick was in charge of livestock buying. However, when the cattle market collapsed in 1975, he went back to managing branches.
Before specialising in property, he served as an Elders branch manager selling stock and property for more than 20 years at eight locations across Queensland, including Cunnamulla and Quilpie, Toowoomba and Townsville.
Changes
Dick started his agency career selling in pounds, shillings and pence before decimal currency was introduced in 1966. This was followed by the introduction of liveweight selling (over the scales), the centralisation of saleyards and electronic livestock marketing.
He said the fundamentals of property marketing haven't changed much over that time, with the biggest improvements in technology and farming practices.
"Lotfeeding has expanded enormously, and producers have maximised the outputs of their country by specifically using it for breeding, backgrounding and/or fattening. The better management has resulted in increased production efficiency – which did not exist to any extent 30 or 40 years ago."
"Northern country that was considered 'ordinary' has now been cleared and sown to improved pastures – buffel grass and stylos. Property performance has been greatly enhanced using the principles of cell grazing and pasture management," he said.
Dick said the introduction of Bos Indicus cattle in the 1950s changed the face of the northern Australian beef industry.
"Brahmans taught producers how to handle and manage cattle compared to the early days, where stockmen used stockwhips and dogs. Today, the management of livestock and the facilities to handle them is 'state of the art'. We have come a long way with our management techniques."
Prices
Dick said back in the late 1980s, North Queensland properties sold on average for about $80 to $100 a beast area, plus the value of the cattle. Today, those same properties would fetch more than $1000 a beast area.
In his 60-year agency career spanning Australian Estates and Elders, he estimates he has driven between two-and-a-half and three million kilometres inspecting properties and livestock.
"It is not a job for the faint hearted. Some agents sit in their city offices and successfully sell properties, but that's not how I do business," he said.
Boasting such a long history with the Queensland rural property market, Dick has been involved in some of the country's most notable sales and dealt with some of the biggest pastoral company and privateer names in the industry (some of which are listed below).
However, Dick was keen to reflect on the many other excellent properties he marketed and sold over the years, that are no included in the list.
One of the most significant sales was the dispersal of Lord Vestey's collection of properties in Queensland and the Northern Territory, including Oban Station (Mount Isa), Morestone QLD, Coolullah (Cloncurry), Archer and Fitzroy Vale (Rockhampton), Helen Springs, NT, Wave Hill Station, NT and Cattle Creek, NT.
Dick was also involved in selling Queensland's historic Glenprairie Station a total of four times during his career.
Located 120km north of Rockhampton near Marlborough, Glenprairie is one of the oldest and best known stations in Central Queensland, established by explorer and pastoralist William Landsborough.
In January 2017, the Australian Government acquired the 27,000ha holding for around $45 million to fill a Department of Defence training ground role.
The vendor, prominent cattle producer Peter Camm, had secured Glenprairie in 2013 for about $28 million from local grazier Sir Graham McCamley. Other former owners include colourful Greek shipping magnate, Gregory Hadjieltheradis, who built up a string of Australian grazing properties in the 1990s, the Holmes a Court family's Heytesbury Cattle Co, and large pastoral company, Queensland Stations.
Management
Dick believes management is key to securing a return investment in grazing property.
"It is essential to have a good understanding of livestock production, finance, profitability and people. There is nothing more demanding than investing in agriculture because it is dependent on world markets, local markets, government policies and seasonal conditions," he said.
"It is a complex and highly volatile industry, and not for the faint hearted. Unfortunately, people do not take this into account and as a result, a lot of investors come and go."
Dick said the expertise of the leading producers today far exceeds what it was 50 years ago.
"There are producers failing on top properties in premier country and there are others living in perceived drought-stricken, low rainfall areas doing exceptionally well. Success depends on the total management of the operation, and the individual."
He said very often, the leading-edge individual producers exceeded the financial performance of major investors and corporates.
"It is essential that property owners understand the fundamentals, culture and variables of primary production. Unfortunately, when it comes to operating and managing properties, some players are sadly lacking."
Advice
Dick said planning was key to selling a property.
"Timing is only something you know in hindsight. When the stars are aligned and everything is in your favour (i.e. the markets are buoyant and the seasons are right), that is an ideal scenario."
"People seeking to retire or exit the industry should plan well ahead. Potential buyers want to see a property that is presenting and performing well. There should be a 'feel good' component in any property marketing," he said.
Dick said the current trend towards expressions of interest was not his preferred method of selling.
"I don't believe the EOI achieves the best overall result. It is a passive way of marketing a property. Sellers should strongly consider other methods before making a final decision when taking a property to market," he said.
Listed below are some of the clients Dick Allpass has acted for over the years:
Ashley and Cameron Daley (Arrabury Pastoral)
Northern cattle property owner Wallace Logan
Roma-based grazier Brian Oxenford (Western Grazing)
Michael Gordon (Bydand Pastoral)
Mick Gibson (Gibson Grazing)
Hugh MacLachlan (Jumbuck Pastoral)
Tim Fairfax, TVF Pastoral
Janet Holmes-a-Court (Heytesbury Pastoral)
Sir Graham McCamley
The Wright family (NSW)
The Reid family
The Hughes family
The Russell family (Russell Pastoral)
The Packer family (Consolidated Pastoral)
Kidman & Co
North Australian Pastoral Co
Stanbroke Pastoral Co
The Australian Agricultural Co
Greek shipping tycoon, Gregory "the Greek" Hadjieleftheriadis (Alice Springs Pastoral)
Food and Fibre (rural property trust)
Santos (oil and gas producer).
Listed below are a series of milestone individual property sales Dick Allpass was involved in:
July 1990 – the 4377sq km Queensland Gulf station Miranda Downs was sold to northern cattle property owner Wallace Logan for $6.5m.
July 1990 – Coutts Brothers Queensland Stations sold the 2200sq km Wandovale Station near Charters Towers to George Ishiyama, a US citizen of Japanese-decent based in San Francisco, and the principal of the Shipfield Pastoral Co, for $6.2m.
1992 – Roma grazier Brian Oxenford secured four of the Vestey's Western Grazing Co properties for more than $19 million.
1997 – Miranda Downs was sold to the AMP Society's Stanbroke Pastoral Co for $10m.
November 1999 – Wallace Logan's 2942sq km Magowra Station near Normanton (in Queensland's Gulf country) sold for close to $13m (including 30,000 head of cattle) to Brian Oxenford.
August 2004 – the 73,100ha Mt Marlow at Yaraka sold to Kerry Packer's Consolidated Pastoral portfolio for close to $5m (including 9000 ewes and some plant).
June 2006 – the Australian Agricultural Co sold the 600,000ha Wrotham Park, near Chillagoe in Far North Queensland, for $53.5m (WIWO including 46,000 head of cattle, plant and equipment) to Great Southern Cattle Holdings.
July 2007 – Hugh MacLachlan (one of Australia's biggest landowners and woolgrowers) sold the 142,600ha Retreat Station in western Queensland for just under $7.8m to Gladstone-based grazier and businessman Evan Ryan.
May 2009 – S. Kidman & Co's Sandringham Station, between Boulia and Bedourie in far western Queensland, was sold to Mick and Marie Gibson for $7.5m.
2010 – Michael Gordon's Bydand Pastoral Co sold the 599,000ha Mount Margaret at Quilpie (once Queensland's and Australia's largest sheep station) to NSW cattle producer Kilburnie Pastoral Co for $12m (bare of livestock but including all plant and equipment).
May 2013 – Australian Agricultural Co sold the 420,000ha Brighton Downs in the Channel Country to neighbouring beef producers, the Britton family for $11.75m.
July 2013 – Arrabury Pastoral Co (Ashley and Cameron Daley) sold their 125,000ha Gulf region breeding aggregation Lotus Vale and Stirling to near-neighbour, Mark Menegazzo from Vanrook.
May 2016 – the Australian Pastoral Group sold its 143,000ha Gulf property Neumayer Valley to a Swiss investor for around $40m (including 15,560 branded cattle plus followers and an extensive list of station plant).
January 2017 – The Gibson family's 50,668ha Bulloo River property Gunnadorah sold to brothers Scott and Cameron Tweed, Deniliquin NSW, for around $3.25m.
April 2018 –Netherland-based investment company, Salentein, sold Condamine's Cotswold.
May 2020 – The 789ha trophy cattle property Bollier Park in Queensland's Mary Valley sold for more than $11m to a specialised Queensland producer.
Dick was also involved in the sale of the 352,590ha Vergemont, near Longreach, three times – firstly to the North Australian Pastoral Co; then to Wallace Logan; and lastly to his nephew Jock Logan.
Work goes on….
Dick is currently in the process of marketing and selling Gibson Grazing's large-scale mixed grazing and cropping enterprise near St George, in southwest Queensland, which it purchased in February 2019 for $15 million. The 12,096ha Darran Aggregation was rebranded as the Brookdale Aggregation, because Brookdale is the largest of the three contiguous landholdings.
While he has wound-back his property marketing activity somewhat from what it once was, Dick Allpass says he has no immediate plans to call time on his 60-year career.