BEEF producers from Victoria and New South Wales will have the opportunity to 'power up' their beef business by attending the 2015 Border Beef Conference in Wodonga on Thursday, 30 July.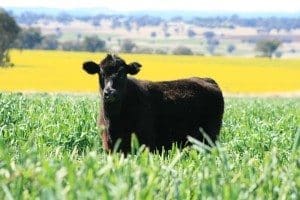 The conference will bring leading industry experts and producers together to hear and discuss ideas, and to be challenged to increase efficiency and profitability in beef enterprises.
Department of Economic Development, Jobs, Transport and Resources' BetterBeef project manager Darren Hickey said commercial cattle producers had expressed how much they valued the practical information and close interaction with technical experts provided at previous similar beef conferences.
This year's beef conference , being held at Wodonga's The Cube, follows on from the annual events previously held at Dookie Agricultural College.
Presenters this year include beef producers Tom Hicks from Hicks Beef in Holbrook; Julian Carroll, a BetterBeef project member from Mudgegonga; and Trevor Caithness from Bairnsdale.
Tom Hicks, who comes from a family owned enterprise and is the winner of the 2015 Weekly Times Coles Beef Farmer of the Year Award, will speak about breeding to increase production.
Trevor Caithness, a Nuffield Scholar, has studied alternative sources of nutrients for pastures and cropping, while Julian Carroll, a leading beef producer and fourth generation farmer, puts a priority on feed budgeting, the focus of a Meat & Livestock Australia case study.
Other topics include a market outlook for beef presented by Meat & Livestock Australia, marketing options, pasture and fodder crop management, new technologies in beef production, and a session on meat quality and requirements in the supply chain, presented by Mark Inglis from JBS Australia.
An interactive panel session will provide participants with opportunity to put the hard questions to keynote speakers.
The conference cost of $60 includes proceedings, morning tea and lunch.
The 2015 Border Beef Conference is an initiative of DEDJTR, North East Catchment Management Authority, Murray Local Land Services, MLA's More Beef from Pastures program and the Australian Government's National Landcare Program.
To book contact The Cube on (02) 6022 9311, email thecube@wodonga.vic.gov.au or, online at www.thecubewodonga.com.au/tickets (go to Thu 30/07/15 – 2015 Border Beef Conference).