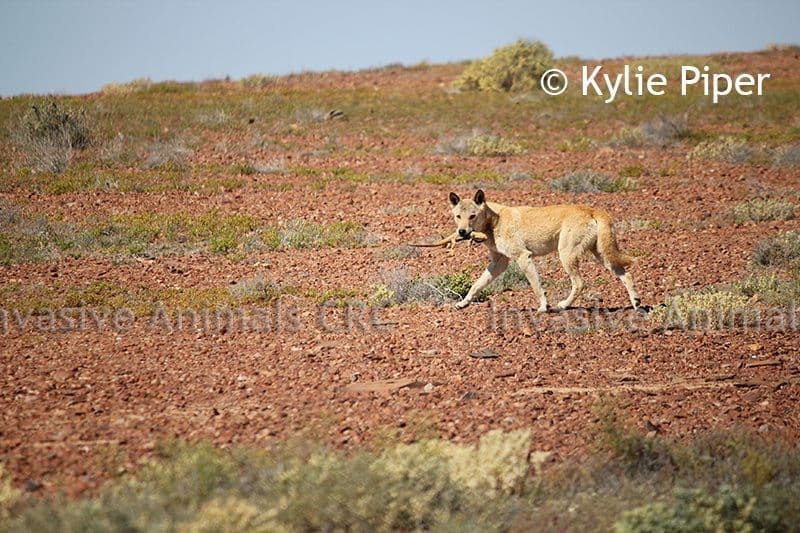 The winning images from the Invasive Animals Cooperative Research Centre's (IA CRC) national photography competition for 2015 have been announced today, with a picture of a wild dog lunching on a bearded dragon near Lake Eyre in South Australia taking the top prize.
A native collared Sparrowhawk taking down an Indian Myna, a 'flying' fox running at full speed across a crop and two wild boars fighting it out in a rough and tumble boxing match also feature among the winning shots.
Kylie Piper took the winning photo (pictured above) just north of the Dog Fence in South Australia, just south of Lake Eyre.
"The dog walked across picked up the central bearded dragon and with one shake of its head, killed it," Ms Piper said.
"I saw the Sparrowhawk on the side of the road and I thought I should take a couple of pics. It wasn't until after I got home and had a look at the photos that I realised the other bird in the picture was actually an Indian Myna (an introduced species)," said Ms Begley.Second place winner, Catherine Begley snapped an image of the Sparrowhawk taking down an Indian Myna in Benella, Victoria.
National Natural Resource Management (NRM) Facilitator Jason Wishart said the winning images really highlight the impacts that invasive animals can have on the Australian landscape.
"All the winning images tell a story about pest animal management, whether that be environmental or agricultural damage, or interactions between invasive animals and other species", he said.
Specific entries were also judged for the remote camera category and showed just how much this technology is being incorporated into wildlife and pest management. The winning photo by Thomas Garrett of wild pigs in an intense boxing match is a great example.
"This image shows how well we can now capture animal behaviour using remote camera technology. I think it would be extremely difficult to get this photo of wild boars fighting by standard photography as their behaviour would likely be influenced by the photographer standing that close by." Mr Wishart said.
Now in its fifth year, more than 300 photos were entered from all over Australia.
Winners were chosen based on how well the image told a story of 'impact' along with quality, clarity and difficulty in obtaining the image.
Click on thumbnails below to view more winning photos.
Source: Invasive Animals CRC