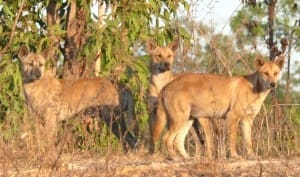 Australia's armoury for wild dog control is becoming more effective, targeted and humane with the development of better strategies and tools to minimise stock attacks.
National Wild Dog Facilitator Greg Mifsud, of the Invasive Animals CRC, which is part-funded by MLA, said producers were gaining ground, with more communities embracing broad-scale control strategies hinging on how dogs use the environment, rather than on who owns the land or whose stock are being attacked.
"The 'nil tenure' message is spreading and more farm communities are using control strategies that embrace larger areas – reflecting the distances dogs can travel – that involve state and private landholders and utilise the most effective tools for the situation," he said.
"Experience has taught us there is no point one producer trying to act in isolation – all that does is move the problem somewhere else, often temporarily. In some instances, under-resourced and poorly coordinated control programs have actually increased stock attacks."
The CRC has also invested in community engagement research aimed at improving how community-led wild dog control programs can best be implemented and coordinated, and how to deal with the issue's often emotive coalface.
"This is a whole new approach compared to how we've worked in the past, and it eliminates the top-down style of disseminating information to producers," Greg said.
"The focus is on information sharing and working collectively."
Greg said there were successful broad-scale programs, such as the South Australian pastoral zone's Biteback program and the Wild Dog Watch group in western Queensland.
"Wild Dog Watch has a full-time, funded coordinator who oversees and integrates control programs across 13 shires, which cover almost two-thirds of Queensland," he said.
The National Wild Dog Action Plan, released in July, conservatively estimated wild dogs cause production losses of up to $60 million a year and pose a risk to at least 14 types of native mammals, reptiles and birds.
Simon Humphrys, the Invasive Animals CRC Project Leader Land Pests, Commercial Products, said most communities affected by wild dogs were getting much better at working together and choosing the right tools to achieve the best control outcomes, while minimising effects on non-target species.
"During the life of this CRC (2012–2017), we've got a range of new tools to bring on to the market that will improve those outcomes even more," he said.
"However, there are registration requirements to be addressed before products can be commercialised, so that will influence when they will become available."
In the pipeline
Blue Healer – An intravenous injectable, this antidote to PAPP is already available, but only to veterinary surgeons. The CRC, with support from ABARES, is developing another product – most likely a suppository – for dog owners to treat accidently poisoned animals. It will be released at the same time as PAPP poison and baits. 
Canid Pest Ejector (CPE) – Successfully used in the US for 60 years controlling coyotes, the CPE is a stationary device that delivers liquid 1080 when a dog or fox bites or pulls on the bait head. Ejectors are considered safe for most non-target species because a certain pull force is required to activate them and their immobility makes them suitable for use in populated areas and national parks. The poison is protected from the weather, so baits remain active for longer. Invasive Animals CRC partner, Animal Control Technologies, is applying to the APVMA for its registration and it could become available in Australia as early as next year.
Lethal trap devices – Developed by the CRC and its partners Connovation in New Zealand and NSW Department of Primary Industries (DPI), this product will improve the humaneness of leg hold traps. The device is essentially a bubble of PAPP, fixed to the trap jaws. As the animal chews at the jaws, the nipple is punctured and the animal quickly becomes unconscious and death occurs within 60 minutes.
Computer-assisted technologies – The CRC, with its partners, NSW DPI and the University of New England, is working on electronic solutions that can be used to automate the real-time detection and monitoring of wild dogs, including individuals from their facial features via remote tools. In the future, automating bait delivery could be possible from a device that recognises the target pest. Smartphone technology could also be applied to warn producers of troublesome dogs on their perimeter.
Dog action 
The National Wild Dog Action Plan, Australia's first national framework to promote and support community driven action for landscape-scale wild dog management, was launched at Armidale, NSW, in July. MLA was on the national plan's development project steering committee and attended the launch. Read the National Wild Dog Action Plan at www.woolproducers.com. au/national-wild-dogs-action-plan
Source: MLA