New App makes NLIS transfer easier
Remote monitoring of electric fencing systems made easier
Online search tool explores farm diversification options
App allows hay growers to assess quality
Nation's largest ag software firm turns 30
ACCORDING to Wikipedia, information technology (IT) is the application of computers and telecommunications equipment to store, retrieve, transmit and manipulate data, often in the context of a business or other enterprise.
Here's a sample of latest technologies to emerge in the IT space, of value to beef producers……
New Allflex App makes NLIS transfers easier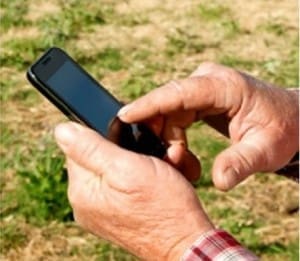 With so many new apps on the market these days – all designed to save time and make our lives easier – it's no surprise that the livestock industry is getting in on the action. In an industry where a beef producer's home may very well be their 'office', every minute they can save is precious.
With this in mind, Allflex has recently introduced a new, free RS420 reader app for iPhones and iPads. The app is designed to make transferring cattle records onto the NLIS database so simple and fast, cattle producers can even do it when out in the yards.
All that's need is the user's iPhone/iPad and the Allflex's new, super-rugged, RS420 Green Stick reader. The RS420 is the only reader on the market with an Apple iChip built into the circuitry, allowing communications using Apple technology like the iPhone and iPad.
The App includes features like "Livescan" allowing immediate transfer of RFID numbers from the reader to the App, as the user scans the eartag. The operator can include comments on the individual animal such as 'lame', 'cull' or 'dog-bite', either as the tag is being scanned, or at a later time.  Users also have the option to scan the stock numbers and then retrieve and send session data from the reader at a later stage.
Multiple email addresses for recipients can be added, to send an automated email with a CSV file containing all the details of the transfer, including the tag numbers. This could be sent to the operator themselves or to staff; cutting down the need for additional work. Alternatively, the user can choose to simply send the file to their own email address, without uploading to the NLIS database; ideal for management purposes.
The RS420 App can store multiple PICs, along with a corresponding name for ease of recognition, such as a property name or owner.
Allflex innovation manager Pat Gunston said the new RS420 reader, plus the App, was a great combination of tools.
"The reader is proving to be a real winner because of its many features and reliability.  The app adds even more value and time-saving," he said.
Allflex national sales & marketing manager Mick Collings said the free app will be a wonderful tool for producers to easily upload stock information from the reader to the NLIS database, as soon as they have phone reception.
The new RS420 App can be downloaded free from the Apple Store
For further information on the RS420 App or the RS420 Green Stick Reader, visit

www.allflex.com.au
Remote monitoring of electric fencing systems made easier
Animal management systems manufacturer Gallagher has developed new technologies to improve and simplify remote monitoring of electric fencing systems, using smartphones.
Gallagher recently released its System Data Controller, allowing users to monitor energizer and zone alarms, energizer voltage and energizer current via SMS and email alerts, which can be delivered to, and monitored from personal computers, tablets and smartphones.
The system, pictured left,  is powered by Observant Global, a web-hosted platform which puts the operator in control of their electric fence's performance on any internet enabled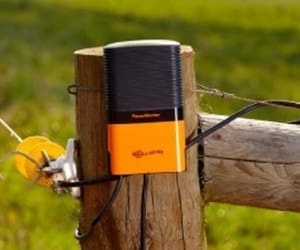 device.
The System Data Controller can turn the electric fence energizer on and off from the user's smartphone, or via the web platform. The system is compatible with Gallagher's i-Series range of fence energizer systems.
Another major time and labour saving breakthrough in electric fencing systems from Gallagher is the i-series fence monitor, pictured left.
The monitors are installed permanently at strategic locations along an electric fenceline to create fence 'zones'.
The monitor identifies quickly and easily if and when a zone is causing loss of fence performance, and reports back alarms and regular fence conditions to the energizer and the controller. The information allows for quicker and easier fault-finding, and repair. The monitor is compatible with Gallagher's i-Series range of fence energizer systems.
App allows hay growers to assess quality
A new App that will allow hay-making contractors and regular hay growers and users to assess the quality of their product was unveiled during the recent Australian Fodder Industry Association national fodder conference in Adelaide.
The Australian-first App promises to give producers the ability to market their hay more promptly and to a wider audience.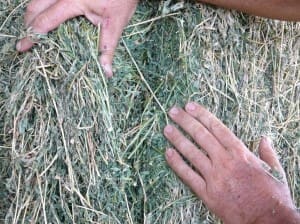 Toowoomba-based hay broker and marketer, Feed Central, has developed the App.
was rolling out the program to accredit contractors and growers to do first round quality assessment and to list hay directly with Feed Central, starting with the 2014/15 hay season.
"It's a great leap forward for the whole fodder industry," Feed Central's quality assurance and supply manager Ian Wickham said.
"There is no national grading system for hay quality and in the absence of national standards, the App helps standardise assessments and gives buyers greater confidence when buying hay sight unseen, while still allowing growers and contractors to market this product through their own channels," he said.
"Growers and contractors will be able to get their product online and available to sell much quicker. With Feed Central's turnaround time of 24 hours, by answering a few simple questions, sellers of fodder are a chance to sell to a domestic database of more than 15,000 buyers within a few days. That's a really powerful tool," he said.
Mr Wickham said the App would fit in well for those wanting a feed test. "Buyers are demanding more information on the hay before they buy and it's not just feed test they need to know about," he said, "quality assurance is protected in the process."
The hay will feature a stamped quality statement to establish if it is assessed by a Feed Central assessor or a self-assessment.
Growers can still have a Feed Central assessor visit their properties. The assessors will also use the new technology, reducing reliance on a paper-based system.
The new technology was developed in-house by Feed Central and was built with ease of use for both user and buyer in mind. It asks simple questions about the product in an easy format.
"Everyone has their phone handy when trying to sell product, so this was an obvious extension," Mr Wickham said.
"Growers will be able to do it themselves; it's not a difficult process but it has benefits of getting product marketed more effectively and still with all the right information wanted by decision-makers."
People interested in the App can contact 1300 669 429 for more information.
Online search tool explores on-farm diversification options

The Rural Industries Research and Development Corporation has launched a new online tool which allows farmers and graziers to investigate almost 100 options for diversifying their enterprise.
The search tool, located on the www.farmdiversity.com.au website is free and easy to use.
After simply entering their postcode, farmers see a short-list of industries that may be viable in their area. More specific search information, such as rainfall, soil type and climate zone can be used to refine the search.
Farmers can also search for a particular crop or livestock option that may be of interest.
For each of these options, the website provides essential information such as production status, growing region maps, risks and challenges, regulatory considerations, publications, resources, and contact information for industry bodies.
"Every day we get calls from farmers seeking information on an extremely wide range of new opportunities, from quinoa to Wagyu, to snails," said RIRDC managing director, Craig Burns.
"In response to this need, we've set up farmdiversity.com.au to provide information on hundreds of industries, from ginger, beekeeping and goats, to wasabi and olives, and everything in between.
"Previously, farmers would have had to do extensive internet searches to unearth this kind of information. Importantly, the new tool may identify industries that a farmer or grazier may never have considered as opportunities."
"While the primary driver for diversification is to increase income, other benefits are improving resilience, spreading risk and even reducing environmental impact.
"This website is a place to start. It will open up conversations across the kitchen table."
As well as the capacity to investigate diversification options, the website will contain a set of questions which farmers should ask themselves before considering diversification.
"Diversification can be a valuable strategy for a farming enterprise, and overall, it supports a more profitable, sustainable and dynamic rural sector," Mr Burns said.
"farmdiversity.com.au should be considered a starting point in a primary producer's journey towards diversifying their enterprise, not the destination. Farmers need to fully understand the implications of becoming involved in a new industry before they invest."
Nation's largest farm management software developer clocks-up 30 years

Toowoomba-based farm management software developer AgData Australia last week celebrated 30 years of progress in the IT sector.
When company chairman, Lance Skerman, went looking for farm financial management software for his mixed farming enterprise near Wandoan, Queensland back in 1983, he found there was nothing in the market that met his, or the industry's needs. Lance advertised for a software programmer and the rest, as they say, 'is history:' AgData is now the nation's largest agricultural software company.
In reflecting on progress over the past three decades, the company had seen a lot of changes in the needs of primary producers over the years, production director Brendan Skerman said.
"We've found that being a small family business allowed us to be agile enough to respond to those changes in a timely fashion," he said.
In 2008, AgData took its Phoenix desktop software to the cloud, calling it 'Phoenix Live', well before most other mainstream financial management packages even considered the cloud.
While adoption of cloud technology has been slow in the bush due to rural internet limitations, recent heightened awareness has sky-rocketed the success of Phoenix Live, Mr Skerman said.
AgData now services the needs of some 22,000 customers nationally, with a customer loyalty team of five staff, and a total team of 18 staff including five full-time programmers located at the company's Toowoomba office.
Senior trainer and customer loyalty team-member, Mark Leahy, was the software programmer that Lance Skerman hired back in 1984.
Mark grew up on a property near Jackson in Queensland, and believes there is a large part of himself embedded in the company's latest-incarnation software. Mark qualified with an engineering degree before taking on the pioneering task offered to him by Lance Skerman.
He has fond memories of when the business operated from the Skerman property near Wandoan, where he alternated his time between the family farm and punching code.
What are AgData's plans for the future?
"We're getting a lot of interest internationally, so we are preparing the software to be able to accept multiple currencies and be easily converted to other languages," Brendan Skerman said.
"The next generation farmer is also screaming out for mobile device synchronisation and we look forward to having that available soon," he said.
From time to time, Beef Central showcases a series of new products and services of relevance to the Australian meat and livestock supply chain. Some of these may come from companies with advertisements appearing on Beef Central, but the showcase is available to all industry stakeholders. For inclusions in future 'New Products' articles on Beef Central, send your short submission, together with a photo if appropriate, to cath@beefcentral.com