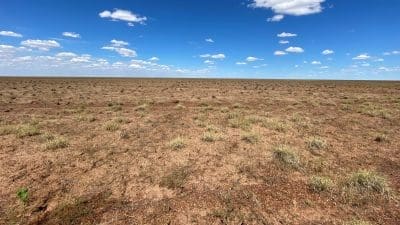 WITH years of drought across Northern Australia, the state of one of the area's most productive pastures has been causing concern among producers and researchers.
A recent study of the Barkly Tablelands by the Northern Territory Government has found the unfavourable weather caused a widespread die-off of Mitchell grass plants. It also found a long drought depleted the seed bank, which will take years to recover.
"If the drought has been longer (three-to-five years), the seed store will have been depleted through seed decay and lack of seed production," the report said.
"In that situation the surviving mature plants are vital for creating new seed – so the top priority is always to allow any remnant Mitchell grass plants to recover.
"Surviving tussocks need time to grow in size, rebuild root structures and set seed."
Mitchell grass is known as one of the most productive pastures on Queensland and the Northern Territory's black-soil grasslands.
"Without Mitchell grass, pastures can become dominated by unpalatable wiregrass and palatable but short-lived annual grasses and forbs," the report said.
"Stock can do well without Mitchell grasses over the wet season, but they rely on it throughout the dry season and it is the key to the ability of the Barkly to support large cattle herds."
Keeping land in good condition
With a depleted seed bank, the report recommended spelling Mitchell grass paddocks over the wet season to give the plants a chance of recovering and setting more seed.
"Bio-economic modelling has shown that within a few years, wet season spelling improves land condition and pays for itself," the report said.
"Although initially cattle production will be reduced due to the need for lower stocking rates, the associated pasture recovery leads to better returns than putting up with poor land condition.
"In a good wet season, Mitchell grass pastures can produce 200 seeds/m2.
"This seed will be ready for germination in the following wet season with about 10% of the seed supply carrying over to the second year."
With wet season spelling not always a viable option, the report recommended low stocking rates as the next best option.
"Throughout the three to five year recovery phase, grazing in the dry season should not consume more than about 10% of plant growth," it said.
"So extra monitoring of utilisation rates may be needed to ensure that pasture recovery is as fast as possible."
Source: NT Department of Industry, Tourism and Trade, Future Beef