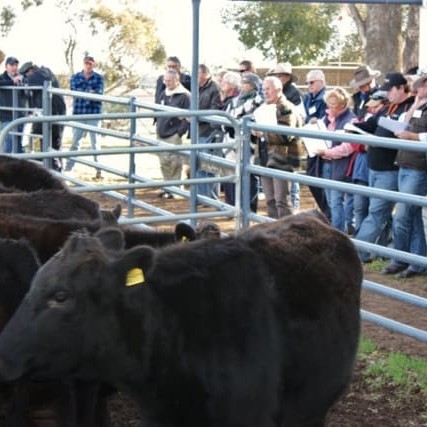 The rate of genetic gain in Wagyu cattle is set to climb rapidly over the next few years as results from a specially-designed genomics discovery program identify the breed's leading genetics quickly and efficiently.
In its first stage, the Wagyu Beef Information Nucleus (BIN) project aims to develop a DNA SNP-based genomic test for Wagyu production traits.
This involves the tracking of a discovery population of more than 1000 parent-verified Fullblood and purebred steers through the feedlot to slaughter and the use of a Japanese-developed digital camera that accurately records marbling and other significant carcase data.
"Wagyu is the only breed in Australia utilising the combination of this high level carcase imaging technology linked to 800k SNP analysis for 130 of the breed's top sires and dams and a more economical 10K SNP analysis for the steer cattle in the project," the Australian Wagyu Association's executive officer Graham Truscott said.
Mr Truscott was speaking at a recent field day at Global Reproduction Solutions' property at Goorambat in north-east Victoria, attended by 40 Wagyu breeders from as far afield as Western Australia, eager to hear the latest developments in the Wagyu breed.
The genomic data developed will be folded into the Breedplan system to improve EBV accuracy. Stage-two will use the genomic test for selecting promising young sires for progeny testing.
The current rate of genetic gain based on dollars return of a breeding female has risen by 60 percent over the past year to $2.40 per cow per year, and this is expected to reach $5 per cow per year in the near future – a level not achieved by any other breed.
The host property run by Dominic Bayard provides an embryo collection and transfer service for many breeds in Australia and overseas as well as running a Fullblood Wagyu herd of 250 females plus progeny under the Goorambat Wagyu prefix.
Wagyu Group Breedplan makes a significant contribution to the genetic selection and herd improvement at Gooramabat and is a contributor to the appeal of embryos collected from the stud for distribution throughout Australia and internationally.
"It is imperative that Wagyu breeders become involved in Breedplan herd recording to take the most benefit from our genomics discovery project and ensure the breed's genetic progress is optimised," Mr Truscott said.
Sexed Wagyu semen now available
In other Wagyu industry news, Australian Wagyu semen that will deliver either 90pc males or females, depending on which progeny best suits a production program, is now available for domestic use and for export.
Ken Dungey, director of specialist semen and embryo producers Lake Wagyu, said while steers are the focus in some production systems, other producers were intent on breeding up their female numbers.
Sexed semen can ensure those objectives are met," Mr Dungey said.
"Although sexed semen is more expensive than unsexed semen, it is much cheaper than solving the problem of what to do with unwanted bulls or less profitable heifers," he said.
The sexed semen will be from two bulls based at Total Livestock Genetics at Camperdown, Vic.
The donor sires are:
Lake Wagyu C87, a Michifuku son and out of an Itozurudoi dam that carries Itomichi genetics. Mr Dungey said C87 was a balanced, well-fleshed bull with a quiet temperament with average growth and good marbling figures.
Moyhu F054 by Yukiharunami 4 and out of a TWA Shikikan daughter. The Shikikan line is noted for its fine marbling. Moyhu 054 is well-structured with good temperament and has the rare ability to combine growth with maternal characteristics. This sire shares similar genetics with a Silver Medal winner in a recent Wagyu carcase trial.
Sexed semen, with an expected 90pc gender accuracy rate in conceptions, is available at $100/straw and is export-ready for most countries including China, the EU and the US.