In 30 years the Wagyu breed has grown from a standing start to become a major player in the Australian beef industry.
What has driven that growth?
Two Australian Wagyu Association presidents shared their thoughts with Beef Central at the Wagyu Edge conference in Adelaide.
Keith Hammond from Robbins Island, Tasmania, was the AWA's third president from 1997 to 1999, and Chantal Winter from Macquarie Downs near Millmerran in Queensland is the association's current president.
Mr Hammond said the strong preference for marbled beef in Asian markets, and for the fat profile of Wagyu beef in particular, had been a strong factor driving the breed's popularity among producers in Australia.
The major driving force, he believes, was the breed's high marbling and eating quality, and in turn the breed's potential to deliver price premiums back to producers unmatched by other breeds.
"The one thing that separates Wagyu is that on a grading system we get paid for the premium quality," Mr Hammond said.
"If you have a bull that can increase your marble score, for every marble score you are looking at a substantial amount of money on the carcase, and I feel like it is the only breed that can do that."
The AWA now has over 700 members, and more than 400 attended the Wagyu Edge conference in Adelaide, making it one of the largest annual beef industry conferences in Australia.
AWA president Chantal Winter said the breed's traits of fertility, adaptability and temperament were also being increasingly recognised by producers after 30 years of production in Australia.
"With occupational health and safety they are a wonderful breed to work with, so there are all these other aspects that I think are helping this breed grow."
In a special address marking the AWA's 30 years history to the Wagyu conference Mr Hammond listed many people and bloodlines that have influenced the breed's growth and development in Australia.
Looking to the future Mr Hammond he singled out six specific opportunities for further advancement of the breed:
– Working to achieve fewer days on feed without compromising carcase quality
– Continued fullblood F1 production
– Polled Wagyu
– Expanding vintage Wagyu market
– Embryos from top performing carcase females into low performing carcase females Going
Future for Grassfed Wagyu
Most Wagyu cattle raised in Australia are long-fed on grain to maximise marbling but for a long time the Hammonds used their pristine and naturally productive high rainfall environment at Robbins Island on Tasmania's north west coast to raise grassfed Wagyu.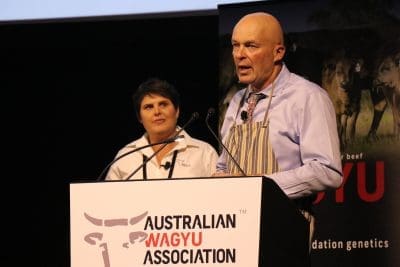 Mr Hammond was asked at the conference why the operation had moved to a grain production model in recent years.
He said that while it was a beautiful product, grassfed Wagyu was not able to produce the marbling results required to secure the same premiums as grainfed Wagyu.
"With the animal about 15pc are your primal cuts, and the remainder are your secondary cuts, and we found we weren't getting enough marbling in those secondary cuts to get the real premium," Mr Hammond explained.
"So you have got 85pc of your carcase that you're not getting a premium on.
"We still had fantastic beef, and it was well received, but we couldn't get the prices that the grainfed could get.
"By going into the grainfed market we were able to establish markets through Greenhams at a higher end and all of those secondary cuts had so much more value.
"There's no doubt we eat that grassfed product ourselves, we just love it, and I think in the future it can be done, but we face some issues too that they take a bit longer to mature and you're growing out a long time on grass."
Mr Hammond suggested Red Wagyu genetics may produce a superior result for grassfed Wagyu finishes, because the Red Wagyu cattle tended to fatten well off grass.