WESTERN Australian beef producers Mark and Narelle Bettini have earned the annual Rabobank Dr John Morris business development prize, in recognition of their business plans, now being implemented, in productivity improvement, pasture development and human resources management.
The Bettinis, who run De Grey Station in WA's Pilbara region, as part of their family's beef operation, were presented with the award in front of their fellow graduates from across Australia in the 2016 Rabobank executive development program.
As part of the assessment process for the award, they developed a strategic business plan to boost the productivity of their cattle operation through the development of an enhanced human resources program and an infrastructure project to improve pasture efficiency.
Mr and Mrs Bettini each completed individual, yet complementary projects as part of attending the program – an intensive 'mini-MBA'-style course for progressive Australian and New Zealand primary producers convened by Rabobank.
Undertaking the program together enabled them to "return home on the same page with a clear plan for the future direction of their business," Mrs Bettini said.
Receiving the $5000 cash prize presented by Rabobank chief executive Peter Knoblanche at this year's program graduation dinner in Sydney, she said their joint award reflected the importance of good partnership in business.
Mrs Bettini oversees the HR side of the family business while her husband looks after business development, operations and financial management.
The couple said their projects essentially stemmed from a 'light-bulb' moment on the first module of the program, where participants were made to question whether they were "doing the best in their business with what they had."
"This made us have a long, hard look at ourselves and our business to ensure we are playing to our strengths and utilising our core assets," Mr Bettini said.
In his case this entailed "extending and defending the core business" by looking to improve pasture utilisation by reducing grazing radiuses and sustainably increasing stocking rates in an effort to increase scale and kilograms of beef produced.
"CSIRO research, conducted on De Grey Station supported the view that cattle walking long distances to watering points not only used more energy (and thereby hindered weight gain potential), but did not efficiently utilise the pasture, with some areas being underutilised and others, heavily grazed.
"This prompted me to look at rolling-out an infrastructure program and we are now in the process of installing an additional 55 watering points on our property," Mr Bettini said.
To date, an additional ten watering points have been installed.
Instead of relying only on internal labour to increase the water access project for cattle, contractors will be employed.
"This has been a significant 'mind-shift' for us, but we are now at a scale where we can't do everything ourselves and it is sound management for us to bring in additional resources," he said.
The water infrastructure project is expected to increase De Grey's Brahman cross breeder herd on by an additional 1200 head, and in the longer term, it could see the herd increase by 50 percent from current levels.
"It will be an ongoing process to check and assess our pastures to ensure our stocking rates are sustainable," Mr Bettini said, "but now we have the business plan in place, it is something we can look at in the future for our other stations."
People side of the business
Given the scale of the Bettinis' operation, spanning four properties with 25 permanent and up to 20 seasonal employees, the 'people in the business' are also integral to its success.
"If your staff are not engaged, it can cost your business with potential ramifications for productivity, workers compensation and animal welfare," Mrs Bettini said.
After returning home from the first module of the executive development program, she examined the business's HR policies and procedures to see how it could be better structured.
"While we don't have trouble getting staff and have a great pool of people that return to our business each season, we want to reduce our staff turnover by enticing quality staff to stay longer than one season," she said.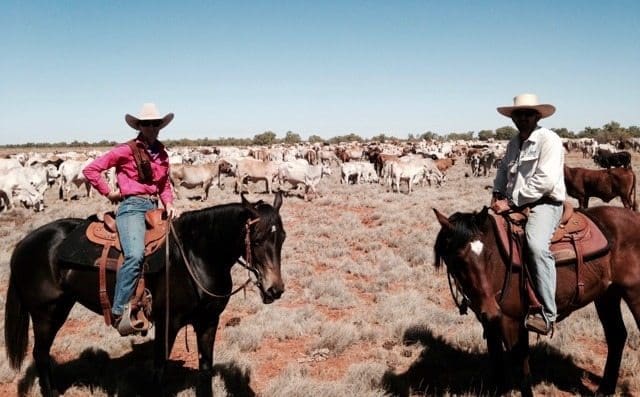 Integral to the Bettinis' new HR model has been the re-writing of job descriptions, so candidates who apply for roles, or those employees who already work in the business, have clarity in terms of their core responsibilities and hence more autonomy.
Mrs Bettini said she understood the importance of people and having them engaged in the business, but the new procedures now ensured everyone in the business knew what was expected of them.
"We employ a myriad of people from station hands, overseers, stock people and truck drivers to cooks and a governess. And, as we continue to expand, our new HR structure will make it easier to streamline this side of the operations," she said.
The couple also strive to provide an enjoyable working environment for their staff.
"Work/life balance is really important, and we want our employees to have the time off and leisure time so they enjoy where they are working," she said.
The Bettinis said the executive development program also emphasised the important philosophy to "keep it simple."
"Some of the case studies presented by fellow producers on the program showed their success stemmed from keeping it simple, having clear priorities for the business and just getting in there and getting the job done," Mr Bettini said.
"We now feel very accountable for our business, and look at all our investments objectively to ensure that any money we expend generates a return on investment. It has to be 'money well spent' and have a tangible benefit, not just because it would be 'nice to have' – so this involves continually looking at the numbers."
The Executive Development Program is Rabobank's flagship training program for rural entrepreneurs across Australia and NZ. Running since 1999, the course is delivered across two modules, and aims to develop and enhance the business management skills of leading farmers seeking to take their enterprise to the next level. More than 600 primary producers from across Australia and NZ have graduated from the program.
Source: Rabobank