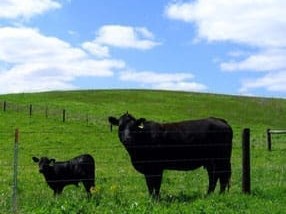 One hundred miles from Sydney, a family farm is producing beef the old fashioned way.
Anne and Hugh Harley breed and finish grassfed Aberdeen Angus cattle on their 400 hectare Hunter Valley grazing property, and have recently started selling their own branded dry-aged beef directly to consumers in Sydney.
Their "100 Mile" brand is a reference to the distance between their farm and Sydney, and reflects the emerging consumer interest in sourcing quality local food produced on their doorstep.
Clearly the metric equivalent "160 kilometre beef" doesn't quite have the same rustic ring as "100 mile beef", but the Harley's use of the imperial measurement for their brand also serves as a subtle pointer to the traditional, old fashioned values that their entire operation is centred around.
At the heart of their approach is a clear desire to do things the traditional way. This is backed by their regular interactions with city-based consumers who have confirmed a growing desire for food produced in a natural and healthy environment, and given the time it needs to develop into a quality and high value product.
In the 16 years since they have owned their farm, the Harleys have devoted their attention to increasing yield and quality. They have focused on selective breeding to lift the genetic calibre of their Aberdeen Angus herd, and have used an extensive soil improvement program to increase the productive-capacity of their land.
Regular soil tests have guided their ongoing program to revitalise what were acidic, compacted soils lacking in fertility after more than a century of farming. Practices such as deep ripping, legume rotations, the use of composts and compost teas and organic fertilisers such as chicken manure, and a switch from set stocking to rotational grazing have all contributed to a dramatic transformation.
"We knew we had something that was potentially great, but just not yielding to its full potential," Anne said.
"We're putting humus on the compost, and it just eats the clay – so you go from something that is like cement to something that is really quite spongy and springy and really pleasant to walk on.
"And using a compost tea that we make up ourselves, the microbial life that you are putting back into the soil does great things, it is very satisfying to find something that works so well for us."
Dry-aged beef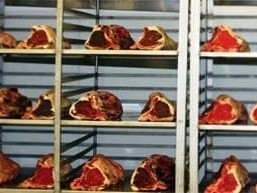 But, importantly, the traditional and natural approach does not end with how they farm.
A key point of difference between their "100 Mile" beef brand and that of many other farm-direct beef suppliers is their use of traditional dry-aging techniques.
Dry-aging typically involves storing beef in humidity-controlled cold rooms for 20-30 days, which allows natural enzymes to breakdown the connective tissue and for moisture to evaporate away, which concentrates the flavour.
Dry-aged beef was once part of the daily diet in Australia, but has largely fallen by the wayside in the past half-century as more rapid aging processes such as vacuum packaging and wet aging have emerged in its place.
However some beef producers, butchers and high-end restaurants have kept the tradition alive, preferring the tenderness, texture, rich colour and full-flavour for which dry-aged beef is renowned.
The Harleys run 250 Angus breeders and progeny and buy-in and trade a further 300 steers annually.
Most of their annual steer and non-replacement heifer production is sold, but a few years ago they began retaining a select few animals to dry-age in a cold room on their farm.
"It was really to try to get meat as I remember it tasting as a child growing up," Anne explains.
"That is meat that actually has some good texture to it, and that lovely flavour which I think you can only get once you've aged it for a period of time."
On her website Anne describes it like this: "Like wine, we can't expect quickly, more cheaply produced beef to taste as good or be as satisfying as a product that has been treated traditionally and allowed to take its time."
Friends loved the beef and word of mouth soon spread, encouraging the Harleys to incorporate direct sales to consumers as part of their annual marketing program.
Consistent supply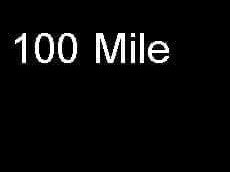 The single most important rule is consistency, Anne says. Producers supplying direct to consumers must be able to cope with demand, and it all comes down to having detailed practical systems in place, and "planning, planning, planning".
From a production perspective, consistency of supply is underpinned in various ways. Aberdeen Angus cattle perform well in the Hunter Valley environment and produce well-marbled beef, which in turn is ideally suited to the dry-aging process.
Good quality feed is kept in front of the cattle at all times. The Harleys use cell grazing and also feed out hay (produced and baled on the property) to supplement their winter pastures as required. Happy, non-stressed cattle produce the best beef, so good temperament and high welfare standards are non-negotiable. Paddocks are designed to provide shelter and shade and to assist in the quiet management of the herd.
Steers are backgrounded on the best pasture and then finished in small groups on a mix of pasture and a balanced ration of grain and hay for at least 70 days. The Harleys do not use artificial growth promotants, antibiotics or rumen enhancing products.
After slaughter carcases are tenderstretch hung in a temperature, air-flow and humidity controlled environment for between 21 and 35 days. Temperatures are kept between 1.5° C and 3° C and humidity is maintained between 50% and 60% – critically, the climate cannot be too wet or too dry.
Meat is offered to customers in packs ranging in price from $200 for 12.5kg (containing steaks, roasts, chuck steam, sausages and mince) to $500 for a half-side and $950 for a full-side.
The cattle are slaughtered at a local abattoir and a butcher sections the meat after aging to consumer orders, with deliveries made on a weekly basis.
Word of mouth remains the Harley's most effective marketing tool, but they also use direct mail, sponsorship of community events, their own website and more recently social media such as Twitter to spread the word about 100 Mile Beef.
Direct selling
Anne said demand was such that they can sell all the dry-aged beef they produce, but she adds that the road to direct marketing is far from an easy one.
"We thought that direct selling would be good way to maximise the returns out of our enterprise," she said
"I now know why everyone doesn't do it, because it is actually very hard.
"We've learned a huge amount over the last few years, and it has taken a while to work out the best way to package it and selling it and delivering it for example.
"You don't realise how much is involved until you get into it, but demand is increasing and increasing all the time."
Asked if the additional effort required was justified by the returns, Anne said it was: "I think in the early stages it can be quite hard and marginal, but as you do it more, and you get better at it and more efficient at it, I definitely think it's worth it."
The Harleys plan to gradually expand their direct sales and in the future and may look to other local producers to grow and fatten steers to their specifications for the 100 Mile beef program.
Anne said that producing beef in a natural and sustainable way and being able to provide consumers with a high value, healthy and rich beef eating experience was a constant source of motivation for her family.
"We want to be able to farm in a way that is incredibly satisfying and worthwhile," she said.
"If we do all the sums at the end of the day, and we actually made a contribution, left a beautiful looking, productive farm and a business that we can hand on to our sons, something that is actually worthwhile, so we can say we produced a well-bred, well raised product that we can be proud of."