When Dan and Kristy Hunt emerged from a severe drought 10 years ago, they swore never to go through the same experience with their cattle herd again.
The couple decided to shift the focus of their cattle operation away from breeding and towards trading.
While they continued to breed Merino sheep and crossbred lambs, they began trading cattle by buying under 200kg British Bred cattle and growing them to 350-400kg before trading out.
The approach worked well, well enough to allow them to buy a second property, but, as Kristy explained, they "just couldn't get everything working together at the same time".
Then Kristy attended a three-day workshop presented by KLR marketing, which teaches the livestock marketing principles established by the late US stockmanship guru Bud Williams.
Kristy describes the system as a set of principles that allows livestock producers to determine "when to sell livestock, what livestock to buy, and how to guarantee a profit".
She described the experience as a "lightbulb moment".
Central to the KLR marketing approach is a basic formula which holds that the sale price of a line of cattle, minus their 'cost of carry', minus the buy price of the replacement, equals profit.
'Cost of carry' is an approach created by KLR to account for all the costs of an investment position including overheads.
It relates specifically to the cost of carrying the cattle for the period they are held and includes all direct costs such as transport, costs,commission and overheads expressed as a weekly agistment rate.
A software calculator is also used frequently as part of the system to determine whether cattle on any given day – whether they be lines of cattle on hand or available for purchase – are "overpriced" or "underpriced" on that day's market.
Whether any given line is overpriced or underpriced will vary from one enterprise to the next, and is related to the cost of carry, and what it will cost to buy cattle to replace them.
"When margins open between a particular animal and the class below that animal, it becomes very clear they are overpriced and can be replaced at a profit," Kristy explains.
Even in seemingly flat markets, different categories can become overpriced or underpriced very quickly.
"It is about watching and knowing what is going on in the market and being on the spot," Kristy said.
"Bud Williams taught 'there is always a trade'.
"The margins may not be where you think they should be, but yes there is a trade at every sale, in every market."
The marketing system requires a significant investment in time to stay in touch with cattle trends.
The Hunts speak to selling agents frequently, monitor market reports and cattle price movements on a daily basis, and attend a large number of physical sales each year.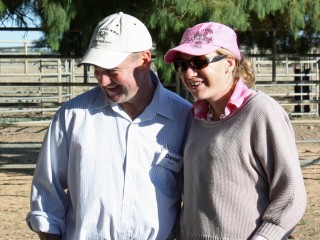 In determining their next move, they constantly ask questions of their situation such as 'do we need cash, do we need grass, what do we have that is overpriced, what is underpriced, and can we buy suitable replacements at the right price'.
They prepare a weekly buy sheet outlining what they're prepared to pay for each weight range of cattle and every category they are prepared to buy at that time, which they fax out to their agents at the start of each week.
"If you do that work and are specific in your instructions and make the phone call to someone you know you can communicate with, there is no way you need to be in the yards," Kristy said.
An ability to view cattle transactions with an open-mind, and to divorce emotion from the equation, certainly helps.
That was borne out in colourful reality when Kristy put her new found knowledge to the test just two days after completing her first KLR course.
Having assessed which cattle were overpriced and underpriced at that day's sale, she bought any examples she could find of the latter, where she could purchase them for less than the buy price she had calculated for each line.
"I came home with some bizarre looking things that I'd worked out were underpriced at the time," she recalled.
"I think every colour, shape and size hopped off the truck.
"Our agent actually called the next day to see if we were divorced, he wasn't actually sure what I was doing either."
They were just getting started.
Dan concedes that at first he took some convincing, but was more concerned about what they would find when Kristy started scouring the books to identify their costs and actual profit position.
In comments that may well reflect what other many producers would think, he said he was scared of what they might find.
"When Kristy got back and started, she kept asking me for the figures on everything, and I guess I was scared to know them," he recalled.
"I knew we were doing quite well, but overall I was scared that I might find out that this isn't profitable.
"This is what I want to do, and I didn't want that threatened, so I procrastinated.
"But now love figures and I want more."
Not every sell decision is based purely on profit considerations. Sometimes they need to focus on grass or cashflow. "There is a bigger picture, we need to step back and look at our business as a whole. Sometimes we need to trade for grass, or perhaps water."
They work on simple rules such as "a truckload in, a truckload out" to ensure cattle numbers remain in balance, and to replace "like with like" wherever possible. If they sell feeder steers, they aim to find feeder steers of similar quality to replace them.
However, the system is still flexible enough to ensure they can handle any type of cattle that they identified as underpriced.
One constantly-varying line that that Dan refers to as "Kristy's cattle" stands testament to that: "They are our trading cattle, they are every colour of the rainbow, and that mob is quite often changing, but it returns, and sometimes the biggest return is the roughest looking animal."
Cattle are typically held for a number of months but can be turned around very quickly if the right opportunity presents.
One line, for example, didn't last on their property for a single day.
In that transaction they sold a load of heifers and were able to secure suitable replacements for $1.90/kg.
"I phoned the agent that afternoon and said I have bought some replacements I am really happy with," Kristy said.
"He said 'I'm looking for some more to go with that load that you sold, I can give you $2.50 for them'.
"So from the morning to the afternoon that was a really quick trade – they ended up going back out with the truckload of cattle they were actually replacing."
The Hunts segregate their bought-in cattle according to weight ranges – such as 200-250kg, 250-300kg, 300-350kg etc – and weigh each mob every three months or so.
As a guide to some of the advantages trading has delivered to their enterprise, Kristy says they should turn over up to 1100 cattle from their operation this year, but would only have been able to turnover around 200 cattle a year if they were still running a conventional cattle breeding operation on the same area.
Benefits included a regular cash flow which made it easier to budget and pay bills, and greater control over key aspects of their operation.
"We have more control over our profit margins and can design trades to suit our needs," Kristy said.
"We also have a lot more control over our grass and protection of our resources."
The trade-off is that Kristy and Dan do spend more time than most in saleyards and on livestock husbandry than most other producers.
However Kristy believes that the benefits outweigh the workload.
"We are fortunate enough to have developed a great team, Dan has done KLR, and our agent has done the course as well, so we can delegate and the system works for us all.
"The extra income allows us the ability to pay for outside labour if we need it."
With autumn now underway Kristy and Dan are keeping a close eye on their grass inventory, and will also be watching the forthcoming northern NSW/Southern Qld weaner sales with interest. Kristy points out that according to her analysis of the market smaller store cattle are attracting a premium at the moment.
While falling cattle prices tend to trigger negative sentiment for many producers, Dan and Kristy say they no longer get the jitters they once may have when prices take a downward turn.
"Falling markets are full of opportunity," Kristy said.
"Some of our best trades have been in these markets, the margin between the over-priced animals and those that are under-priced can be at its greatest."
Anyone can do what they do, Kristy says, but she adds that "it takes commitment and it takes action".
"To people struggling to start I would say it is just a matter of get in and start. It does get easier with every trade, and it's just a matter of taking that first step."