BEEF producers from throughout New South Wales have taken out the top awards at the 2019 Meat Standards Australia Excellence in Eating Quality Awards for the State, presented in Wagga Wagga last night.
Hosted by Meat & Livestock Australia, the Awards recognise beef producers who have achieved outstanding compliance rates to MSA specifications, as well as high eating quality performance, as represented by MSA Index results for MSA graded cattle during the 2017-18 and 2018-19 financial years.
Bective Station Feedlot, Tamworth, was awarded Most Outstanding MSA Feedlot in NSW. During 2017-19, 48 percent of all cattle consigned to MSA from NSW were classified as grainfed.
Cattle from feedlots accredited under the National Feedlot Accreditation Scheme and that were eligible for Australian Grainfed Standards were included in this award category. (Click here for more details about Bective Station Feedlot)
LD Campbell Pty Ltd, Merriwa, won Most Outstanding MSA Beef Producer (Band 1) which recognises producers turning off larger MSA consignment volumes from any non-feedlot operation. (Click here for more details about the Campbell family)
Tom and Cathy Amey, Mummulgum, won Most Outstanding MSA Beef Producer (Band 2), which recognises producers turning off smaller MSA consignment volumes from any non-feedlot accredited operation. (Click here for more details about the Ameys)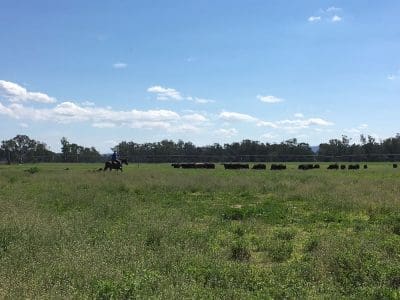 John and Rae Boland, Bingara, won the MSA Progress Award for showing the greatest improvement in their MSA results since the last Awards series in 2017. (Click here for more details about the Bolands)
MSA Program Manager Sarah Strachan said producers were to be congratulated for their commitment to producing beef that consistently achieves exceptional compliance rates to MSA's strict specifications and delivers a superior eating experience to consumers, particularly in the face of ongoing challenging seasonal conditions.
"MSA-registered producers receive ongoing feedback on their livestock, accessible through myMSA, to help them continuously improve the performance of their cattle and eating quality. All of the winners and finalists are taking notice of that feedback to achieve results," Ms Strachan said.
"myMSA also offers producers the ability to benchmark their performance against other producers in the State and use tools to calculate how they can improve their MSA Index by making on-farm changes.
The Campbell family and the Amey family won their awards from a field comprising 6,000 registered producers in NSW who consigned cattle during 2017-19. Throughout Australia, more than 15,000 producers consigned over 6.6 million cattle to the MSA program throughout the 2017-18 and 2018-19 period.
To be eligible for the awards, a producer's annual MSA-graded volume had to be equal to or above the average volume consigned for the state in which they were produced, and had to consign at least once in each financial year.
Each producer that met the eligibility criteria received a score out of 100 weighted on two factors – the compliance to MSA minimum requirements, and eating quality performance as determined by the MSA Index for cattle consigned to MSA in the 2017-18 and 2018-19 financial years.
The MSA Awards aim to raise awareness of best management practice from producers who consistently deliver superior eating quality beef in their state ultimately for the benefit of consumers and for the profitability of the industry.
MSA was developed by the Australian red meat industry to improve eating quality consistency.  The system is based on almost 800,000 consumer taste tests and takes into account all factors that affect eating quality from the paddock to the plate.
Click this link to access Queensland state MSA award results announced earlier this week.
MSA Excellence in Eating Quality forums and awards itinerary for other states:
Victoria: Tuesday 17 September 1:30pm-8:30pm Vineyard Room Glen Erin at Lancefield
Tasmania: Thursday 19 September 1:30pm-8:30pm Bushrangers Hotel, Top Pub Wynyard
South Australia: Tuesday 1 October 1:30pm-8:30pm Naracoorte Town Hall
Western Australia: Thursday 3 October 1:30pm-8:30pm Eden Grove Manning Function Centre, Harvey
Details, including registration for attendance at the MSA event in your state, can be accessed here.