Using a one-stop-shop dashboard to monitor how an entire beef enterprise is working, from the health and performance of the animals themselves, to pasture condition, climate changes and external forces like commodity prices, is no longer in the fantasy realm.
Thanks to a joint initiative between CSIRO, James Cook University, the Qld Department of Agriculture (QDAFF) and Qld University of Technology, the Digital Homestead project is investigating how the data needed to make beef enterprise management decisions can be fed in to a central 'control room.'
The project was discussed at a Digital Rural Futures conference held in Armidale on Thursday and Friday last week.
"The different streams of information we are pulling together – sometimes from thousands of kilometres away – can help make farms more productive, profitable and environmentally friendly, as well as provide related support and social services to rural residents," said project leader, Dr Dave Henry.
Presenting on the future of smart farming research, Dr Henry said a team of researchers at Lansdown Research Station near Townsville was testing a range of sensors and wireless technologies that feed into a simple decision support system for livestock producers and agricultural advisers.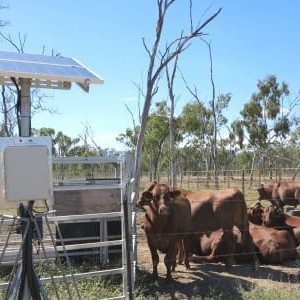 These systems operate on what's known as 'the cloud' meaning they are internet-based and accessible from anywhere via a login and password.
The 'Digital Homestead' is being developed to integrate multiple disparate sources of information from on-farm sensing of soil, vegetation, livestock and the environment as well as from external sources such as climate forecasts and market information into a simple and usable cloud-based decision support systems for farmers and agriculture advisers.
The project focus is on building a 'dashboard' that integrates and presents the information in such a way, so that more informed, accurate and timely decisions can be made.
The additional opportunity is to build new and adapted businesses in the service sector, and across the value chain, that can be delivered virtually, taking advantage of the two-way real-time connectivity of the system.
Just one of the technologies in the spotlight under the project is a solar-powered, wireless cattle collar that gathers information about an individual animal's location and behaviour, including when it grazes, ruminates, sleeps or walks, as well as providing indicators of animal health.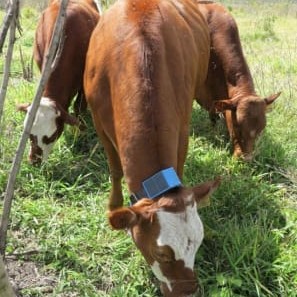 This information is critical for understanding the current status and performance of animals in order to make better management decisions about feed supply and when to muster, researchers say. The end goal is to increase the percentage of animals meeting market specifications and optimise their reproductive performance.
Data on climate, soil, pasture growth as well as animal behaviour will help farmers and land managers estimate which parts of their property may be under-grazed or over-grazed.
Still in early phases, the project team is now testing the visualisation of the data and prototypes of the dashboard with industry stakeholders including graziers and extension officers.
Once the technology at Landsdown is working well, it will be further evaluated on a commercial scale at QDAFF's 40,000ha Spyglass Beef Research Station at Charters Towers in North Queensland.
The project receives funding from the Queensland Government Smart Futures Fund.