WITH hot, dry conditions still evident in many parts of eastern Australia, livestock owners and managers are being urged to consider testing stressed summer forages for toxic substances including nitrates and prussic acid.
Prussic acid comes in the form of HCN (hydrogen cyanide) and can be found in about 200 plants throughout Australia. The most common species include forage and grain sorghums, Sudan grass, Johnson grass and couches.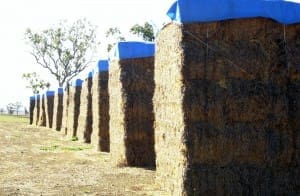 Although uncommon in normal years, poisonings occur when cattle eat forages stressed from severe weather conditions.
The major difference between the two toxins is that prussic acid generally dissipates from plants if material is properly processed as hay, whereas nitrate levels remain constant in hay.  However, in hay baled prematurely at high moisture levels, the prussic acid may not have had a chance to dissipate.
Although the growing conditions causing them are similar, prussic acid and nitrate toxicity differ greatly, and sampling and testing can indicate when forages pose a danger to livestock.
Prussic acid can accumulate and fluctuate in the plant; it may be present for a short time and then dissipate. Severe stress can also cause prussic acid to form. High concentrations of prussic acid may be associated with rapid growth, such as shortly after a rain or irrigation on previously drought-stressed paddocks.
Hungry livestock are at highest risk, and can show symptoms within five minutes of eating plants with a high level of HCN, and may die within 15 minutes. Salivation and laboured breathing occur first, followed by muscular tremors, uncoordinated movements, bloating, convulsions and death from respiratory failure.
Toowoomba fodder supply chain managers, Feed Central, offers a prussic acid testing service, with a 14-day turnaround.
Feed Central lab coordinator Rachael Williams said she was seeing a lot of forage sorghum and sorghum samples affected by dry conditions.
"Especially with the current high value of livestock, producers concerned that their sorghum may have prussic acid issues, then we highly advise testing it," she said.
Ms Williams said the production of HCN occurred mainly during the growth stages of a plant and declined once the plant reached maturity.
"HCN are basically a sugar molecule that is bound together with a cyanide molecule. This molecule is able to be broken down in water and digestive juices found in the stomach of the ruminant. Once the bond is broken, what's left is separate sugar and cyanide molecules. The cyanide molecule becomes toxic and turns into hydrocyanic acid or prussic acid," she said.
It was important to note that the HCN molecule was not poisonous until it had been broken down in the animal's digestive system.
Cattle were able to deal with low levels of prussic acid in their bodies as it is excreted in the urine, Ms Williams said.
"It is only when the body cannot produce enough detoxifying substances to keep up with the amount of cyanide entering the body that poisoning occurs," she said.
Once cyanide is in the bloodstream of the affected animal, it is able to be transported throughout the entire body. Cyanide inhibits the oxygen utilisation in the cells of the body and hence the animal generally rapidly deteriorates and literally dies from asphyxiation.
Cattle are most commonly affected by prussic acid poisoning.
Safe levels of prussic acid in a plant are below 599 ppm, once above this level the plant is considered unsafe for grazing. If the level is 800 ppm or above then it is considered to be toxic.
Prussic Acid can be broken down and released through mechanical action therefore grazed crops pose the greatest risk, followed by hay and then silage.  Samples can be tested at any of these stages.
"Testing is a simple, easy and cost-effective way to determine if the product is safe. It's better to be safe than sorry," Ms Williams said.
Testing for prussic acid can take 14 days from arrival at the lab, due to the complexity of testing for the compound/gas.
Producers should refer to their local vets or DPI for information on helping prevent nitrate or prussic acid toxicity.