Electronic animal ID technology has come a long way since tags and readers first started to appear in the cattle industry in the late 1990s, and Allflex's brand new stick reader shows clear evidence of the accumulated industry experience gained over that period.
The new reader, which is being officially launched to the beef industry at Royal Brisbane Show this morning, offers a suite of innovations – some suggested by commercial livestock managers themselves – to make it even more user-friendly, versatile and rugged than its predecessors.
The new RS420 Green Stick reader's design and construction takes durability and reliability to a new level, as the accompanying short video demonstrates:
Click above to see the new RS420 green stick reader being 'given some stick' during recent reliability trials.
The new reader replaces the popular and well-proven Allflex 320 yellow stick reader, which has served the industry well for the past eight years. Over that time, however, there have been a host of technology advances in fields like software, hardware and battery technology.
A new lithium-ion rechargeable battery used in the latest model gives up to 16 hours continuous read in eco-power mode, with a battery recharge in less than three hours. The battery itself is also much easier to access and replace, if required, and a screen indicator shows when the battery is charging as well as the charge level.
Blue-tooth is now built into the reader itself, rather than attached via a separate device as it was previously. Choosing options on the reader's screen can send data to up to three different Bluetooth-enabled devices – for example a computer, a scale-head, or a bar-code printer (in the case of sheep).
Previously this function had to be controlled from the computer, rather than the reader itself.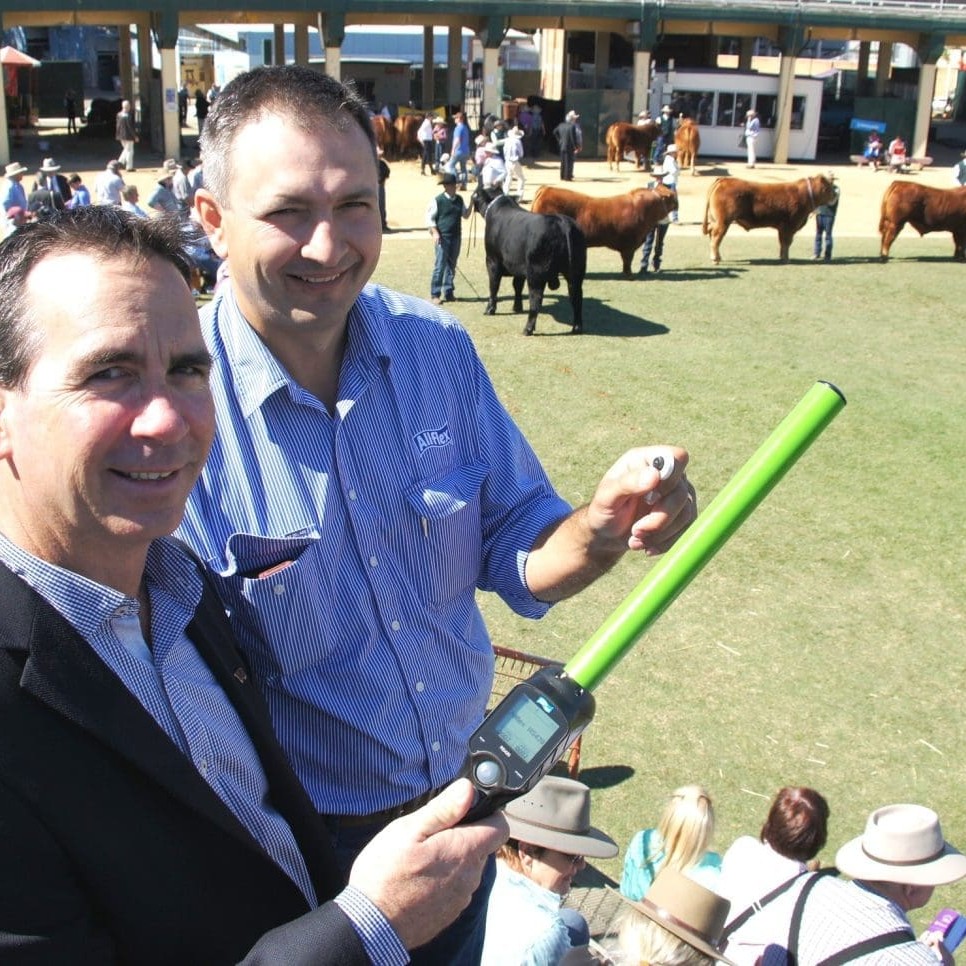 Design and construction emphasis on ruggedness, reliability and durability means the new reader has been tested for extreme resistance to water, dust, temperature variation and impact resistance. The reader comes with a 12-month warranty and has dedicated back-up and support staff.
The new RS420 Green Stick also carries improved reading range of up to 42cm from the tip for HDX cattle tags or 30cm for HDX sheep tags.
Advances in electronics technology mean faster processing, with virtually instantaneous memory scanning for duplicates, for example.
Greater memory capacity means up to 100,000 records can be stored, and divided into separate sessions, with time and date stamp. Sessions can be set-up to count and provide a signal in multiples of cattle required per deck when loading to a stocking density, for example, to avoid manually counting cattle onto a truck.
Some of the reader's other key features include:
Large backlit screen for easy reading in strong sunlight or darkness; display shows the RFID in large, easy-to-read numbers
Vibration, audible beep and flashing green light cues on each successful tag-read. Each can be activated or de-activated separately.
Bluetooth compatibility with Android and Apple-based products
Another unique feature is an ability to upload cross-reference files to the reader, allowing a user to identify certain animals in a mob from a database for treatments or drafting. A previously-identified empty cow in a mob of PTICs, for example, can trigger a different audible signal, providing a cue to draft her in a different direction. Similarly, a separate cue can be provided for an animal that should not be among a certain group being scanned, such as a neighbour's animal. Numerous applications for this function are likely to emerge, once users grasp the opportunity.
USB upload/download to/from USB memory stick; USB connection to computer
Two-button navigation of the control features menu
The unit is fully ISO-compatible and reads all brands of electronic tags currently approved for NLIS use in cattle and sheep in Australia.
The RS420 reader will retail for $1895 inc GST – a vastly better next-generation reader, for several hundred dollars less than its predecessor.
Click here to access the Allflex website to learn more.