Click to view video of Frasers Transport's cross-loading-module in action, and fleet manager Mark Collins commenting on its design.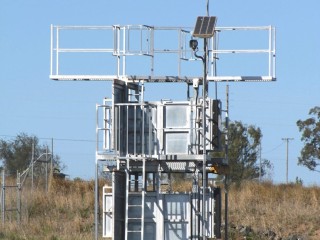 On a bare gravel pad surrounded by industrial buildings on Toowoomba's western outskirts stands a structure that, from a distance, looks like it could be a misplaced lunar landing module.
The tall steel tower is indeed a module of sorts, and, while not of the space-travelling variety, it certainly fits the description of a small step that has delivered giant leaps for its owner, Queensland livestock transporting company Fraser's Transport.
The three-level structure is a 'cross loading module', designed to improve the process of transferring cattle from road-trains and B-Triples into B-Doubles at Toowoomba.
Road access restrictions prevent road trains or B-triples from travelling into the high traffic zone in South East Queensland, meaning that eastern-bound cattle must be transferred into shorter-trailer configurations at Toowoomba.
That process typically involves reversing trailers together and opening sliding gates to run cattle from one deck into another.
It involves potential welfare risks to cattle and safety risks for drivers, with drivers having to climb over trailers and hang off the side of crates to keep cattle moving, often in poor lighting conditions at night.
About two years ago staff at Fraser's Warwick headquarters decided to design and construct a free-standing module to make the cross-loading process easier, safer and faster.
What they came up with is a simple but highly functional piece of equipment that has provided significant improvements to animal welfare, driver safety and stock handling efficiency.
The module enables road trains or B-Triples to driven to the side of the module and unloaded into a B-Double reversed onto the other side.
Fraser's Transport workshop manager Peter Somerville, who with fleet manager Mark Collins oversaw its construction, said the ability to isolate each trailer with the use of blocking gates was a key feature of the design.
Gates fitted to the module enable the movement of cattle from one trailer to the next to be moderated or stopped as required. When all cattle have run into the trailer the gate provides a block until the sliding door at the rear of the trailer can be closed.
Ladders with safety rails provide access on both sides of the module to each deck, and an overhead platform allows drivers to safely walk out onto each trailer if required instead of climbing via the side.
Flood lights also eliminate the dangers of working with cattle in the dark.
"It has just streamlined our operation here," Fraser's Transport managing
director Ross Fraser explained.
"The animal welfare and driver safety if provides are the two major aspects of it.
"It is much, much easier on animals, they can just be walked straight across, and they are not balked as much, and it is just so much safer for our drivers, they are no longer hanging off the sides of crates."
Fraser's was recently approached to enter the innovation in this year's Queensland workplace health and safety awards to highlight the advances it has made to driver safety. (The finalists for this year's awards are yet to be announced).
In a clear sign the design team got it right, after more than 12 months of use and requests for drivers to offer ideas on how it can be improved, they are yet to hear a single complaint.
"From the day it went in, we haven't heard one bad comment about it," Mr Somerville said.
"We ask the drivers to tell us if there is something wrong so we can change it, and they will usually speak up if there is, but everybody seems to be grateful just to be using it because of the safety aspect,
"They're the ones we need to keep happy."
Fraser's plans to build similar modules soon at other points where cross-loading can be required such as at Roma and Rockhampton.

Click on images below to view in larger format