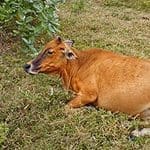 Diagnosing and treating downer cows can be a complex management problem for producers, but according to cattle veterinarians, good nursing care is the key to successful recovery.
A "downer cow" is typically defined as a cow that's unable or unwilling to stand and often happens in cows during late pregnancy or have recently calved.
According to Australian Veterinary Association spokesperson, Dr Phil Poulton, nursing of downer cows can be very labour intensive and time consuming but without it, secondary damage will occur.
"Any cow that is down for any reason is at risk of developing secondary damage, which often prevents them from recovering. This damage occurs because prolonged lying down results in heavy pressure on muscles and nerves. This is worse if the cow is unable to swap sides by herself or isn't rolled regularly by the farmer.
"If the primary syndrome isn't resolved quickly, with the animal being able to stand and walk, it will inevitably lead to more problems," he said.
"If producers are unsure of the problem it's important they seek veterinary attention to ensure the cows are either treated correctly or euthanased promptly for those unlikely to survive."
According to Dr Poulton, nursing strategies for downer cows include:
Mineral treatments such as calcium, magnesium and phosphorus
Non-steroidal anti-inflammatory drugs
Physiotherapy
Adequate amounts of soft bedding
Rolling to minimise muscle swelling
Barriers to restrict movement and avoid secondary damage from crawling
Supervised lifting to aid blood flow and muscle movement
Adequate shelter – particularly from cold environments
Easy access to food and water
Lots of tender love and care
Strategies for returning the downer cow to the herd.
"Recent research has shown that the chances of success are strongly linked to the quality of the nursing care with cows eight times more likely to survive than those nursed poorly.
"The management of down cows is an important animal welfare issue for the cattle industries and it must be done well," Dr Poulton said
A range of resources on downer cows are available on Dairy Australia's website.
For further information and requests for interviews contact the AVA media office on (02) 9431 5062, 0439 628 898 ormedia@ava.com.au.