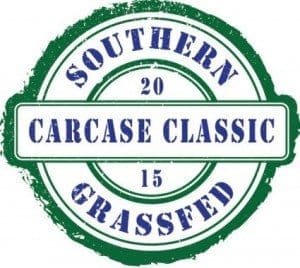 ENSURING grassfed finished cattle make the grade has never been more important according to Penola grass finisher Allan Kain – especially with premiums of 40c/kg or more available for those hitting the MSA or Pasturefed Cattle Assurance Scheme specifications.
The chairman of South Australia's successful  Southern Grassfed Carcase Classic carcase competition says the event has established itself as an important event for commercial and stud producers, consistently attracting more than 200 cattle.
Entries opened this week for the 2015 competition, now in its eighth year, to be held at Teys Australia's Naracoorte plant this spring.
Competitors are required to deliver their cattle during the fortnight of October 12-23. Points are awarded for meeting market specifications, high saleable meat yield, and complying with MSA criteria.
Mr Kain says the SGCC has been a valuable source of feedback for beef producers across the state and into  western Victoria to understand how to maximise their returns.
"It has created friendly rivalry enabling producers to benchmark their genetics, nutrition and management systems against each other, and has given stud breeders bragging rights on the performance of their genetics," he said.
"If you are not trying to master all these areas the premiums on offer will not be achieved. It is particularly important now, with recent price rises for 280-340kg carcases making close to $2000, that producers don't miss out."
Mr Kain said the consistent growth of the MSA beef program including a 22pc increase in the number of cattle graded in SA and 30pc jump in Victoria in 2014/15 made it critical that every animal met processors' specifications.
The committee is hopeful of a similar number of entries as last year, given the strength of the cattle market.
"We have had a reasonable start to the season in the Lower South East and Western Victoria and we have had a fairly mild winter, so the cattle have continued to grow and put on weight," Mr Kain said.
He expects the standard of entries to again be high with the area renowned for producing some of the nation's best grassfed beef.
"We have gained good ideas of the bloodlines which have been siring the animals with consistency of carcases with rib fat, P8 fat and muscling. It comes down to a combination of good genetics, good animal husbandry, animal health protocols and livestock handling skills."
The competition has proven a valuable fundraiser for the Royal Flying Doctor Service with 1.5 percent of the total proceeds presented to the worthy cause each year. The total figure is expected to top the $30,000 mark this year.
Mr Kain attributes the success of the SGCC to the support of the whole supply chain from breeders and backgrounders, to livestock agents and livestock transporters.
"Whether you are stud or commercially orientated and whether you are a breeder, trader or finisher of livestock the competition is for you," he said.
Entries close on September 11. Entry forms are available on the SGCC Facebook page.
A presentation dinner will be held in Penola on Friday November 6.
2015 SGCC classes:
0-4 tooth single steer, 300-420kg carcase weight
Pen of three steers and/or heifers, 0-4, 300-420kg
Single trade steer/heifer,0-2 teeth, 180-260kg
Single trade steer/heifer, 0-2 teeth, 261-340kg
Details: Allan Kain 0409 366 010, email at allan@kaicowrie.com.au; Teys Australia Naracoorte Livestock Manager David Woolard 0418 832 045.