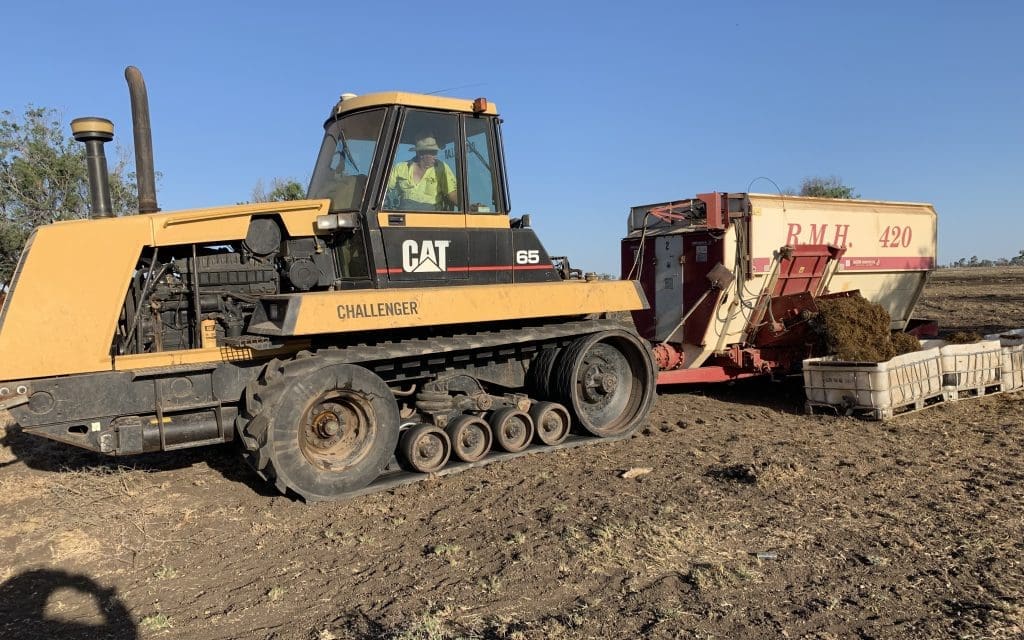 REVERSE engineering his feeding regime using silage allows Ian Marsterson to exploit Queensland's annual cycle of higher meatworks prices during periods of tighter supply during late winter.
The practise earns him a price premium as well as delivering multiple benefits on-farm.
It's a technique Mr Masterson has been using for two years and, while he is still toting up the economics, he is looking to extend his silage cropping area by 50% this year.
Mr Masterson is a recent graduate from the 2022/23 intake of Queensland's highly successful Advancing Beef Leaders (ABL) program (see earlier report here.) 
He is the only producer in his Capella region of Central Queensland aiming to take advantage of abattoir downtime using silage to fill the annual finishing gap, but already he is attracting attention.
A film crew from Queensland's Department of Agriculture and Fisheries came out to his 2000ha property in late May to capture vision of his feeding regime after he received a grant from the government last year to help finance a feed-out wagon.
Mr Masterson negotiates with his preferred processor for a date to deliver cattle, and then times his winter turn-off using stored silage.
"The return is better when there's a supply lull in the market," he said.
"I am not the only one using silage to finish cattle, but I'm the only one I'm aware of targeting the higher prices for grassfed cattle at the drier time of the year."
Along with his wife Maree, the Mastersons cross their composite Santa and Brahman cows with Simmental, Senepol and Charolais bloodlines for bone and frame on their northern property, Lochlea Station, at Greenvale, northwest of Townsville.
At around 18 months the cattle are transported to better buffel country on the Capella property where they are backgrounded and finished to an average of 595kg, largely on silage cut from dryland forage sorghum sown annually on 170ha.
After three months the Marstersons turned off about 1000 head.
No grain is added to the silage ration, "Because I love meat and grassfed tastes the best," Mr Masterson said.
He believes a grassfed accreditation will add a further premium to his cattle and help offset the costs of establishing the silage system.
The crop is cut and ensiled by a contractor and stored in two pits, one holding 2000 tonnes and the other 1000 tonnes.
Working out-of-sync with other beef producers means the Mastersons are not battling to get a contractor in peak season.
The fifth-generation producer got the idea during a visit to WA and decided to excavate the silage pits on a 3pc gradient slope on the Capella property he bought seven years ago.
The silage, which is stored under grain tarps weighted down with about 50 truck tyres, is mixed into a wagon at the pit and fed out in concrete bunks. The extra workload of mixing and feeding out once a day takes about two hours.
The only problem he has encountered are the cockatoos that keep ripping open the grain tarp covers.
He is usually left with about 1000 tonnes remaining each season – and is quietly confident that the leftover silage will be a useful buffer if conditions continue to turn dry this year.
The system has benefits elsewhere on the property, he said.
"My paddocks are in better shape because they are being spelled. There's an increase in the amount of native grasses and pasture coming through. The legumes that we planted were usually eaten out, but not now."
"And there's less soil compaction, especially during the wet season."